We all know that in times of despair and adversity, nothing helps one to heal better than some good chocolate. Or? Or some amazing Eggless Chocolate Lava Cake. We are all aware how Dominos really rules the Chocolate Lave cake world. However, with this recipe that requires no egg, I really think me and my team are in the race too! Haha.
Now, this Eggless Chocolate Lava Cake is a comforting, soothing, and decadent dessert. It's good for a party of 10 and a party of 1 too, especially in this lockdown. And it is also good for when you have a crazy chocolate or sugar craving. Nothing feels better than an Eggless Chocolate Lava Cake with a molten centre and the softest of textures. I am so sure!
Ingredients for the Eggless Chocolate Lava Cake
I do understand that most of you might not be able to get your hands on cookie butter and so, you can simply replace it with peanut butter or even Nutella!
I would also recommend using castor sugar if you can get your hands on it because please remember that castor sugar will always give your cakes or any other dessert, as a matter of fact, more volume and definitely a beautiful, lighter texture. However, if you do not have castor sugar to bake this eggless chocolate lava cake, you can simply grind granulated sugar in a food processor for a couple of minutes.
PS- You can totally skip the cookie butter option.
Pointers while baking the Chocolate Lava Cake
Despite recipes shouting everywhere about the simplicity of this recipe, there are a lot of complains I get about the chocolate lava cake and how so many of you are not able to get the molten center right. Now, I do understand that they do look complicated and intimidating but trust me, this is not the true story to this beautiful, decadent cake.
Trust me when I say this, the recipe is so easy to whip up, a baking rookie will also get the oozy center done up to the level of perfection within no time.
To get this eggless chocolate lava cake exactly the way you want, follow the simple following pointers ad you're good to go:
-coat the ramekins with butter and dust a small amount of cocoa powder so your cake comes out perfectly
-remember to freeze the cookie butter. If it is already in a molten state, it won't help the case. Also, push them inside the batter-filled ramekins only until they are completely immersed.
Serving these Eggless Chocolate Lava Cakes
While I love to serve these eggless chocolate lava cakes with raspberries and a generous serving of ice cream, and I personally think that it's heaven in every bite, you can choose to experiment as you like. You can choose to keep it simple, just with icing sugar, or just with some assorted berries or you can go full out with ice cream and caramel sauce, haha! Got to love desserts that are so forgiving, right?
Another amazing thing about this eggless chocolate lava cake is that it takes no time to prepare. The batter gets ready in no time and takes only 15 minutes in the oven! Who can say no to a dessert that is so decadent and so quick?
Besides this eggless chocolate lava cake, you should also try the eggless mocha mousse and no-bake eggless Nutella tart.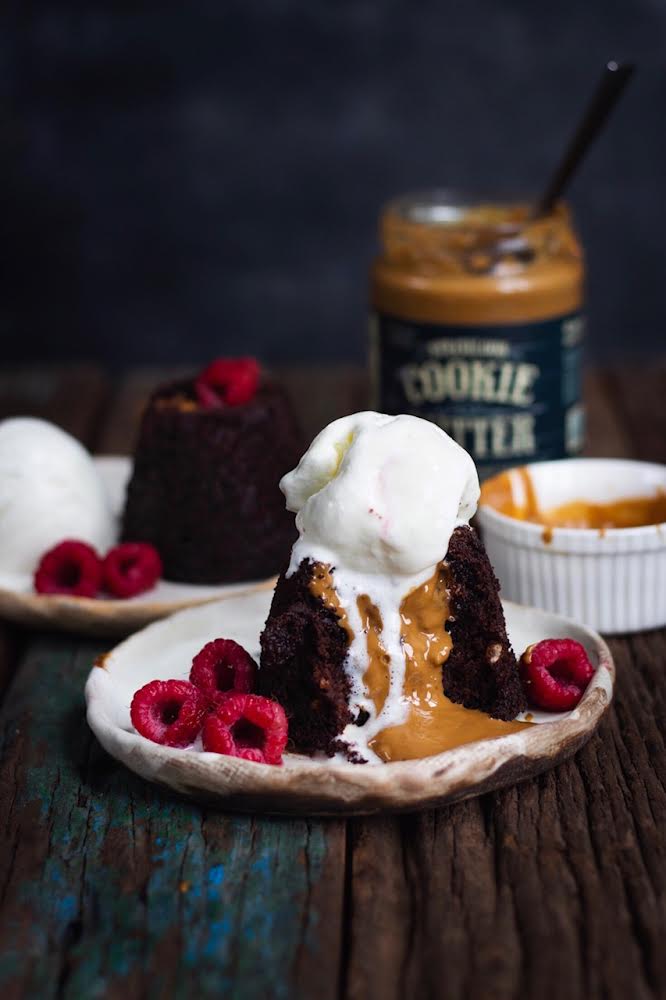 EGGLESS CHOCOLATE LAVA CAKE
Ingredients
4 tablespoons (57g) cookie butter/ peanut butter
⅓ cup (67g) castor sugar
½ cup (120ml) hot water
2 tablespoons (30ml) vegetable oil
½ cup (60g) all-purpose flour
4 tablespoons (30g) cocoa powder
½ teaspoons (3g) baking soda
ice cream and raspberries to serve
Instructions
On a trey, place 4 tablespoons of cookie butter in four round balls and freeze them.
Pre-heat the oven to 180C. Generously brush 4 small cake pans/ ramekins with melted butter.
In a large bowl, combine sugar, water, and oil. Beat well.
Fold in the flour, cocoa powder and baking soda. Mix until everything is well combined and there are no lumps in the batter.
Pour the batter into the prepared ramekins.
Push the frozen ball of cookie butter into the batter.
Bake the cakes at 180C for 15 minutes until the cakes are cooked through.
Your eggless chocolate lava cakes are ready. Serve warm with ice-cream and berries.