I am now accepting answers for why anyone would think that an eggless chocolate lava cake is not the best. The best in the world. Seriously, what is not to like in this eggless chocolate lava cake? Primarily made of chocolate- which you all love- and has a blast of chocolate in the middle too. We all can use a double chocolate recipe and this is why I recommend this easy, fast, and the yummiest eggless chocolate lava cake!
For years, you have been paying a premium price for this dessert. And now, I am giving a foolproof way to you to nail your basic but not so basic lava cake. You guys must love me. With only 6 simple ingredient, this recipe does not only win your hearts, it also wins your taste palettes. Trust me, even when I am not an ardent chocolate lover, this eggless chocolate lava cake  was able to win my heart too. It ends up reminding you of good memories and I am sure it kicks up your happy hormones too. For days when you need a warm hug or for days you miss someone, this lava cake will comfort you. For fancy parties or for lat night hunger strikes, this lava cake will save you. Completely versatile and super easy to make, this dessert will not disappoint you.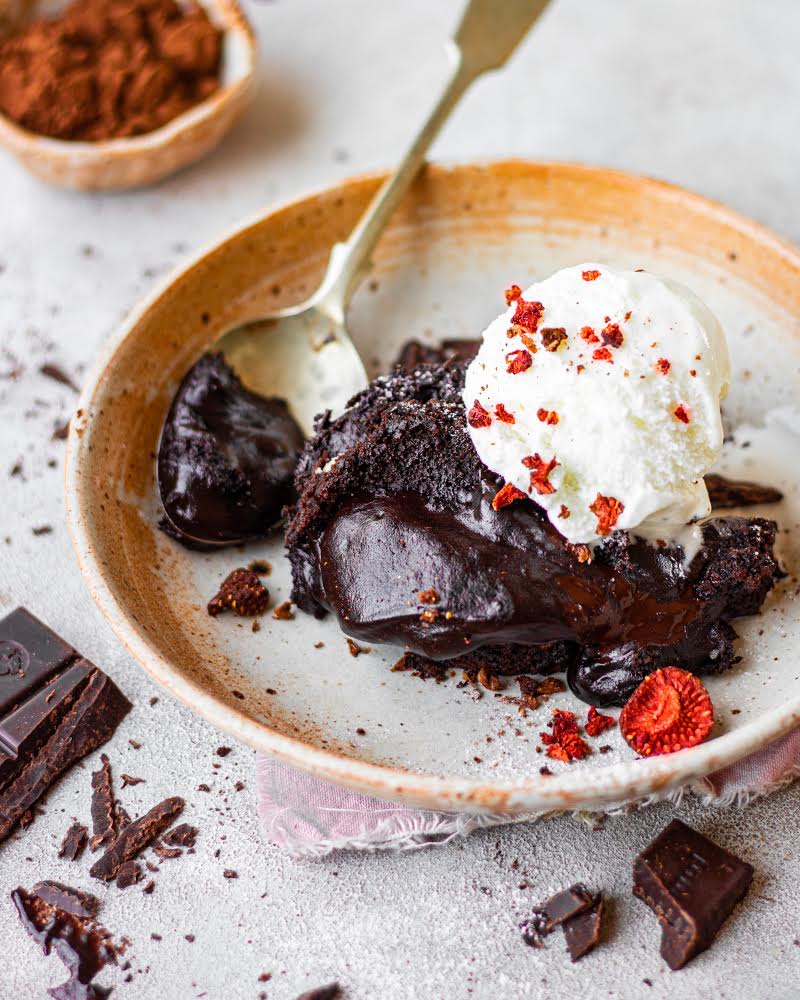 Ingredients of this eggless chocolate lava cake
Six basic ingredients- WHAT? I absolutely love curating recipes that are easy and economical too. Just grab your pantry staples, mix them together, and you are good to go! This eggless chocolate lava cake also uses some basic and easily available ingredients. I am sure you will fall in love with this recipe!
The sugar
I use caster sugar in all of my desserts. Caster sugar have beautiful small granules that mix very easily with batters and even have the perfect sweetness. In case you don't have caster sugar, don't worry. Since this recipe requires you to use 1/3 cup sugar, measure the quantity of granulated sugar- your normal one. Then, please proceed to grind it in order to make it easily soluble with the batter. If you simply measure 1/3 cup of powdered sugar, I have noticed that the dessert tends to be less sweet.
The butter
I have used amul butter- the butter I always use. Further, it is in melted form too. Please don't over-heat your butter and don't use warm/hot butter in your recipe. It changes the dynamic between the ingredients and your recipe might not turn out the way you want it to!
Warm Milk
When the recipe calls for warm milk, please use luke-warm milk only. Don't use boiling hot milk or milk straight from the fridge! Even though they are easy, this eggless chocolate lava cake is a bit of a sensitive recipe too. Get everything right to get the perfect lava cake.
The flour
Thinking which flour to use for baking? You can use either maida or aata in this eggless chocolate lava cake- it's versatile in this sense. Make sure you do sieve your flour, it will give the cake a good rise and a good structure too.
The Cocoa powder
This is the main ingredient of the eggless chocolate lava cake. Your cocoa needs to be dark and naturally unsweetened for the most flawless results. I use either Hershey's or Weikfield. But, I will for sure recommend Hershey's as the superior cocoa.
The chocolate
The couverture chocolate is the most important part of your recipe. I understand that most of you may not be able to get your hands on some couverture right not. Instead, you can use bourneville or Amul cooking chocolate. Please refrain from using chocolates like Cadbury Dairy Milk and Silk. These are basically candy and not chocolate. They burn on high temperatures because they are constituted by vegetable oil and cocoa powder. On the other hand, couverture chocolates have more stable chocolate liquer and cocoa butter as its constituents. Couverture is the real chocolate.
Tips to nail your eggless chocolate lava cake
Use warm milk for a non-lumpy batter
Using couverture chocolate will lift up the taste of your lava cake
Do not over-mix your batter. Only mix until no lumps are visible.
Use softened butter to prepare your ramekins and to prevent sticking.
Insert the chocolate in the middle after you have poured your batter into your ramekins.
Recipe for eggless chocolate lava cake
Eggless chocolate lava cake
Ingredients
⅓ cup castor sugar
2 tbsp melted butter
½ cup warm milk
½ cup all purpose flour / whole wheat flour
4 tbsp cocoa powder
½ tsp baking powder
Some courverture chocolate
Instructions
Preheat oven to 180 degrees
Mix in your caster sugar and butter well.
When incorporated well, add the warm milk.
Then, add your flour, cocoa powder, and baking powder.
Mix well.
Into a prepared ramekin or a glass bowl, pour in the batter.
In the middle, add 2-3 cubes of chocolate and using a spoon, cover the chocolate.
Bake only for 10-12 minutes until you see the edges and tops are crisp.
Serve with berries and icecream.
If you do make this, please don't forget to tag me on
Instagram
.
For more chocolate recipes, click here.