Looking for the perfect Indian dessert with a delicious mango flavor? Then this Mango Kalakand recipe is for the keeps. Super easy to make, this traditional Indian mithai is a burst of flavours and makes for the perfect summer dessert. Try it today and you won't be disappointed for sure.
The traditional method of making kalakand involved curdling milk and then cooking it with sugar and more milk until the whole thing reduces to a thick paste-like consistency which can be set and cut into squares. The quicker way to make kalakand involves cooking curdled milk (chena) with condensed milk.
The sweet mangoes in season are pureed and then used to flavor this kalakand. If you love mangoes, then you would not want to miss out on this one.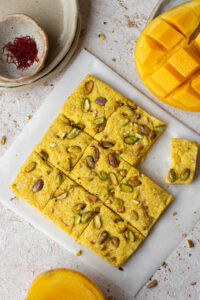 INGREDIENTS USED IN MANGO KALAKAND
·         MANGO PUREE
I like to use fresh mango puree made from sweet Alphonso mangoes (an Indian mango kind). You can use any mangoes as long as they are sweet. Although canned mango puree is acceptable, I recommend using fresh mango puree whenever feasible.
·         CONDENSED MILK-
Even if we use sweet mango puree, it isn't enough to make the kalakand sweet, so we add some condensed milk.
·         CARDAMOM POWDER-
I only add a small amount, but this is entirely optional. If you only want mango flavour in your kalakand, you can leave it out.
EQUIPMENTS USED FOR MAKING MANGO KALAKAND
Measuring Cups and Measuring Spoons. are an integral part of any baker's kitchen and its very important to measure ingredients with precision.
For the mould, I have used 6" square tin to set my mango kalakand.
OTHER RELATED RECIPES FROM THE BLOG
TIPS TO MAKE MANGO KALAKAND
Since, this mango kalakand is a milk based sweet, it is best consumed with in 3 to 5 days. Keep it refrigerated at all times. It tastes best eaten fresh, preferably within 48 hours.
The amount of time it will take to cook the kalakand to the right stage will depend on the thickness of the pan being used and the intensity of heat. It can take anywhere between 10 to 20 minutes, rather than going by the time, go for visual clues to make sure you have cooked the mixture to the right stage.
When done, the mixture will come together like a ball and leave the sides of the pan. It will become non-sticky. If you press a clean spatula on top of the mixture, nothing will stick to the spatula and that's when you know it's the right stage. Don't over-cook after that point else the kalakand can become chewier.
The amount of condensed milk in this recipe can be adjusted to taste.
mango kalakand
Ingredients
250g paneer
¾ cup condensed milk
1 tbsp milk powder
½ tsp cardamom powder
Saffron water (1 tbsp warm water + 4-5 saffron strands)
1 cup mango puree
8-10 chopped pistachios
Instructions
Grate paneer on a plate and keep it aside.
Now infuse 4-5 saffron strands in 1 tbsp warm water for 5-7 minutes.
Next, in a saucepan set over medium heat, add condensed milk, milk powder, cardamom powder, saffron water and grated paneer together.
Cook this mixture for 8-10 mins.
Now add mango puree to it and let it cook for 5-7 mins until the mixture thickens and no longer sticks to the pan.
Now remove from heat and spread it out in a square dish, then add chopped pistachios on top.
Refrigerate it for 6-7 hrs or until completely set and enjoy !!
If you like my mango kalakand and happen to make them in your kitchen, do tag me on Instagram and share pictures with me using #Bakewithshivesh. Happy Baking!