Its already 40 degrees Celsius in Delhi and with this unbearable heat, the weather calls for some homemade kulfi. As mango season is around the corner, so without any further guess I decided to make some Mango Stuffed Kulfi. I am lucky enough to get the best and juiciest mangoes from my local fruit vendor and I would also recommend to all my readers to use the yummiest mangoes to make this kulfi extra flavourful and delicious. I hollowed the full mango, took out the seed and filled it with homemade kulfi mixture and froze it. I have tried to remake the famous Kuremal Kulfi that we get here in Delhi. Also, you hardly require any fancy ingredients to prepare my mango stuffed kulfi, they are all basic which is available in any household. 
Enjoy the delightful combination of the creamy kulfi and the burst of tropical mango flavour with every bite. Mango Stuffed Kulfi is a perfect treat for any occasion, and it's bound to impress your family and friends with its unique and delicious taste. So, savour the taste of summer bliss with this mouthwatering dessert.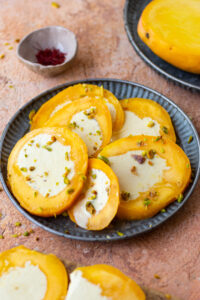 INGREDIENTS NEEDED FOR MANGO STUFFED KULFI
 These carefully selected ingredients work together harmoniously to create the delightful and indulgent mango stuffed kulfi, combining the fruity sweetness of mangoes with the creamy richness of the kulfi base. 
FULL FAT MILK
Full-fat milk forms the base of the kulfi mixture, contributing to its creamy and luscious texture. The fat content in the milk provides richness and helps create a smooth and velvety consistency. 
MILK POWDER
It is added to the kulfi mixture to further enhance the creaminess and thickness. It adds a concentrated milk flavour and helps achieve the desired consistency. 
MANGOES
Choose ripe mangoes that are sweet, juicy, and aromatic. The variety of mangoes you select will greatly impact the flavour and texture of the mango filling. Popular varieties like Alphonso, Kesar mangoes work well due to their naturally rich and sweet taste. 
SUGAR
Sugar is added to the mango filling to enhance the sweetness of the mangoes. The amount of sugar needed depends on the sweetness of the mangoes and personal preference. Adjust the sugar quantity accordingly.  
CARDAMOM AND SAFFRON
Cardamom powder, derived from the seeds of green cardamom pods, adds a warm and aromatic flavour to the kulfi. It complements the sweetness of the mangoes and imparts a subtle hint of spice. 
Saffron strands can be added for an elegant touch and to infuse the kulfi with a delicate floral aroma and a beautiful golden colour. It is entirely optional but adds a luxurious touch to the dessert. 
TIPS FOR MANGO STUFFED KULFI
Mango Selection: Choose ripe and fragrant mangoes for the best flavour in your mango filling. Varieties such as Alphonso, Kesar, or Ataulfo work well for this recipe.

 

Mango Filling Variation: For an extra burst of flavour, you can add a teaspoon of mango essence or a pinch of ground cardamom to the mango filling. This will enhance the mango flavour and add a subtle hint of spice.

 

Nut Variations: Feel free to experiment with different nuts for added texture and flavor. You can substitute or combine pistachios and almonds with cashews, walnuts, or even shredded coconut.

 

Saffron Infusion: If you want to intensify the aroma and add a beautiful yellow hue to your kulfi, soak the saffron strands in a tablespoon of warm milk for a few minutes before adding them to the kulfi mixture.

 

Serving Ideas: Serve the mango stuffed kulfi as is, or for an extra touch, you can garnish each kulfi with a sprinkle of finely chopped pistachios or slivered almonds. You can also serve it with a side of fresh mango slices or a dollop of whipped cream for an indulgent treat.

 

Storage: If you have any leftover mango stuffed kulfi, wrap them individually in plastic wrap and store them in an airtight container in the freezer for up to one week.

 
EQUIPMENT USED FOR MAKING MANGO STUFFED KULFI
This recipe comes together quickly and hardly needs any equipment. 
One saucepan is all that is required to make the mango stuffed kulfi. 
Measuring Cups and Measuring Spoons. are an integral part of any baker's kitchen and it's very important to measure ingredients with precision. 
OTHER MANGO RECIPES FROM THE BLOG
MANGO STUFFED KULFI
Ingredients
2 mangoes
2 cups full fat milk
2 tbsp milk powder
2 tbsp sugar
½ tsp cardamom powder
6-7 saffron strands
Instructions
Slice off the top of the mango by slicing the head/cap of the mango.
Now, remove the seed of the mango while keeping the entire shape of the mango intact.
Firmly hold the seed and rotate it to loosen it further. Now pull it out and keep it aside.
Next, in a saucepan, add milk, sugar, milk powder, cardamom powder and saffron strands. Let this mixture come to a boil.
Now reduce the heat and let the milk simmer till it is reduced to half its quantity.
Once the milk has reduced, transfer it into a clean bowl and let it cool down completely.
Pour the kulfi mix into hollowed mango till top. And put the mango cap to cover it
Refrigerate for 8 hours or overnight for best results!
If you like my Stuffed Mango Kulfi recipe and happen to make them in your kitchen, do tag me on Instagram and share pictures with me using #Bakewithshivesh. Happy Baking!