Tea cakes are one of the easiest and simplest desserts one can make. Be it a classic Pound cake or something modern and complicated, tea cakes are enjoyed equally when they are baked to perfection and come straight out of the oven. This time, I decided to try out a flavour that I believe, is not so common. Bursting with the sweet and vibrant flavours of fresh mangoes, this delightful Mango cake is the perfect companion for your afternoon tea. Whether you're a seasoned baker or a beginner in the kitchen, this recipe is accessible and rewarding. So, grab some fresh mangoes and embark on a baking adventure that will transport you to a tropical paradise, one slice at a time. Enjoy this sweet indulgence alongside a cup of tea, and let the Mango Tea Cake become a cherished part of your tea time ritual.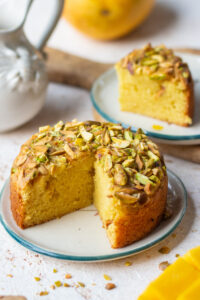 INGREDIENTS USED IN SMALL SERVE MANGO CAKE
Sugar adds sweetness to baked goods, enhancing their overall flavor profile. It balances the flavors of other ingredients, such as flour and fat, and helps to counteract any bitterness or acidity in this mango cake. It helps tenderize baked goods by absorbing moisture and inhibiting gluten development. This is particularly important in cakes, cookies, and pastries, where a tender and delicate texture is desired.
Oil adds richness and tenderness to baked goods. It creates a tender crumb and a moist mouthfeel, contributing to the overall texture of the finished product. It also helps extend the shelf life of baked goods by retarding the staling process. Oil creates a barrier that slows down moisture loss, keeping the mango cake moist and fresh for a longer period. Any neutral, odour free oil works well for this mango cake recipe.
The star ingredient of this cake is, of course, the luscious mango. The mango is used in puree form in this recipe. I have used the Safeda mango variant in this recipe for the best flavour. you can switch to alphonso mango as well. I haven't tried it with any other type of mango but you can definitely give it a try with other juicy varieties as well.
Milk is a liquid ingredient that adds moisture to baked goods. It contributes to the overall hydration of the dough or batter, keeping the final product moist and tender.I prefer using whole milk for this recipe but you can use any kind of milk as per your preference and nutritional needs. I have used Nestle toned milk for this recipe. Milk adds a creamy and slightly sweet flavor to baked goods. It enhances the overall taste profile and enriches the flavor of ingredients like flour, sugar, and fat.
Baking powder and baking soda are used in this cake recipe as raising agents. There are no other ingredients, as such, in this recipe that contributes to the rising of the cake and giving it a lighter crumb and texture. Hence, both of these leavening agents are added to the mango cake batter.
EQUIPMENT USED FOR MAKING SMALL SERVE MANGO CAKE
This recipe doesn't require a lot of equipment. Measuring Cups and Measuring Spoons. are an integral part of any baker's kitchen and it's very important to measure ingredients with precision.
A few mixing bowls and a whisk is what you need to prepare the mango cake batter in.
A spatula is my favourite kitchen equipment and always comes in handy at a lot of stages.
You would require a blender as well to make the mango puree.
I have used a 4-inch springform pan to bake this cake since it's a small serve recipe.
OTHER RELATED RECIPES FROM THE BLOG
TIPS TO MAKE SMALL SERVE MANGO CAKE
Sieve the dry ingredients to make sure they are homogenous.
Make sure there are no lumps in the mango puree to ensure an overall smooth cake batter.
The mango variant is very important so, opt for varieties like Safeda, Alphonso, etc.
I have added pistachios on top but it can either be omitted or can be switched for other flavours or nuts like cardamom, almonds, etc.
Store the cake in an airtight container for up to 4-5 days or refrigerate up to a week.
You can swap normal milk with a vegan alternative and normal sugar for coconut sugar to make this a vegan and healthier cake.
SMALL SERVE MANGO CAKE
Ingredients
¼ cup caster sugar
2 tbsp oil
¼ cup mango puree
2 tbsp milk
1 tsp vanilla
½ cup maida
½ tsp baking powder
⅛ tsp baking soda
Pistachios, chopped
Instructions
Pre -heat the oven to 180 degree C and line 4'' round springform pan with parchment paper.
Whisk together castor sugar and oil in a bowl until pale and well combined. Add the mango puree to this mixture.
Add vanilla extract and milk in the bowl and whisk again.
In the same bowl sift in the flour, baking powder and baking soda and then fold it in gently without over mixing
Transfer the batter to the prepared cake pan and cover the batter with chopped pistachios.
Bake at 180C for 20-25 minutes or only until a skewer inserted in the center comes out clean.
Cool the cake and enjoy
If you like my Small Serve Mango Cake recipe and happen to make them in your kitchen, do tag me on Instagram and share pictures with me using #Bakewithshivesh. Happy Baking!