There are very limited Indian desserts that I like to eat. One of those desserts, that I find really interesting is a falooda. And since mangoes are in season, I thought why not make the most delicious Mango Falooda. It tastes as tempting as it looks. This dessert has multiple elements of milk, falooda sev, basil seeds and much more. Mango Falooda is so fun to make also that I'm sure you guys are going to enjoy it as much! Simple ingredients, so many variations and so much fun to make. I say you give it a try right now!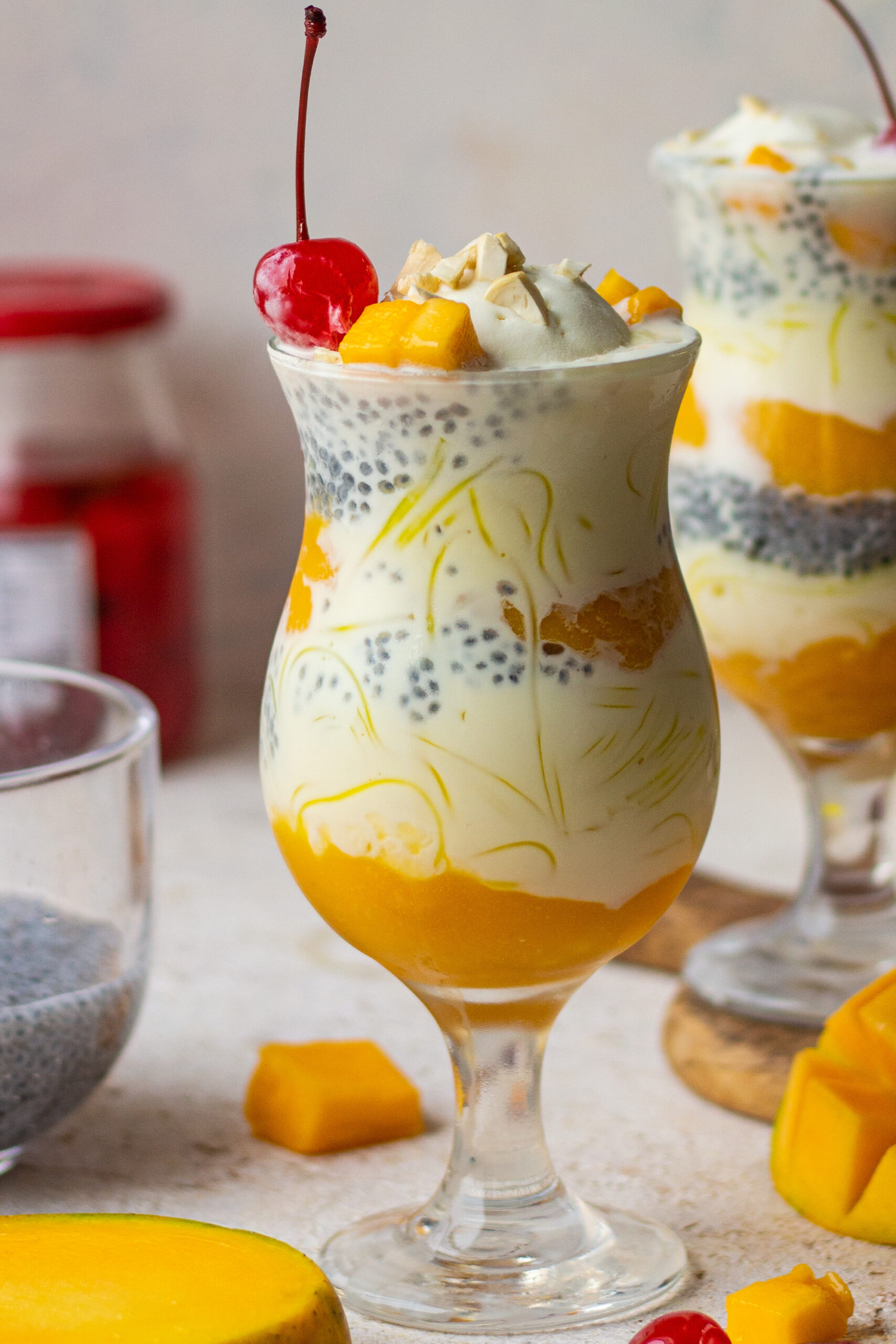 INGREDIENTS USED IN MANGO FALOODA
Almost all Indian desserts have milk in them. Its such a versatile ingredient, I must say. Here, in Mango Falooda too, milk is used as the base ingredient. When all the ingredients are assembled together, milk mixes with mango puree, as well as falooda sev and basil seeds. So to have it all in one bite is a great experience in itself. I have used Nestle milk for this recipe, which is skimmed cows milk. But you can switch to any milk option of your choice.
One, very healthy and very interesting ingredient that goes into this dessert is basil seeds or sabja seeds. They look very similar to chia seeds and are full of nutrients like iron, calcium and magnesium. However, unlike chia seeds, they swell up in minutes. Basil seeds have a different gelatinous kind of a texture after it is swelled up in water. The mouthfeel of this Mango Falooda is very unique due to the basil seeds.
Another interesting ingredient that goes into this recipe, is the falooda sev. They are more or less, like noodles and are very light in texture. They resemble glass noodles. These are cooked in boiling water as per the instructions given on the packet and is again, a unique factor of this recipe. The noodles when assembled with other elements, get coated by them and enhance the overall taste of Mango Falooda.
A small amount of sugar is added as well, to sweeten the milk and elevate the taste of the entire dessert. Sugar is heated along with milk till dissolved and well incorporated into the milk. You can opt to remove it as well basis your nutrient requirement. I have used castor sugar in this recipe but you can use granulated sugar as well. You can also try other sweeteners like honey or maple syrup too.
The reason I curated this recipe is because of this start ingredient – Mango. I love mangoes and I have used them here, in two different forms. One is in puree form and the other in the form of chunks. Make sure that the mangoes are sweet and ripe to get the best result. They add sweetness, flavour and also colour to Mango Falooda. You can get mangoes from any local vendor or any grocery store near your place.
EQUIPMENT USED IN MAKING MANGO FALOODA
Not a lot of equipment is required to make this Mango Falooda come together. However, a few kitchen staples that should always be there in the kitchen are mentioned below.
Measuring Cups and Measuring Spoons are the first thing that anybody who in cooking or baking needs. The right quantities will help in the desired outcome so these two things are a must.
I am using Stahl Pans to heat the milk and the sugar. I heat them on an induction pan but a gas stove works equally fine.
You also need a few mixing bowls to make the different elements. And spatulas or wooden spoons to do the mixing.
A good powerful blender is required to make the mango puree smooth and free of chunks.
You also need a good tall glass to assemble all the elements to make a nice looking Mango Falooda.
RELATED RECIPES FROM THE BLOG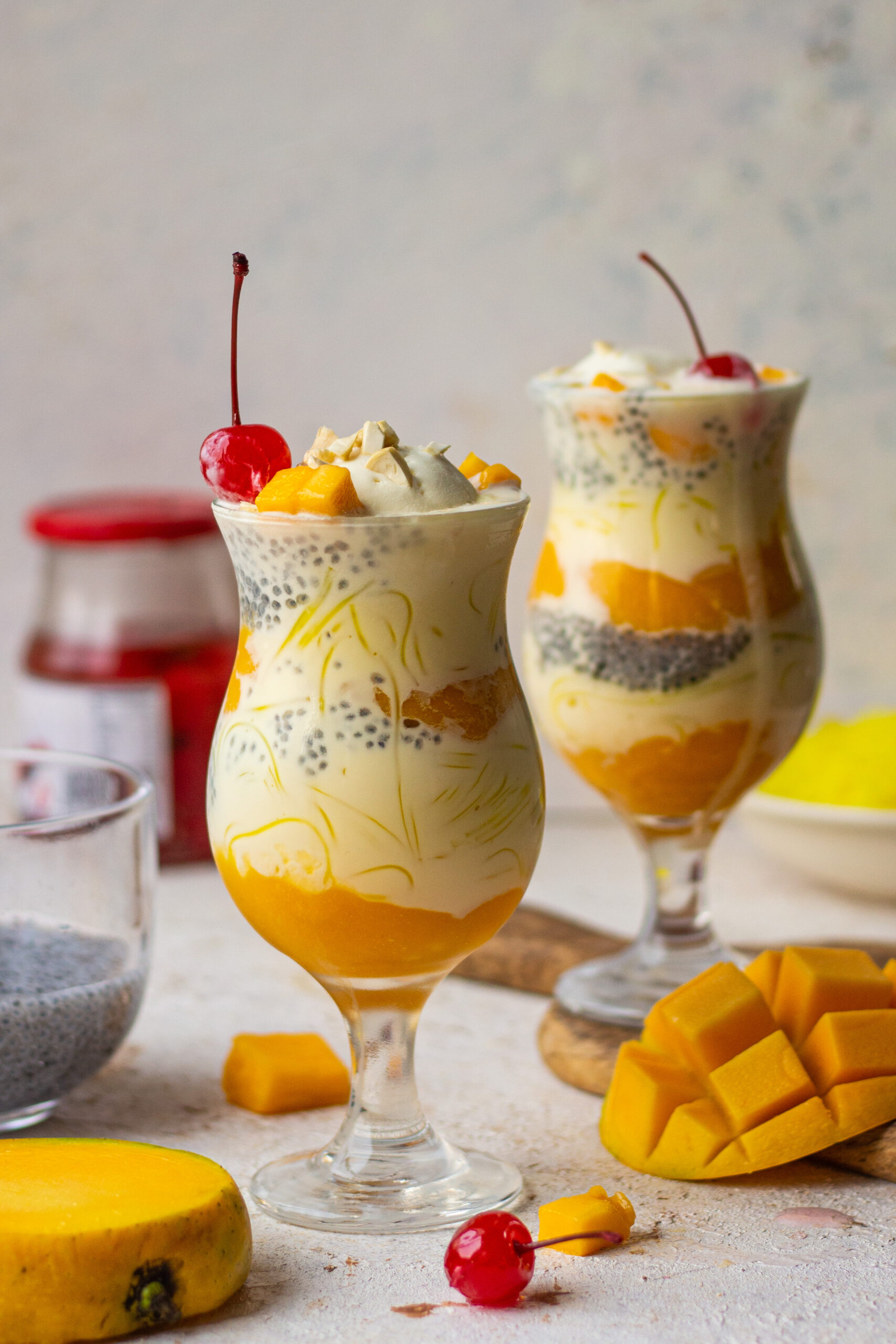 TIPS TO MAKE THIS MANGO FALOODA
The basil seeds swell up within 5 minutes so make sure to use them immediately for assembly.
You can swap sugar for any other alternative like honey or maple syrup.
I have used skimmed milk for this recipe but a full-fat milk will obviously taste better. You can also go for a healthier or vegan option but that will change the flavour a bit.
Cook the falooda sev as per the packet instructions only. Make sure its soft and well cooked.
Heat the milk, sugar and cardamom only until the sugar is completely dissolved.
Two layers of all the elements look the best and give a good portion but you can change that according to your glass and needs.
The ingredients for garnish are totally optional and can be moulded as per your personal taste and preference.
The options of garnishes are multiple. I have added cherries, chopped nuts and also some vanilla ice cream to complete the look.
MANGO FALOODA
Ingredients
½ cup water
½ tbsp basil seeds/sabja seeds
50g falooda sev
2 cups milk
3 tbsp sugar
½ tsp cardamom powder
1 cup mango puree
Vanilla ice cream
Chopped nuts
Mango chunks
Cherries
Instructions
Soak basil seeds in ½ cup water and set aside for 5 mins. It will soak the water and swell up.
Meanwhile, take 2-3 cups of water and bring it to a boil. Add in the falooda sev and let it cook on low heat for 5 mins. Strain the falooda and rinse under cold water.
In another saucepan, add milk, sugar and cardamom powder and let it simmer on medium heat for about 10 mins. Remove from the heat and let it come to room temperature.
For the assembly, take a tall glass and fill it with 2-3 spoonfuls of mango puree. Top it with falooda and basil seeds.
Then finally add the milk and repeat the entire layering process one more time.
Garnish it with a scoop of ice cream, some chopped nuts, cherries or any topping of your choice.
If you like my Mango Falooda recipe and happen to make them in your kitchen, do tag me on Instagram and share pictures with me using #Bakewithshivesh. Happy Baking!