I've always worked towards making really good recipes that is worth being in everybody's repertoire. After all these years of baking, I have realized that I love recipes that are quick and simple but at the same time also pack a punch of flavor. Who doesn't like desserts that take pantry ingredients and simple equipment to get you a treat that's truly delicious?
Today, we are making a red velvet marble cake that looks so tempting. If you are a sucker of marble designed cakes then you should definitely try this red velvet marble cake and do tag me on Instagram @bakewithshivesh .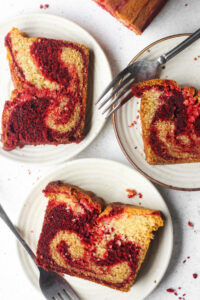 INGREDIENTS NEEDED FOR RED VELVET MARBLE CAKE
MILK
To make my eggless red velvet cake moist, soft and light, I have regular milk in this recipe. Make sure it is a little warm and not cold straight from the fridge. Since every flour is different, you might need a tablespoon less or a tablespoon more of milk to adjust the consistency of the batter.
BUTTER
I have used this salted butter for this eggless red velvet cake. Feel free to use unsalted if that's what you have in hand. Make sure you add a pinch of salt in case you are using unsalted butter.
CONDENSED MILK
For the sweetness, I have used sweetened condensed milk. You can use any condensed milk as long as its sweetened. It not only does add sweetness to the recipe but moisture and make the tea cake soft and moist.
VANILLA EXTRACT
Using the best kind of vanilla has always made all the difference in any dessert. Please avoid using vanilla essence as it is not real but synthetic and chemically made vanilla flavour. Make sure you use good quality vanilla extract. I recommend this one. To know more about vanilla and which vanilla to use for your desserts, you can check out my article Vanilla 101.
CASTER SUGAR
I usually prefer castor sugar in all my recipe until mentioned otherwise. Castor sugar melts evenly unlike granulated sugar. If you don't have castor sugar in hand, feel free to substitute it with powdered sugar
ALL PURPOSE FLOUR
I have used regular maida in this eggless red velvet cake. Feel free to swap half of it for whole wheat flour or oat flour. Make sure you increase the quantity of milk in that case as these flour absorb more liquid in a recipe.
BAKING POWDER AND BAKING SODA
I have used both baking powder and soda in this cake. Baking soda and baking powder would react to the liquid in the recipe. I use this baking powder and this baking soda.
EQUIPMENTS USED TO MAKE EGGLESS RED VELVET MARBLE CAKE
The kind of equipment you use when you're baking makes a huge difference to the end result! I would recommend you to use good quality mixing bowls and other equipment so that your eggless red velvet cake comes out delicious!
To mix all my ingredients together in, I'm using Borosil's 100% Borosilicate Glass Bowl which is microwave and oven safe, plus the bowls are super easy to clean and handle, which makes my baking process totally hassle free!
Not a single day goes in my kitchen when I don't use a Silicon Spatula, this is the one I recommend. Same goes for my set of Measuring Cups and Measuring Spoons.
Finally, to bake my brownies I have used a loaf pan, this one is quite similar to the one I have used.
And if you try this recipe and like it, do try other tea cake recipes from the blog. I am sure you are going to love them too!
OTHER CAKES RECIPES FROM THE BLOG
RED VELVET CAKE
Ingredients
For the vanilla batter
2½ cups all-purpose flour
2 teaspoons baking powder
1 teaspoon baking soda
1 cup butter, softened, plus extra for greasing
6 tablespoons caster sugar
1 cup condensed milk
1 teaspoon vanilla extract
1 cup milk
For the red velvet batter
4 tablespoons cocoa powder
6 tablespoons warm water
½ tsp red gel colour
For the chocolate glaze
1 cup dark chocolate, chopped
2 teaspoons vegetable oil
Instructions
Preheat the oven to 180°C. Grease an 8x4-inch loaf pan with butter and line it with parchment paper.
In another bowl, cream the butter and sugar together until pale and fluffy.
Add the condensed milk, milk and vanilla extract and whisk again. The mixture might look curdled at this point but it will come together when combined with the dry ingredients.
To the same bowl add all-purpose flour, baking powder and baking soda and combine everything with the spatula.
Divide the batter into two bowls.In a small bowl, combine the cocoa powder, red colour and warm water, whisking continuously so that there are no lumps.Add this to one of the bowls of batter and gently mix it in with a spatula.
Transfer both the batters to two separate piping bags and pipe them into the pan alternately to get the perfect marble loaf cake look. Fill the loaf pan up to three-quarters of the way and bake for 45-50 minutes or until a skewer inserted in the centre of the cake comes out clean. Let the cake cool completely before unmoulding
To make the chocolate glaze, melt the chocolate over a double boiler and whisk in the vegetable oil till completely incorporated.
Pour the glaze over the cooled marble loaf cake.
If you like my red velvet marble cake recipe and happen to make it in your kitchen, do tag me on
Instagram
 and share pictures with me using #Bakewithshivesh. Happy Baking!