A healthier alternative, doesn't compromise on taste or flavour. It's a delightful combination of nutty flavours and tender texture, making it a favourite among health-conscious individuals. From providing a natural source of energy to being a rich source of essential nutrients, dates and wholewheat cake come together to create a combination that is not only indulgent but also nourishing. So, whether you're a culinary enthusiast seeking a new recipe to try or a health-conscious individual looking for a guilt-free pleasure, join us on this delightful journey to discover the magical world of dates and wholewheat cake.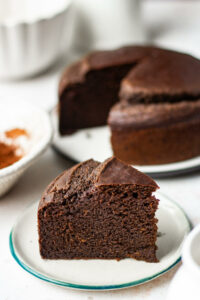 INGREDIENTS NEEDED FOR  DATES AND WHOLEWHEAT CAKE
DATES
Dates are a wonderful ingredient to use in baking, adding natural sweetness, moisture, and a unique flavor profile to various recipes like muffins, cookies, and cakes.
WHOLEWHEAT FLOUR I.E ATTA
This flour is heavier than the commonly used, all-purpose flour. This is why, all around the world, people widely use all-purpose flour to make baked goods. All-purpose flour being a lighter flour means that it gives fluffier desserts that are not heavy or dense. While using whole wheat flour, it becomes important to incorporate air into the other elements of the dessert. One definite way to do that is by making sure you sift your dry ingredients instead of just adding them in the bowl with the wet ingredients.  
OIL
Oil adds richness and tenderness to baked goods. It creates a tender crumb and a moist mouthfeel, contributing to the overall texture of the finished product. It also helps extend the shelf life of baked goods by retarding the staling process. Oil creates a barrier that slows down moisture loss, keeping the mango cake moist and fresh for a longer period. Any neutral, odour free oil works well for this dates and wholewheat cake recipe.
MILK
Milk is a liquid ingredient that adds moisture to baked goods. It contributes to the overall hydration of the dough or batter, keeping the final product moist and tender.I prefer using whole milk for this recipe but you can use any kind of milk as per your preference and nutritional needs. I have used Nestle toned milk for this recipe. Milk adds a creamy and slightly sweet flavor to baked goods. It enhances the overall taste profile and enriches the flavor of ingredients like flour, sugar, and fat.
LEAVENING AGENTS
Baking powder and baking soda are used in this cake recipe as raising agents. There are no other ingredients, as such, in this recipe that contributes to the rising of the cake and giving it a lighter crumb and texture. Hence, both of these leavening agents are added to the mango cake batter.
EQUIPMENT USED FOR MAKING DATES AND WHOLEWHEAT CAKE
This recipe doesn't require a lot of equipment. Measuring Cups and Measuring Spoons. are an integral part of any baker's kitchen and it's very important to measure ingredients with precision.
A few mixing bowls and a whisk is what you need to prepare the date and wholewheat cake batter in.
A spatula is my favourite kitchen equipment and always comes in handy at a lot of stages.
You would require a blender as well to make the dates puree
TIPS TO MAKE DATES AND WHOLEWHEAT CAKE
Sieve the dry ingredients to make sure they are homogeneous.
Make sure to soak the dates in warm milk properly and make a lump free dates paste to make a smooth cake batter.
I have added walnuts on top but it can either be omitted or can be switched for other flavours or nuts like cardamom, almonds, etc.
Store the cake in an airtight container for up to 4-5 days or refrigerate up to a week.
DATES AND WHOLEWHEAT CAKE
Ingredients
18 Dates
1.5 cups Milk
½ cup Oil
1 cup Wholewheat flour
¼ cup cocoa powder
1 tsp Baking soda
½ tsp Baking powder
Instructions
Preheat the oven at 180 degree Celsius and line a 5 inch cake tin with parchment paper.
Start by removing the seeds from the dates and soak them in ½ cup of milk for a minute.
After soaking, transfer them to a blender and blend until you achieve a smooth puree.
In a large bowl, combine the dates puree with the remaining milk and oil.
Now add all the dry ingredients to the mixture and thoroughly mix them together.
Transfer the resulting batter into the lined cake tin & decorate it with pecan nuts or any other nut of your choice.
Bake the cake for 30-35 mins till a skewer comes out clean. Let the cake cool completely and enjoy.
If you like my dates and wholewheat Cake recipe and happen to make them in your kitchen, do tag me on
Instagram
 and share pictures with me using #Bakewithshivesh. Happy Baking!