As a passionate food blogger with an insatiable sweet tooth, I'm always on the lookout for exceptional desserts that weave together tradition, flavor, and indulgence. And my friends, Basque Cheesecake checks all those boxes and more! Unlike traditional cheesecakes, a Burnt Basque Cheesecake doesn't require a water bath. Baking it without one allows the top to caramelize and develop its signature "burnt" appearance. This legendary dessert hails from the beautiful Basque region of Spain and has taken the culinary world by storm. With its rustic charm and velvety texture, it's no wonder this "burnt" cheesecake has captured the hearts of food enthusiasts worldwide. The contrast between the slightly scorched crust and the velvety interior is a masterstroke, resulting in a harmonious interplay of flavours. The traditional recipe includes eggs but my friends, I have a recipe here that is EGGLESS but simply as good!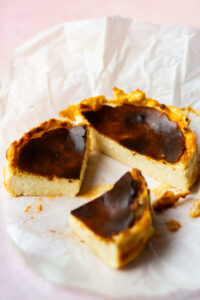 INGREDIENTS USED IN BURNT BASQUE CHEESECAKE
Since it's a cheesecake recipe, it can't go without adding the main ingredient for cheesecake, which is the cream cheese. Cream cheese adds the smoothness and extra creamy texture to the cheesecake and makes it more flavourful I have used D'lecta cream cheese to make this recipe but you can make use any cream cheese of your choice.
Greek yogurt is known for its thick and creamy texture. When added to the cheesecake batter, it enhances the overall creaminess and smoothness of the dessert, creating a velvety mouthfeel. It also has a slightly tangy taste due to the fermentation process. This tanginess adds depth and complexity to the flavour of the Basque cheesecake, balancing out the sweetness of other ingredients like sugar and vanilla. I use Epigamia Greek Yoghurt for my recipes.
To make the cheesecake batter smooth and creamy, I have used this condensed milk. It acts as a milk as well as a sugar substitute in the cheesecake batter. It is the second main ingredient for the cheesecake batter.
Another major ingredient for the cheesecake batter is the heavy cream. The fat content in cream is responsible for the creamy texture of the cheesecake. It also contributes to the stability of the cheesecake.
Cornflour is used in the cheesecake batter so that it can set properly and hold its shape. It also makes sure that the cheesecake batter remains thick and not too runny.
Basque cheesecake is known for its slightly burnt and caramelized top. The fine texture of castor sugar aids in faster caramelization during the high-temperature baking process, contributing to the unique appearance and flavor of the dessert.
EQUIPMENTS USED IN MAKING BURNT BASQUE CHEESECAKE
Not a lot of equipment is required to make this Burnt Basque Cheesecake. However, a few kitchen staples that should always be there in the kitchen are mentioned below.
Measuring Cups and Measuring Spoons are the first thing that anybody who in cooking or baking needs. The right quantities will help in the desired outcome so these two things are a must.
A mixing bowl is required to make the entire batter in. And spatulas to do the mixing.
You will also need a hand mixer to blend the entire mixture together. If you don't have one, you cal also use a balloon whisk.
A good quality parchment paper is required to line the springform pan. I have used a 4-inch springform pan to bake this Burnt Basque cheesecake. I have used this oven to bake my cheesecake.
RELATED RECIPES FROM THE BLOG
TIPS TO MAKE THIS BURNT BASQUE CHEESECAKE
Allow all your ingredients to come to room temperature before starting. Room temperature ingredients incorporate more smoothly, resulting in a smoother batter and better texture.
Use a round cake pan with a removable bottom. Line the sides and bottom with parchment paper. This will help prevent sticking and make it easier to remove the cheesecake from the pan after baking.
Mix the ingredients until just combined. Overmixing can lead to a cheesecake with a dense and rubbery texture.
Use softened cream cheese so that the final ice cream batter doesn't have lumps.
Keep a close eye on the cheesecake's color as it bakes. You want the top to be deeply browned, but not overly burnt.
Remember that the level of "burnt" or caramelization is a matter of personal preference. Feel free to adjust the baking time or temperature to achieve your desired level of browning.
If you don't have castor sugar on hand, you can make your own by processing regular granulated sugar in a food processor for a few seconds until it becomes finer.
This is a small serve recipe so you can always double or triple the recipe to make a bigger version.
BURNT BASQUE CHEESECAKE
Ingredients
¾ cup cream cheese
3 tbsp fresh cream
3 tbsp Greek yoghurt
3 tbsp condensed milk
1+1/2 tbsp castor sugar
2 tsp cornflour
¼ tsp baking powder
½ tsp vanilla extract
Instructions
Preheat your oven to 200°C. Grease a 4-inch round cake tin and line it with parchment paper.
In a bowl, beat the cream cheese until smooth.
Now add the remaining ingredients - sugar, cornflour, baking powder, yogurt, condensed milk, cream, vanilla extract. Mix until well combined.
Pour the batter into the prepared cake pan and smooth the top with a spatula.
Bake in the preheated oven for about 20-25 minutes, or until the cheesecake is golden brown on top and the centre is little jiggly. The cake may rise and crack, which is normal for Basque cheesecake.
Remove the cheesecake from the oven and let it cool.
Once cooled, refrigerate the cheesecake for at least 4 hours or overnight before serving.
When ready to serve, remove the cheesecake from the fridge, slice, and enjoy!
If you like my Burnt Basque Cheesecake recipe and happen to make them in your kitchen, do tag me on Instagram and share pictures with me using #Bakewithshivesh. Happy Baking!