Its monsoon season and every evening, I'm craving a new snack. But one snack that I keep going back to are my Eggless Churro Bites.  Churro bites are a delicious treat that can be enjoyed by people of all ages. These bite-sized versions of the classic churros are perfect for any occasion, from snacking to parties.  ! In my opinion, making them at home is a fun and rewarding experience.
In my opinion, making these Eggless Churro Bites at home is a fun and rewarding experience.
These mini treats boast the perfect balance of crispiness, sweetness, and cinnamon-spiced goodness. Whether you're a churro enthusiast or a newcomer to this delightful dessert, these Churro Bites are bound to become a new favourite in your household.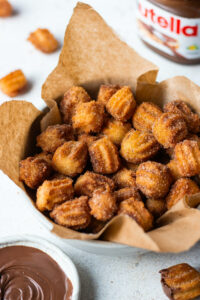 INGREDIENTS USED IN EGGLESS CHURRO BITES
Water is the main liquid component that hydrates the dry ingredients in the churro dough. When the churros are fried, the water content in the dough turns into steam due to the high heat of the oil. The steam helps to puff up the churros, giving them a light and airy texture on the inside while maintaining a crispy exterior.
Butter is a source of fat, and it imparts a rich, buttery flavor to the churro dough. This enhances the overall taste of the churros, making them more enjoyable and indulgent. The fat content in butter contributes to the tender texture of the churros. Butter acts as a binding agent, helping to hold the churro dough together and maintaining its shape when piped. This is especially important during the frying process, as it prevents the churros from falling apart in the hot oil.
Sugar is the primary sweetening agent in churros, providing the delightful sweetness that makes them so enjoyable to eat. It balances the flavors of the dough and complements the cinnamon sugar coating that is often added after frying. During the frying process, the sugar caramelizes, giving the churros their characteristic rich and appetizing color. The sugar in the churro dough also aids in achieving a crispy exterior during frying.
Flour is the primary dry ingredient in churros, and when combined with water, it forms the churro dough. As water is added to the flour, gluten proteins in the flour hydrate and create a sticky, elastic dough. Flour acts as a binding agent in churros, helping to hold all the ingredients together and maintain the dough's shape and structure during frying. The right amount of flour is essential for achieving the correct consistency of the churro dough. The dough needs to be thick enough to hold its shape when piped, but not too dry, as this could result in stiff churros.
After frying, churros are often rolled in a mixture of sugar and cinnamon. The sugar in the coating not only adds extra sweetness but also helps the cinnamon adhere to the churros, providing a burst of aromatic flavor.
EQUIPMENTS USED FOR MAKING EGGLESS CHURRO BITES
A correct proportion of all the ingredients will guarantee the best taste, so you will need measuring spoons and measuring cups to measure quantities of water, sugar, butter, flour, etc.
You will need a saucepan to bring the batter together. I have used Stahl saucepan to make the churro batter.
An induction or gas stove will obviously be required as well.
For frying, I have used Stahl kadhai (frying pan).
A few other things that are required for making the Eggless Churro Bites are a wooden spoon, piping bag and a pair of scissors.
TIPS TO MAKE EGGLESS CHURRO BITES
To get consistent and evenly sized churro bites, use a piping bag with a star-shaped nozzle. This will give the churros their classic ridged appearance.
Let the dough cool slightly before piping. Do not pipe when its very hot.
Fry at the Right Temperature: Use a deep-fry thermometer to ensure the oil reaches and maintains a temperature of around 175-190°C. This will give you crisp and golden churro bites.
Fry the churro bites in small batches to avoid overcrowding the fryer, as it can lower the oil temperature and result in uneven cooking.
Once the churro bites are done frying, place them on a paper towel-lined plate or wire rack to drain any excess oil.
Churros are best when served fresh and warm. If you need to make them in advance, you can reheat them in the oven briefly before serving.
For a twist, you can fill the churro bites with chocolate, dulce de leche, or fruit preserves using a small piping tip.
OTHER RELATED RECIPES FROM THE BLOG
EGGLESS CHURRO BITES
Ingredients
1 cup water
3 tbsp/40g butter
2 tbsp sugar
1 cup all purpose flour
Cinnamon sugar ( 1 tsp cinnamon powder + 3 tbsp sugar)
Oil (for frying)
Instructions
Add water, butter and sugar in a saucepan and heat till everything dissolves.
When the mixture starts to simmer, add flour and cook until it forms a smooth dough and a thin coating of flour is stuck at the bottom of the pan.
Let the dough cool a little bit and transfer it then into a piping bag with a star nozzle in it.
Heat some oil in kadhai for frying and once it is hot enough, pipe small bites of dough into it. Be careful while frying and use scissors to cut clean edges.
Once the churros are nicely golden brown, take then out on a tissue paper.
Finally coat them in cinnamon sugar and enjoy warm with nutella/ chocolate sauce/caramel.
If you like my easy Eggless Churro Bites recipe and happen to make them in your kitchen, , do tag me on Instagram and share pictures with me using #Bakewithshivesh. Happy Baking!