Hot Chocolate Premix
If you're a regular reader of my blog, you might recall the delightful hot chocolate recipe I shared in the past. But this year, as we prepare to embrace the colder months, I'm excited to introduce you to a new twist that combines convenience and decadence – a homemade hot chocolate premix. This premix is not only a treat for your taste buds but also a thoughtful gift idea. With a long shelf life and the ability to create a warm and comforting cup anytime you desire, this premix is the perfect addition to your winter kitchen.
To ensure the longevity of your premix, it's essential to store it properly. I recommend using airtight containers and placing them in a cool, dry place away from direct sunlight. This will keep your premix fresh for several months, allowing you to enjoy a delightful cup of hot chocolate even on the coldest of days.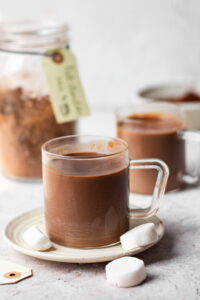 INGREDIENTS USED IN MAKING HOT CHOCOLATE PREMIX
Cocoa Powder
Cocoa powder is a fundamental ingredient in creating the deep, luscious flavour that defines hot chocolate. Cocoa powder's rich taste and aroma is the agent behind 'I can't have enough of this hot chocolate' feeling! So make sure you pick the right one and add the good flavours.
Sugar

Sugar serves as more than just a sweetener; it's a flavour enhancer and a harmonizer. When added to hot chocolate, sugar acts as a counterbalance to the natural bitterness of cocoa, creating a well-rounded and enjoyable taste experience

Dark Chocolate

The quality of the dark chocolate you choose greatly influences the outcome of your hot chocolate. Incorporating dark chocolate into your hot chocolate recipe introduces a layer of depth and intensity that sets it apart from traditional cocoa powder. So, Always use a good quality chocolate.

Corn Flour
Corn flour, also known as corn starch, is a versatile thickening agent that can be found in many kitchens. When introduced to hot chocolate, it brings a delightful creaminess and luxurious thickness that elevates the drink to a whole new level of indulgence.
TIPS FOR MAKING HOT CHOCOLATE PREMIX
Always use good quality dark chocolate.
To ensure the longevity of your hot chocolate premix, store it in an airtight container in a cool, dry place away from direct sunlight.
You can also introduce subtle flavorings like cinnamon, vanilla, or even a pinch of sea salt.
Accurate measurements are crucial to maintaining the perfect balance of flavors and textures.
Choose a premium cocoa powder and your preferred type of chocolate to achieve a rich and balanced flavor profile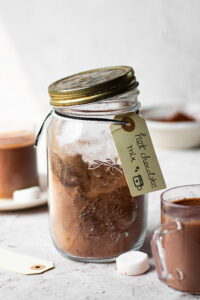 EQUIPEMENTS USED IN HOT CHOCOLATE PREMIX
To combine all the ingredients for this recipe, I have used glass bowl.
Measuring Cups and Measuring Spoons. are an integral part of any baker's kitchen and its very important to measure ingredients with precision.
Hot Chocolate Premix
1 cup cocoa powder ¾ cup sugar 2 tsp cinnamon powder 4 tsp cornflour 1 cup dark chocolate chips
Instructions
In a blender, add cocoa powder, sugar, cinnamon powder, cornflour and dark chocolate chips.
Now, blend everything together till you get a homogeneous powder.
Transfer this powder in an air tight container and store it upto 6 months.
To make hot chocolate, in a sauce pan add 1 cup milk and 2-3 tbsp of the hot chocolate premix.
Whisk it continuously and let it come to a boil.
Pour in your mugs and enjoy.