Indulging in a delicious, homemade cake has never been easier with my one bowl chocolate cake recipe. Whether you're craving a sweet treat in a hurry or want to whip up a delightful dessert without the fuss of traditional baking, this recipe is your go-to solution. In just a matter of minutes, a single bowl and a microwave will transform simple ingredients into a moist, tender, and utterly satisfying cake. With the perfect balance of sweetness and texture, this One Bowl Chocolate Cake promises to deliver the joy of baking with convenience like never before.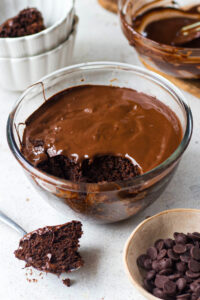 INGREDIENTS USED IN ONE BOWL CHOCOLATE CAKE
The most obvious reason is that sugar adds sweetness to the cake, making it enjoyable and satisfying to eat. In a microwave cake, sugar helps keep the cake moist, preventing it from becoming dry and crumbly during the cooking process.
Oil adds tenderness to the cake's crumb. It coats the flour particles and interferes with gluten formation, resulting in a more delicate and less chewy texture. It is often easier to mix into cake batters compared to solid fats like butter. It can be blended more uniformly with other ingredients, ensuring an even distribution of fats throughout the batter.
Depending on the type of yogurt used, it can contribute a subtle tangy flavour to the cake. This tanginess can complement the sweetness of the other ingredients and add depth to the overall flavour profile of the cake. Yogurt can help bind the ingredients together in the batter, promoting a cohesive and well-structured cake. It adds moisture to the cake batter, helping to prevent the cake from becoming dry during the microwave cooking process.
Milk helps dilute the batter to achieve the desired consistency. This makes the batter easier to work with and results in a smoother texture. In recipes that use baking powder as a leavening agent, milk can react with it to produce carbon dioxide gas. This gas creates air bubbles within the batter, causing the cake to rise and become fluffy.
Flour helps absorb the moisture from other ingredients in the batter, which contributes to the cake's texture and prevents it from being overly wet. Flour interacts with leavening agents like baking powder and baking soda to create gas (usually carbon dioxide) that causes the cake to rise. Flour is a primary structural ingredient in cakes. It provides the framework for the cake's crumb and gives it a cohesive texture. It also produces a tender crumb in the cake.
Since it's a Chocolate Cake recipe, one of the main ingredients to impart chocolate flavor is cocoa powder. . It gives that immense chocolate flavour to any dessert. You can use any good quality cocoa powder which is easily available to you in nearby grocery stores.
Baking powder and baking soda are used in this cake recipe as raising agents. Leavening agents introduce gas bubbles into the cake batter. When heated in the microwave, these bubbles expand, causing the cake to rise and become airy. The rise from leavening agents helps the cake cook more evenly in the microwave, ensuring that the center and edges of the cake cook at a similar rate.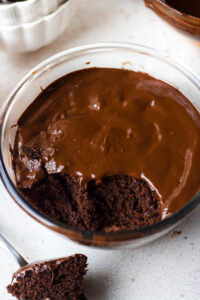 EQUIPMENT USED FOR MAKING ONE BOWL CHOCOLATE CAKE
This one bowl chocolate cake comes together in minutes and needs just one bowl and a few measuring cups and measuring spoons to make.
You also require a microwave to make this cake in 4 minutes.
Or you can bake it too.
OTHER RELATED RECIPES FROM THE BLOG
TIPS TO MAKE ONE BOWL CHOCOLATE CAKE
Use superfine sugar to blend properly in the batter and whisk really well.
Make sure the milk and yogurt are at room temperature and not too cold.
You can use low-fat dairy or dairy alternatives like almond milk or oat milk for a healthier cake.
Include healthier fats like olive oil, coconut oil to keep the cake moist.
Make sure to sift the dry ingredients to incorporate some air.
All microwaves work differently so heat the cake on normal settings for 3 mins first and check with a skewer if it is done. Cook more in 30 seconds intervals if required.
ONE BOWL CHOCOLATE CAKE
Ingredients
6 tbsp oil
½ cup sugar
½ cup curd
2 tbsp milk
¾th cup all-purpose flour
6 tbsp cocoa powder
½ tsp baking powder
¼th tsp baking soda
Pinch of salt
½ tsp coffee powder
Melted chocolate, for garnish
Instructions
In a bowl, whisk together sugar and oil till nicely combined.
Add curd and milk to this mixture and whisk again until everything is properly combined.
Sift the dry ingredients, namely, flour, cocoa powder, baking powder, baking soda, salt and coffee powder over this mixture and mix well. Do not over mix.
Spread this batter neatly in the same bowl and microwave on regular heating mode for 3-4 mins.
Once the cake is cooked and out of the microwave, melt some chocolate and spread a generous layer of it on the cake!
If you like my One Bowl Chocolate Cake recipe and happen to make them in your kitchen, do tag me on Instagram and share pictures with me using #Bakewithshivesh. Happy Baking!