My mornings just got a whole lot easier and tastier with my Healthy Pancake mix recipe. Say goodbye to rushed breakfasts and hello to a stack of delicious, fluffy pancakes in minutes. This premix is a game-changer for busy households, providing a convenient solution that doesn't compromise on taste or nutrition. It's time to make your breakfast super yummy and convenient with this no all purpose flour, no refined sugar instant chocolate pancake mix. Packed with oats this recipe makes the fluffiest eggless pancakes in no time and will definitely make you ditch the store-bought version at the very first go.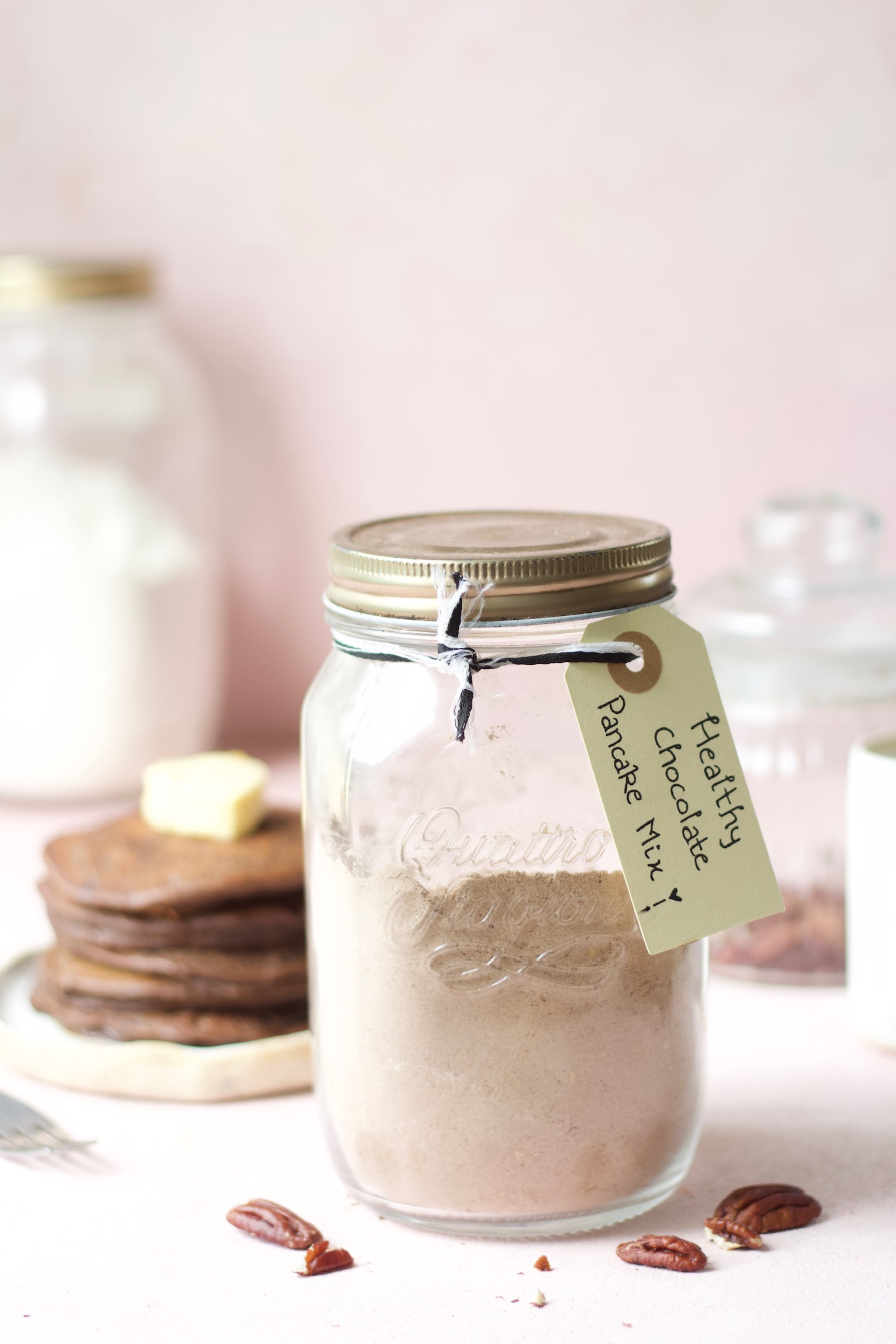 INGREDIENTS USED IN HEALTHY PANCAKE MIX
The healthy sweetener that I'm using for this recipe is jaggery. It is highly nutritious and any day a better substitute to white refined sugar. It also adds a nice brown color to the batter and pancakes. It also adds in to the moisture of the pancakes. I have used this jaggery powder but you can use any.
I have substituted all purpose flour with whole wheat flour here. It is a little more dense in structure but definitely a healthier alternative. Since all flours absorb liquid differently, the wet ingredients need to be calculated accordingly. Whole wheat flour absorbs more moisture which is why the quantity of liquid ingredients is more. You can decrease the quantity in case you wish to make these pancakes with all-purpose flour.
When ground or used in a flour form, oats contribute to the texture of the pancakes. They add a slight chewiness and thickness, creating a more substantial and satisfying pancake. They are rich in essential nutrients like fiber, vitamins, minerals, and antioxidants too. Including oats in the premix adds variety to the ingredients, diversifying the nutrient profile and providing a broader range of health benefits.
Cocoa powder is the primary source of rich chocolate flavor in the pancakes. It imparts a deep, decadent taste that elevates the overall enjoyment of the pancakes. Using cocoa powder instead of chocolate chips in the premix reduces added sugars and provides the rich chocolate flavor without the extra calories and fat.
Leavening agents, such as baking powder or baking soda, release carbon dioxide gas when they come into contact with moisture and heat. This gas creates bubbles in the batter, causing it to rise and giving the pancakes a light, airy texture. Without these agents, pancakes can turn out flat, dense, and heavy. You can buy the baking soda from here.
EQUIPMENTS USED FOR MAKING HEALTHY PANCAKE MIX
The recipe doesn't call for any equipment as such except for a strong blender. I have my  Morphy-Richard hand blender for mixing everything together.
These measuring spoons and measuring cups are a staple in my kitchen and I use them to measure all of my recipes.
I have used this non-stick pan to cook my pancakes.
TIPS TO MAKE HEALTHY PANCAKE MIX
Thoroughly mix all the dry ingredients to ensure an even distribution. This helps prevent uneven texture in the final pancakes.
Depending on personal preferences, you can adjust the amount of sweetener.
Leave room for customization. Include optional add-ins like chocolate chips, berries, nuts, or spices in separate compartments for variety.
Consider adding protein powder or sources like almond flour or chia seeds for a protein-packed version of the premix.
Use airtight containers, resealable bags, or vacuum-sealed pouches to keep the premix fresh and protected from moisture.
OTHER RELATED RECIPES FROM THE BLOG
HEALTHY PANCAKE MIX
Ingredients
1 + ½ cup oats
2 cups whole wheat flour
½ cup cocoa powder
½ cup jaggery
2 tsp baking powder
½ tsp baking soda
For preparation
1 cup pancake mix
¾ cup buttermilk (3/4 cup milk + ½ tbsp vinegar)
3 tbsp olive oil
Instructions
Add the measured oats, whole wheat flour, cocoa powder, jaggery powder, baking powder and baking soda in a blender and grind till everything is mixed evenly into a powder form.
The pancake mix is ready.
You can store it in an airtight container for up to 4-6 weeks.
To make one batch, add 1 cup of premix in a bowl and combine it with buttermilk and oil to make a smooth batter.
Cook the pancakes on low heat till nicely cooked on both sides.
* 1 cup premix makes – 8 pancakes
*Entire batch makes – 36 pancakes
If you like my easy Healthy Pancake Mix recipe and happen to make them in your kitchen, do tag me on Instagram and share pictures with me using #Bakewithshivesh. Happy Baking!