I recently was wondering about the number of times my recipes don't work and i have to throw them straight into the dustbin. And although I've been lucky enough to have a very few instances like that, I still feel bad when my desserts go to waste and basically, my ingredients go to waste, especially the expensive ones. So, I decided to come up with one easy recipe of such an ingredient that is so easy to make and way cheaper than store-bought. It is one of my favourites – CREAM CHEESE. Yes, cream cheese at home!! This homemade cream cheese is so easy to make and requires minimum effort. The end quantity is much larger and much cheaper. It can be stored easily upto a week and can be used for a variety of purposes. The texture is so creamy and rich that I feel like using only this homemade cream cheese for all my recipes.
*A store-bought cream cheese (150g) costs around ₹200 while this Homemade Cream Cheese (250g) costs around ₹130.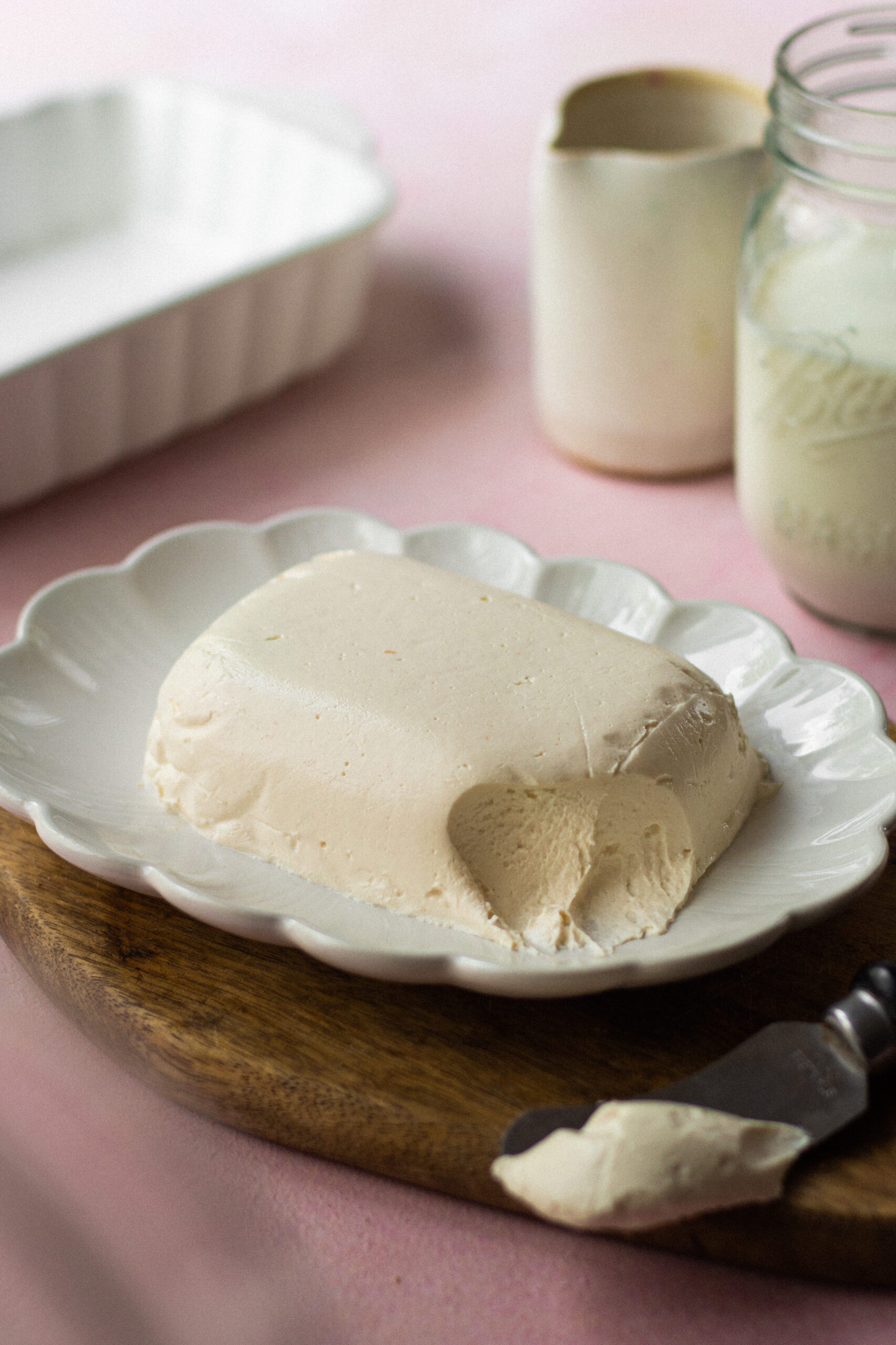 INGREDIENTS USED IN MAKING CREAM CHEESE
Full fat milk is used in this recipe. The creamy texture of cream cheese is due to the fat content in the milk that gives it the smoothness of the cream cheese. I have used Amul full fat milk for this recipe.
A dairy cream has a lot of fat content which again, contributes to the final texture of the cream cheese. A cream cheese if of course creamier than cottage cheese or say, ricotta cheese and hence requires a creamier ingredient which is fresh cream. I have used Amul fresh cream for this recipe.
Vinegar is a very important ingredient because the acid ultimately breaks the protein bonds of milk and fresh cream and helps in the curdling process. The mixture will start to curdle as soon as it is added to a base ingredient like milk. Make sure that the vinegar is not expired.
EQUIPMENT USED IN MAKING CREAM CHEESE
Just a handful of equipment is all that is needed to make this homemade cream cheese.
Measuring spoons and measuring cups are the first and foremost things required to create any recipe. It gives the precise measurement of the ingredients and help make the recipe a success.
A heavy bottomed saucepan to heat the ingredients is necessary.
Apart from this, a muslin cloth and a large sieve are desired to get the right texture of the cheese.
TIPS FOR MAKING CREAM CHEESE
Only use full-fat milk for this recipe.
Instead of vinegar, you can also use lemon juice to curdle the milk.
If you feel, the texture of cream cheese while blending is dry, you can use little whey water to make it a creamier texture.
To set the cream cheese in a block like I did, use a small baking dish or any small mould, line it with parchment paper and set it in it. Also do not forget to cover it otherwise it will dry out.
Make sure that the vinegar is not expired.
OTHER RELATED RECIPES FROM THE BLOG
HOMEMADE CREAM CHEESE
Ingredients
4 cups full fat milk
1 cup fresh cream
Pinch of salt
3 tbsp vinegar
Instructions
In a saucepan, set over medium heat, pour milk and cream and heat till it becomes warm.
Once it is warm, add salt and vinegar. You'll notice that the milk and cream will start to curdle and separate. Take it off the heat at this stage.
Place a muslin cloth over a large sieve, set over a bowl and pour the mixture onto it. Let all the extra whey water drain and collect in a bowl.
Take the cheese from the muslin cloth and place in a blender jar. Blend till a smooth texture is achieved.
* If you feel it isn't smooth enough, add the whey water 1 tbsp at a time and blend again for 15 seconds.
Once the desired smoothness is achieved, place it in a container and cling wrap it to prevent it from drying.
Refrigerate for about 30 mins and your homemade cream cheese is ready to be used.
If you like my Homemade Cream Cheese recipe and happen to make them in your kitchen, do tag me on Instagram and share pictures with me using #Bakewithshivesh. Happy Baking!