In my childhood, I remember that my mom used to specially get vanilla ice cream for me and herself. I used to always have my vanilla icecream with chocolate sauce over it with chopped cashews and almonds. My mom and I would really enjoy our dessert every weekend.
And this time I wanted to try the easiest and quickest 5 ingredient chocolate sauce in my kitchen and to stop purchasing the readymade chocolate sauce from the store.
A dash of this 5 ingredient chocolate sauce in a regular cold coffee can add a lot of texture and flavour. Whether it's regular pancakes, waffles, desserts, or even specific savoury foods, adding some chocolate sauce on top puts a smile on everyone's face.
INGREDIENTS USED IN 5 INGREDIENT CHOCOLATE SAUCE
Chocolate sauce is thickened with flour but remains thin and pourable.
I've used all purpose flour in my recipe.
Cocoa powder's rich taste and aroma is the agent behind 'I can't have enough of this sauce' feeling! So make sure you pick the right one and add the good flavours.
The sweetener in this chocolate sauce recipe is caster sugar. The small-sized granules of caster sugar are perfect to use because they will easily melt into the sauce mixture.
EQUIPMENTS USED FOR MAKING 5 INGREDIENT CHOCOLATE SAUCE
This recipe comes together quickly and hardly needs any equipment.
Measuring Cups and Measuring Spoons. are an integral part of any baker's kitchen and its very important to measure ingredients with precision.
I've used stahl saucepan to make this chocolate sauce.
OTHER RELATED RECIPES FROM THE BLOG
TIPS TO MAKE CHOCOLATE SAUCE
Cook the chocolate sauce on medium heat and keep whisking till you get the desired thick consistency of the sauce.
Make sure it doesn't get burned from the bottom.
Refrigerate this chocolate sauce in an airtight container for upto two weeks and enjoy with cakes, ice creams, churros and all your favourite desserts.
Simply reheat in the microwave for a few seconds before serving.
If you use chocolate sauce a lot, this recipe can easily be doubled.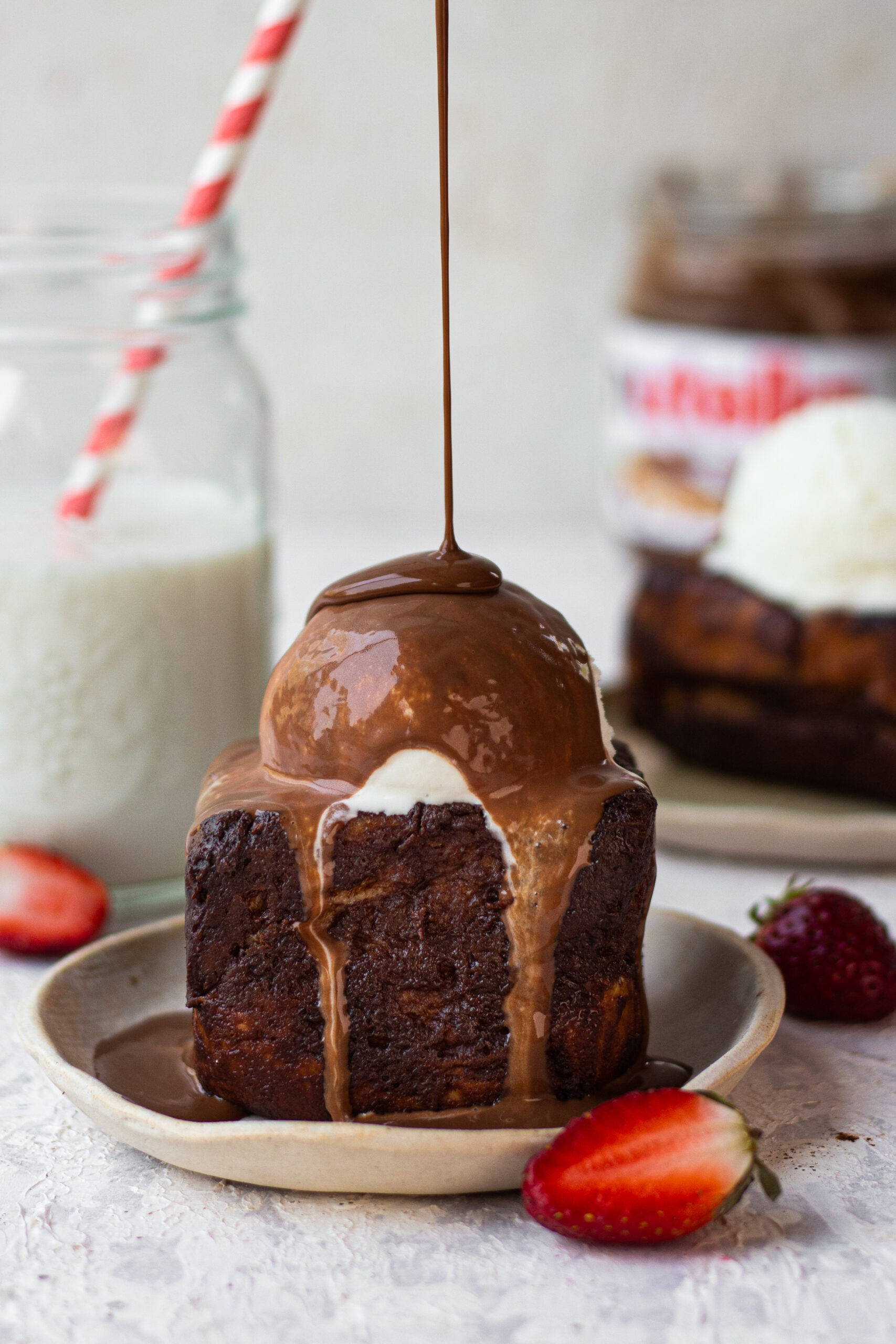 5 INGREDIENT CHOCOLATE SAUCE
Ingredients
6 tbsp sugar
4 tbsp cocoa powder
1 tbsp all-purpose flour
½ cup milk
1 tbsp butter
Instructions
Roughly whisk together sugar, cocoa powder and flour till well combined.
Heat milk and butter in a saucepan till the butter melts.
Now add the dry ingredients mixture into it and whisk continuously.
Keep whisking till you reach the desired sauce consistency. I like mine a little thick but still in a pourable consistency.
Remember that the sauce will thicken more as it cools.
Enjoy this delicious chocolate sauce with cakes, ice creams, churros and all your favourite desserts.
If you like my 5 ingredient chocolate sauce recipe and happen to make them in your kitchen, do tag me on Instagram and share pictures with me using #Bakewithshivesh. Happy Baking!