Sundays are meant for good breakfasts and for me good breakfast is equal to french toast. I made my favourite Nutella stuffed french toast with a twist. I have used paos to make these Nutella stuffed french toast instead of regular brioche. It's a perfect treat for a special breakfast and for weekend brunch. Who wouldn't love a warm buttery toast with an oozing Nutella? If you are those kinds of people who love sweet breakfasts, then this a perfect indulgent and it's a cherry on the top with a scoop of vanilla ice-cream!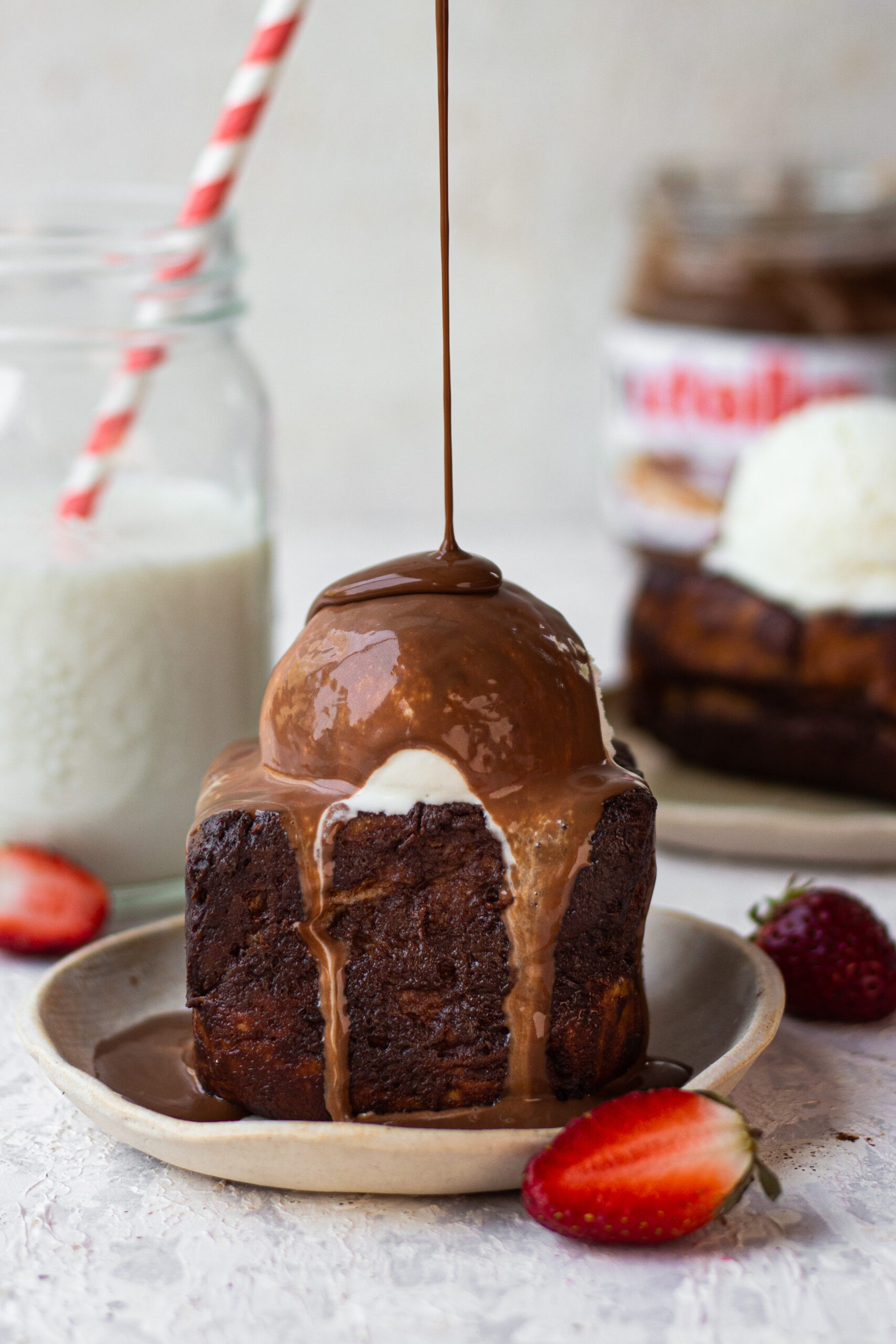 INGREDIENTS USED TO MAKE THIS EGGLESS NUTELLA STUFFED FRENCH TOAST
Milk is the key soak ingredient for our eggless nutella French toast. Other ingredients are put into it and then the complete soak mixture is made. Just make sure milk needs to be warm so that all the other ingredients get mixed into it properly. 
In the milk, cream would be added to make it more rich and smooth. I am adding fresh cream in it, if you like you can also add whipping or heavy cream in your milk if that is more accessible to you. 
Icing sugar generally gives it a thick and smooth consistency.  
For this eggless nutella stuffed French toast, to get its chocolaty flavor; I am adding 2 tablespoons of cocoa powder. I am using unsweetened cocoa powder here. You can use cocoa powder of any brand, but I use hershys as those are really silky in texture and very flavorful. 
To make the mixture thick and nice, I am adding 1 tablespoon of corn flour. As these French toasts are eggless and we need to make the soak mixture thick, adding corn flour is necessary and cannot be skipped. 
TIPS AND VARIATIONS TO MAKE THIS EGGLESS NUTELLA STUFFED FRENCH TOAST
Make sure to warm the milk properly as to have a lump free soak for the bread to get soaked. 
If your complete soak mixture has lumps, you can always sieve it. 
It is always better to sift icing sugar before adding as even after mixing, they tend to remain like that and doesn't get mixed properly. 
If you want this recipe to be vanilla, instead of chocolate; you can remove 2 tablespoon of cocoa powder and substitute it with custard powder. 
EQUIPMENTS USED TO MAKE EGGLESS CHOCOLATE FRENCH TOASTS 
The kind of equipment you use when you're baking makes a huge difference to the end result! I would recommend you to use good quality mixing bowls and other equipment so that your eggless french toasts comes out delicious. 
I have used Borosil Induction for toasting my paos. It makes cooking hassle free and quick. 
OTHER SIMILAR RECIPES ON THE BLOG:
EGGLESS NUTELLA BISCUIT PUDDING 
NUTELLA STUFFED FRENCH TOAST
NUTELLA STUFFED FRENCH TOAST
Ingredients
4 pav buns
½ cup nutella
½ cup milk
¼ cup cream
2 tbsp cocoa powder
2 tbsp icing sugar
1 tbsp cornstarch
Chocolate glaze-
¼ cup dark chocolate
½ tbsp oil
Instructions
Take 4 pav buns and make a deep square cavity from the top.  Fill the cavity with nutella and cover with the square piece again.
Now, In a bowl add warm milk, fresh cream, icing sugar, cocoa powder and corn flour. Using a whisk, mix everything real well so there are no lumps. The soak mixture is ready.
In a frying pan, add some butter and let it melt and sizzle. Meanwhile, add pav buns into the soak mixture and let it sit for about a minute.
Place this soaked bun onto the frying pan and toast it properly from all the sides.
Serve it warm with an icecream scoop and chocolate glaze on top.
If you like my eggless nutella french toast recipe and happen to make it in your kitchen, do tag me on
Instagram
 and share pictures with me using #Bakewithshivesh. Happy Baking!