I'm always up for trying new things in my kitchen and this time, I decided to experiment and include watermelon jelly instead of watermelon chunks. The jelly is made with fresh watermelon juice only and tastes equally good. This Mohabbat Ka Sharbat, in my personal opinion is more appealing and gives a very different mouthfeel to the drink. I say you give this a try!
INGREDIENTS USED IN MOHABBAT KA SHARBAT
Mohabbat ka Sharbat typically consists of watermelon chunks but I'm using it to extract the juice and make watermelon jelly. The flavour profile will remain exactly the same as the traditional recipe. Make sure that the watermelon is ripe and red to get the best colour and flavour in the drink
The recipe is a vegetarian recipe and agar agar is a vegetarian substitute for gelatine. It is a seaweed-based setting agent that is very crucial in setting of the watermelon jelly and holding its shape.
The summer drink in itself is not naturally sweet, hence, it requires added sugar. I have used castor sugar but you can use any sugar of your choice. Granulated and icing sugar both work well.
It is the prime ingredient in my Mohabbat ka Sharbat recipe. It is the base of the drink and is added with rose flavour to complete the drink. A full fat milk will yield a smoother and creamier drink but you can opt for any milk based of your health and nutrient requirements.
I have used this rose syrup to make Mohabbat ka Sharbat. It adds sweetness and colour to the milk. It also gives the distinct rose flavour to the drink that pairs beautifully with the watermelon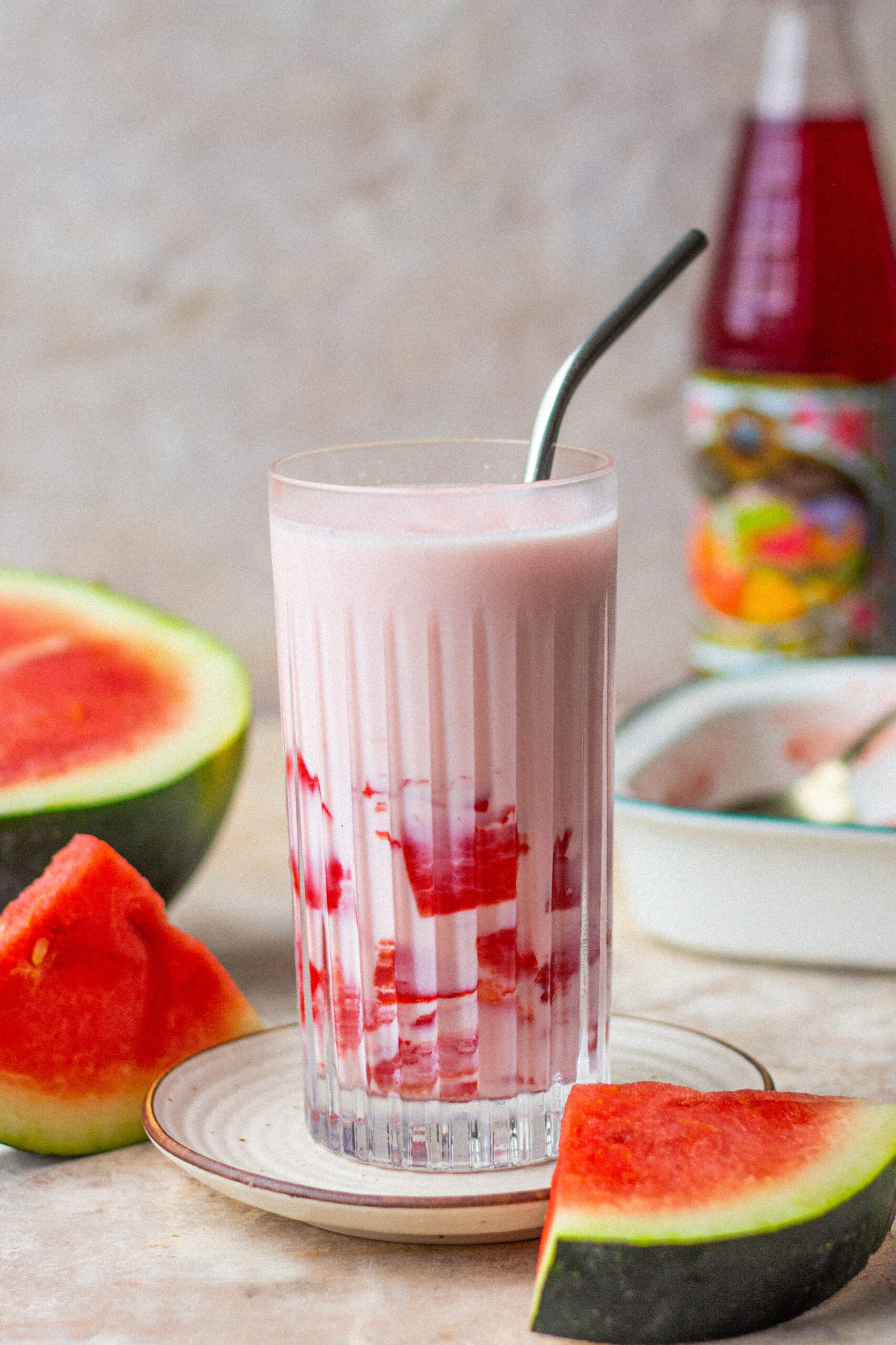 EQUIPMENTS USED IN MAKING MOHABBAT KA SHARBAT
Very basic home staple equipment goes into making this Mohabbat Ka Sharbat.
A good blender is required first to make the watermelon juice and a good strainer to extract the juice.
You also need a saucepan to heat the mixture and make watermelon jelly.
My set of Measuring Cups and Measuring Spoons always come in handy and are the most important part of any recipe.
RELATED RECIPES FROM THE BLOG
TIPS TO MAKE MOHABBAT KA SHARBAT
Agar agar doesn't activate and sets until proper heat is provided. So, make sure that the jelly mixture comes to a boil before removing it from heat.
Refrigerate the jelly cubes until well set.
You can also add fresh watermelon chunks for an extra boost of flavour and texture.
This drink is traditionally served with lots of ice, hence, don't miss it.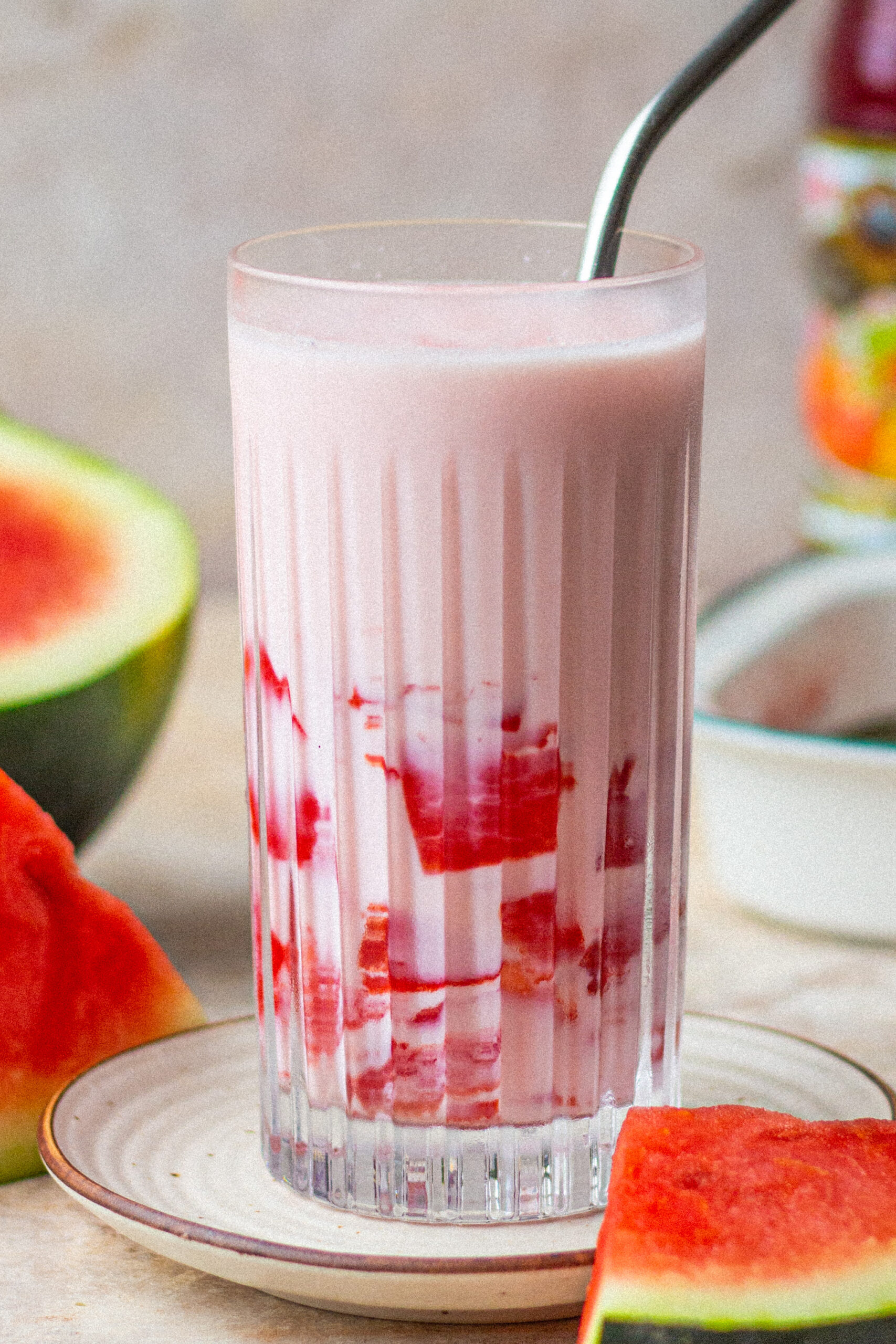 MOHABBAT KA SHARBAT
Ingredients
For the jelly
1 cup watermelon juice
2 tbsp sugar
½ tsp agar agar
For the drink
1 cup milk
1 tbsp rose syrup
½ cup icecubes
Instructions
Heat a saucepan set over medium heat, add fresh watermelon juice and sugar and let it cook for 1-2 minutes untill sugar dissolves.
Now add agar agar and remove from heat when it comes to a boil.
Refrigerate it for 1-2 hrs untill it's completely set.
Cut small cubes of the watermelon jelly and keep it aside.
Mix milk and rose syrup together in a jar.
Now, in a glass pour icecubes, jelly and rose milk.
Mix well and serve cold.
If you like my Mohabbat Ka Sharbat recipe and happen to make them in your kitchen, do tag me on Instagram and share pictures with me using #Bakewithshivesh. Happy Baking!