My love for cheesecakes began when I first ate it in my early twenties when I started travelling and when I came back my real urge started to experiment it in my kitchen. I have tried out many flavours till now both no bake and baked but this time, I have experimented something crazy. I tried making small serve cheesecake in a COOKER! Yes, you read it right, cheesecake in a cooker. I want to do this from so long and finally I did it. This small serve Oreo Cheesecake is thick, creamy and loaded with Oreo cookies.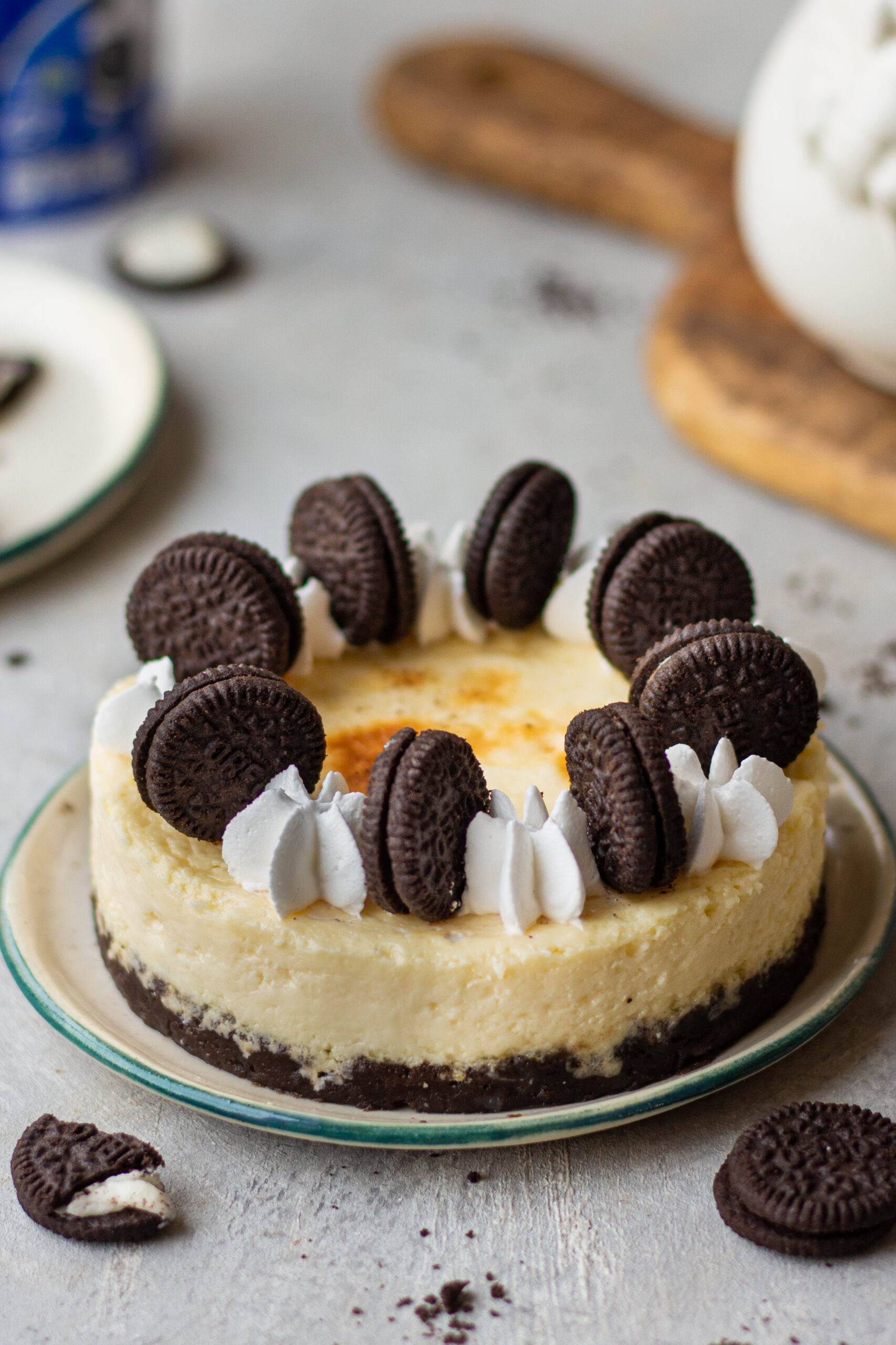 INGREDIENTS USED FOR SMALL SERVE BAKED OREO CHEESECAKE
BUTTER
I have used salted butter for this small serve baked oreo cheesecake. Feel free to use unsalted if that's what you have in hand. Make sure you add a pinch of salt in case you are using unsalted butter. You will need to melt the butter before combining it with crushed Oreo biscuits 
OREO BISCUITS
For the crumbly biscuit base for this small serve oreo baked cheesecake, I have used Oreo biscuits. Feel free to replace it with any other chocolate biscuit or even glucose biscuits, any of them works perfectly. Digestive biscuits, ParleG and even Marie Gold biscuits can be used instead of Oreos. I have removed the sandwiched cream before using Oreos, you can keep them if you like 
FRESH CREAM
To bring that richness and fluffiness in this small serve baked oreo cheesecake, I have used heavy cream. The brands that I trust for heavy cream are Tropolite and Rich. 
CREAM CHEESE
It helps in giving texture, taste and creaminess to this small serve baked Oreo cheesecake. For cream cheese, Dlecta or Philadelphia are some of the good brands. You can even use Britannia's cream cheese if the other two aren't available near you. All of them works well in this no-bake cheesecake. 
CONDENSED MILK
The condensed milk is used to sweeten the cheesecake. It also helps keep the batter creamy and doesn't crystalize or turn grainy when frozen. 
TIPS TO KEEP IN MIND WHILE MAKING CHEESECAKE IN A PRESSURE COOKER
Make sure the ingredients should be at room temperature.

 
Keep your crust until 1 cm otherwise it soaks lots of moisture.

 
Don't be in a hurry to take out your cheesecake. Give it the time the recipe calls for.

 
Use a good heavy stainless steel pressure cooker.

 
Your mould should be properly doubly covered with foil and also the quality of the mould should be good.

 
EQUIPMENTS USED TO MAKE SMALL SERVE CHOCOLATE CAKE
The kind of equipment you use when you're baking makes a huge difference to the end result! I would recommend you use good quality mixing bowls and other equipment so that your eggless marble cake comes out delicious! 
To mix all my ingredients together in, I'm using, Borosil's 100% Borosilicate Glass Bowl which is microwave and oven safe, plus the bowls are super easy to clean and handle, which makes my baking process totally hassle free! 
Not a single day goes in my kitchen when I don't use a Silicon Spatula, this is the one I recommend. Same goes for my set of Measuring Cups and Measuring Spoons. 
I have used Stahl pressure cooker for this recipe.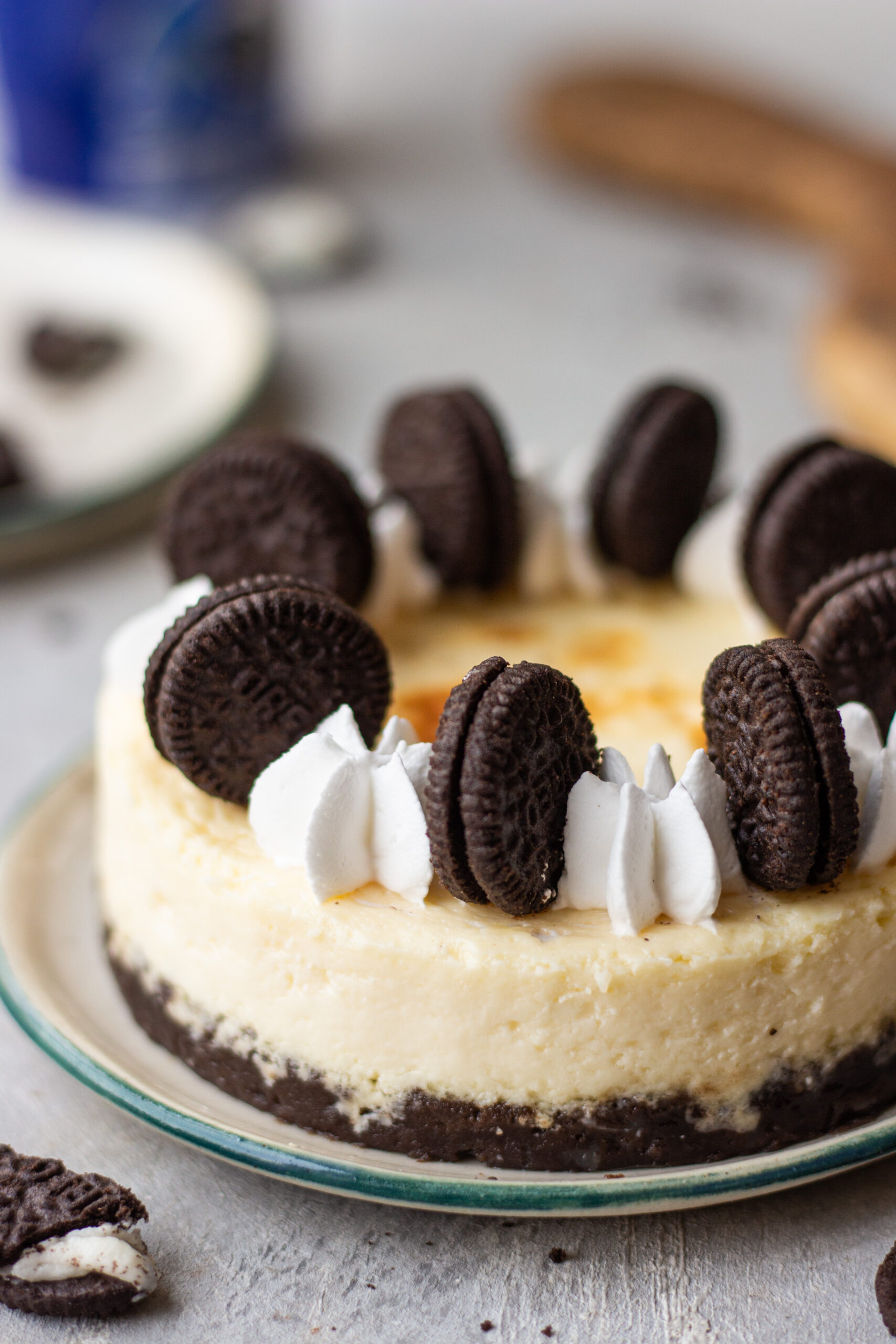 SIMILAR SMALL SERVE RECIPES ON THE BLOG ARE:
SMALL SERVE STRAWBERRY CHEESECAKE
SMALL SERVE WHOLEWHEAT CHOCOLATE CAKE
SMALL SERVE EGGLESS BROWNIES 
SMALL SERVE BAKED OREO CHEESECAKE IN A COOKER
Ingredients
5 whole oreo biscuits
3 tbsp butter
½ cup cream cheese
2 tbsp fresh cream/ whipping cream
½ tbsp corn flour
½ tsp vanilla extract
¼ cup condensed milk
Instructions
Scrape the cream off the biscuits and crush only the cookies in a blender.
Add melted butter and blend again till a sandy texture is achieved.
Pour this mixture into a lined cheesecake mould and freeze for 8-10 mins.
For the cheesecake batter, combine softened cream cheese, cream, condensed milk, cornflour and vanilla till no lumps remain.
Pour this over the biscuit layer and tap gently a few times to remove any air bubbles.
Now take a pressure cooker and add some salt to it. Place a stand in the middle of the cooker and now let the salt heat for a few minutes.
Meanwhile, place your cheesecake in a slightly bigger mould filled upto 1 inch water.
Once the salt is warm, carefully place the water bath on the stand and close the pressure cooker lid.
Cook on low heat for about 40 mins and then chill in the fridge for atleast 6 hours or overnight.
Give it a final look with some whipped cream and mini oreos and enjoy!
If you like my small serve baked oreo cheesecake and happen to make them in your kitchen, do tag me on
Instagram
and share pictures with me using #Bakewithshivesh. Happy Baking!