In India we almost celebrate one or other festival every month and with that it gifts us a lot of calories. We can't resist ourselves from eating all those amazing dishes and mouth-watering desserts, at-least I can never resist myself from that and then I end up feeling guilty about it. So, I thought of baking something which is healthy and toothsome at the same time. I made these small serve wholewheat healthy cookie for myself which is packed with goodness and are super easy and quick to make. There are no specific ingredients that you need to go out to buy that's why it's definitely a hit to bake these wholewheat healthy cookies without caring for the calories. 
INGREDIENTS USED FOR WHOLEWHEAT CHOCOLATE COOKIES
These healthy wholewheat chocolate cookies are refined flour free, and refined sugar free. These healthy cookies don't even have butter in them AND they are eggless!  
Wholewheat flour
Instead of all-purpose flour, I have used whole wheat flour. I love the nutty and earthy flavor that whole wheat flour adds to baked goods.  
Jaggery powder
I normally use a combination of caster sugar and light brown sugar in my cookie recipes. This time I used jaggery powder which is also commonly known as shakkar. If you don't have jaggery, you can also use coconut sugar. It is very commonly available in the local stores these days.  
Ghee
If you are wondering how I made delicious cookies without butter, it is because I used the ghee in this recipe. It worked perfectly well with the recipe and gave my cookies a great texture and taste.  
Cornflour
I have used corn-flour in the dry ingredients because it really adds a great chewiness and texture to my cookies.  
TIPS TO KEEP IN MIND WHILE MAKING THESE COOKIES
There are some tips and tricks that you need to keep in mind if you want to make the ultimate cookies.  
All the ingredients should be at room temperature.

 

Combine the jaggery powder and ghee nicely until it fluffs up a little.

 

If you like your cookies to be chewy, you can attain the best chewiness two ways. One by adding brown sugar and two, by adding cornflour. 

 

If you like your cookies to be thin and crispy, add less flour and more ghee. The higher the ratio of flour, the cakier your cookie will be. 

 

Always rest your cookie dough for a few hours before you bake cookies out of it. Resting the dough really helps all ingredients to get activated and flavours to combine. 

 

Scoop your dough before freezing the cookies so that it will be easier for you to shape them.

 

Store your cookies in an airtight container to make sure they don't lose their freshness and texture. 
EQUIPMENTS USED TO MAKE SMALL SERVE CHOCOLATE CAKE
The kind of equipment you use when you're baking makes a huge difference to the end result! I would recommend you to use good quality mixing bowls and other equipment so that your eggless marble cake comes out delicious! 
To mix all my ingredients together in, I'm using Borosil's 100% Borosilicate Glass Bowl which is microwave and oven safe, plus the bowls are super easy to clean and handle, which makes my baking process totally hassle free! 
Not a single day goes in my kitchen when I don't use a Silicon Spatula, this is the one I recommend. Same goes for my set of Measuring Cups and Measuring Spoons. 
I have baked these cookies in my Borosil 60L oven. 
SIMILAR RECIPES ON THE BLOG ARE:
COCONUT ATTA BISCUITS
CHICKPEA BROWNIES
HEALTHY CHOCOLATE PANCAKES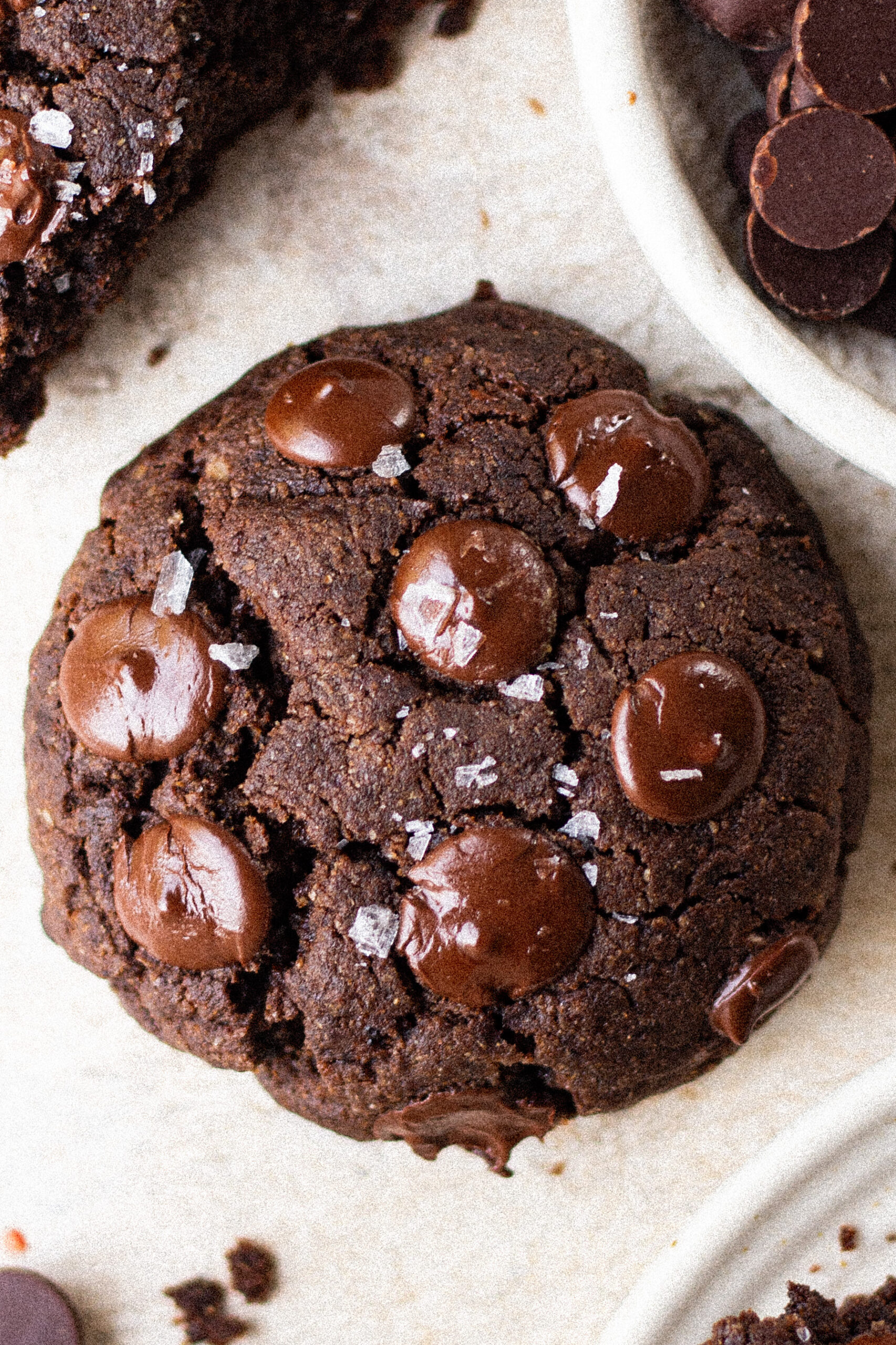 SMALL SERVE WHOLEWHEAT CHOCOLATE COOKIES
Ingredients
4 tbsp ghee
4 tbsp jaggery powder
½ cup whole wheat flour
¼ tsp baking soda
2 tbsp cocoa powder
1 tsp cornflour
2 tbsp milk
Topping- dark chocolate chips
Instructions
In a glass bowl add ghee and jaggery powder and mix them well until they are nicely combined.
To thIs add whole wheat flour, cocoa powder, baking soda, and corn flour. Mix this well and your cookie dough will reach a coarse consistency.
To this, add the milk. Give it one final mix and bring the dough together.
Once the cookie dough is ready, divide it and shape it into two cookies.Let them rest in the refrigerator for 15-20 minutes.
Pre heat your oven to 180 degree Celsius.
Once rested, place your cookies on a baking tray lined with a silicon mat and top them with chocolate chips.
Bake the cookies for 12-15 minutes. Once the cookies are out of the oven, sprinkle some sea salt on top and let them cool completely
If you like my healthy small serve wholewheat chocolate cookies and happen to make them in your kitchen, do tag me on
Instagram
 and share pictures with me using #Bakewithshivesh. Happy Baking!