This pumpkin mousse cake is the one recipe you need for Halloween this year! It is easy to make, delicious, and screams Halloween! It has three components- a chocolate cake, a pumpkin mousse, and a dark chocolate ganache. I have used my favorite basic chocolate cake recipe from the blog for the chocolate cake and the ganache. I use 57% dark chocolate for my ganache. I suggest you also use the best quality chocolate you can get your hands on!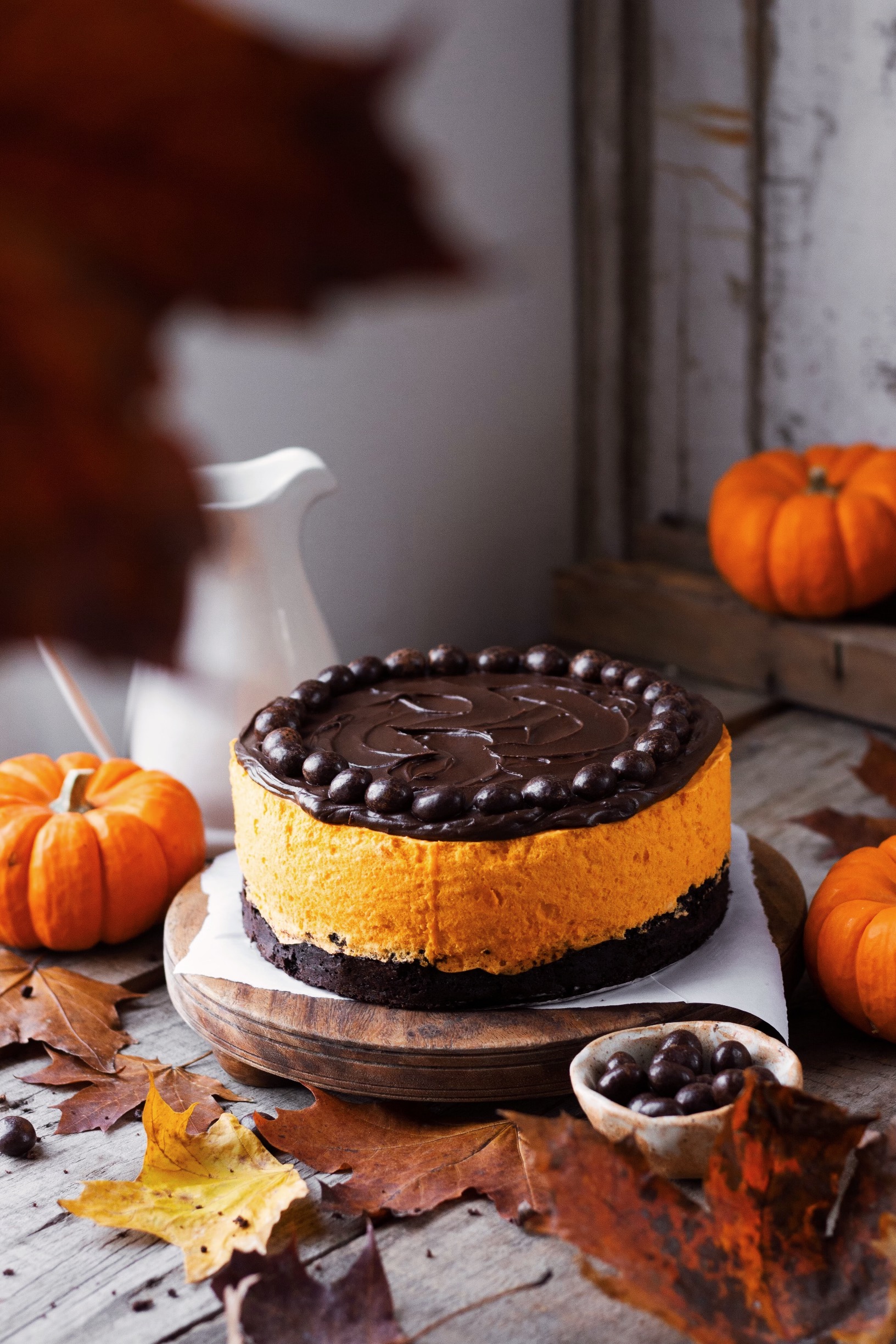 How to use gelatine
Gelatin is one of the most important ingredients when it comes to a mousse. However you plan to use your gelatin, the key to making a great mousse lies in properly incorporating the gelatin into your other ingredients. There are two types of gelatine available in the market- powder, and sheet. We have used powdered gelatine for our recipe. To use powdered gelatine, sprinkle it over a bowl of cold water. Allow it to thicken, for 5-10 minutes. Before adding it to the mousse, microwave the gelatine to dissolve it.
How to assemble the cake
Since this cake has three layers, it's necessary to assemble the cake properly for the final result! Line a springform pan with parchment paper and bake the chocolate cake in it. Allow the chocolate cake to cool completely before adding the mousse. Adding the mousse over a hot cake would lead for it to melt. Add gelatine to the mousse and then pour it over the cooled cake layer. Refrigerate overnight for it to set. Spread ganache over the set mousse cake and de-mold.
To make sure you never go wrong with your chocolate ganache, please check my article on how to make the perfect chocolate ganache on the blog.
If you happen to make this delicious Pumpkin Mousse Cake, don't forget to tag me on Instagram and use #Bakewithshivesh. Happy Baking!
PUMPKIN MOUSSE RECIPE
Ingredients
2 cups pumpkin puree
1.5 cups icing sugar
2 teaspoon cinnamon powder
2-3 drops sun orange color
2 cup whipped cream
2 teaspoon gelatine powder+5 tablespoons of cold water
Instructions
In a bowl add the pumpkin puree, icing sugar, and cinnamon powder and mix until the sugar dissolves.
Add the sun orange color and mix until you achieve the desired color.
Gently fold in the whipping cream.
In a separate bowl sprinkle gelatine over cold water and let it sit for 3-4 minutes.
Heat the gelatine for 30 seconds and gradually add it to the mousse. And mix well.
Transfer the mousse on top of the chocolate cake and set it in the refrigerator overnight.