I love to experiment in the kitchen and try out different things. This could be about coming up with different flavor combinations, or combining desserts or figuring out a new way of presenting the same. This is why I'm very very excited to share the recipe of this Creme Brulee Cheesecake with all of you! The results are more than perfect and this creme brulee cheesecake combination is the silkiest and smoothest cheesecake you've ever had. Did you guys know that creme brulee is also known as burnt cream? That's because a creme brulee is nothing but a custard that is topped with sugar that gets caramelized by using a blow torch.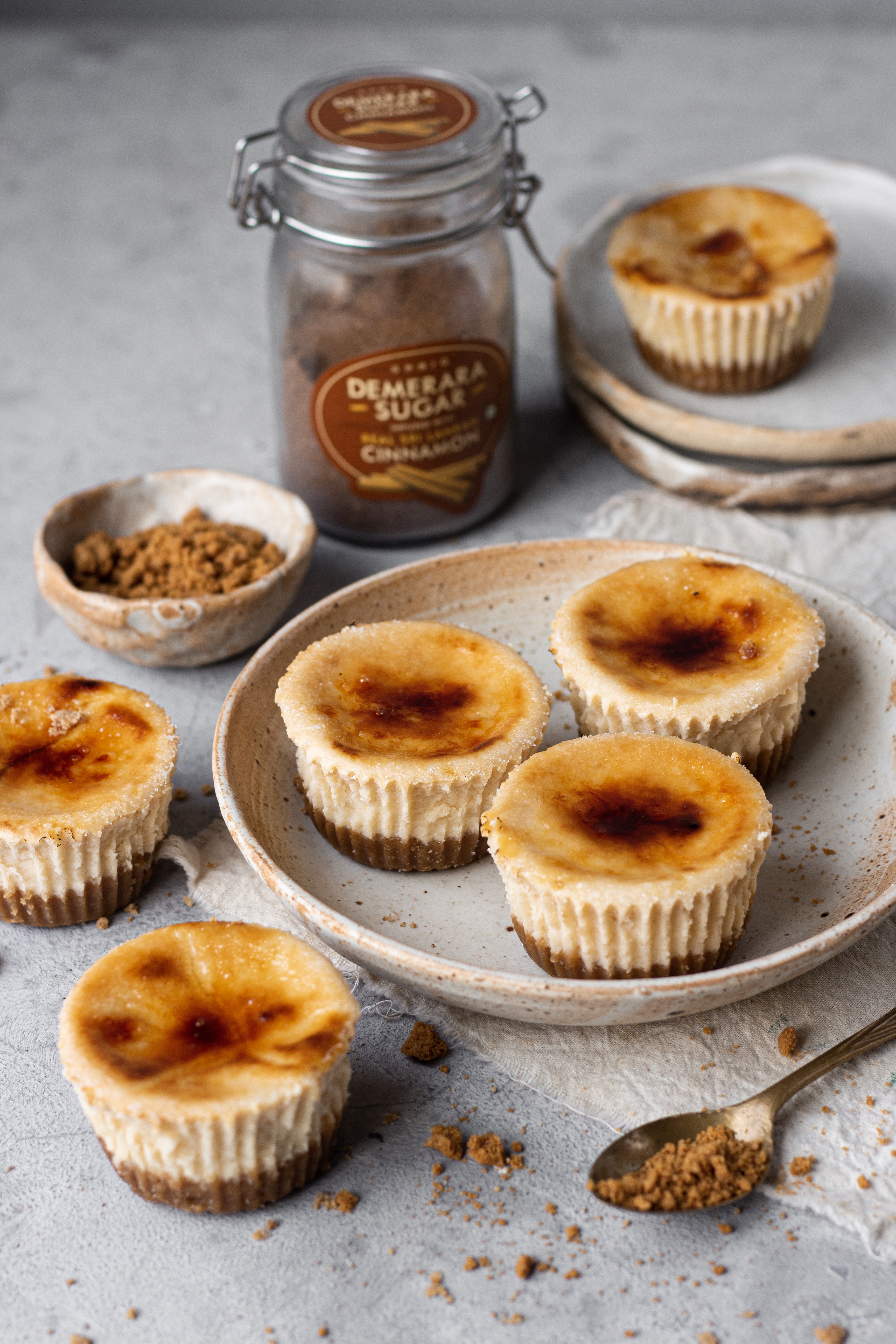 If you're a fan of shows like MasterChef Australia then you'll understand my excitement with this dessert. Creme brulee with a crackling top used to be a big deal on that show and whenever a contestant would make it, I'd be nervous for them, haha! Now have my own twist on this classic french dessert and I can't wait for all of you to try it. One dessert that is somewhat similar to a creme brulee is a flan. Both, creme brulee and flan have a sweet, decadent, and rich custard. But, a flan is topped with a sweet but light caramel sauce, whereas, a creme brulee has a hardened topping of caramelized sugar.
If you do recreate this creme brulee cheesecake, don't forget to tag me on my Instagram or use the hashtag #bakewithshivesh.
Ingredients Used in The Creme Brulee Cheesecake
Because this is a cheesecake and not just a traditional creme brulee, you need to take care of the cheesecake filling as that will act as our base in this recipe instead of a conventional custard base in creme brulees. For the cheesecake filling, you need to have whipping or heavy cream, cream cheese, and sugar. I use Sprig Demerara sugar and Sprig vanilla extract for this recipe. You can buy them here on Sprig's official website.
Make sure that you're using whipping or heavy cream only and not fresh cream. Fresh cream does not whip up as whipping cream does and it is crucial in this recipe. I always use Rich's heavy cream. It's available online and in wholesale markets of Delhi. The cream cheese that you're using should be softened at room temperature. If not, the cream cheese will not whip up with the whipping cream nicely and your cheesecake filling won't come out light, airy and smooth. If your cheesecake filling is not coming together that well, you can add some flour or cornflour to it so that it all binds well together. Since its a cheesecake, it's also going to have a biscuit base. Make sure that you grind your biscuits in a fine manner so that there are no big chunks in the mix.
Tools Needed for Creme Brulee Cheesecake
Most of all the tools required for this recipe are your everyday baking tools. Electric hand mixer or standing mixer to make the cream cheese filling, mixer grinder for crushing the biscuits and a cupcake pan and cupcake liners for baking the final dessert.
But you also need a kitchen blow torch for the top layer of this dessert that is the caramelized sugar top. I love any recipe that lets me use a blow torch because it makes me feel really cool, haha. Kitchen blowtorches are also available online and you can always find them in any baking centric store!
To make your baking adventures easier, I have put together an article of all the baking tools you must have, on the blog. Do check it out, I'm sure it'll be helpful!
CREME BRULEE CHEESECAKE RECIPE
Ingredients
For crust
1 cup (100g) crushed digestive biscuits
¼ cup (57g) butter, melted
For filling
¾ cup (170g) softened cream cheese
¼ cup (60mL) heavy cream
½ cup (150g) sweetened condensed milk
2 teaspoons (10mL) Sprig vanilla extract
¾ (10g) tablespoons corn flour
For topping
1 teaspoon Sprig Demerara sugar (on each cheesecake)
Instructions
Line the cupcake pan with cupcake liners.
Combine crushed digestive biscuits and melted butter in a mixing bowl.
Transfer the biscuit mixture into the cupcake pan and press it down into the base of each cupcake mould.
Refrigerate the crust for 10 minutes.
Preheat the oven at 160 degrees.
For the filling, whip together the cream cheese and heavy cream, using either an electric mixer or a hand whisk, only until the mixture is smooth.
Gradually add sweetened condensed milk, Sprig vanilla extract, and cornflour, whisking till everything is smooth and well combined.
Pour this mixture over the cooled crust and gently tap to remove any air bubbles.
Place the cupcake tray in a deeper tray filled with hot water up to one inch, to create a water bath. This will ensure that the cheesecake bakes slowly and evenly.
Bake the cheesecake at 160C for 35-40 minutes or until the filling starts to set. The center might seem wobbly but it will continue to cook as the cheesecake cools.
Once the cheesecake is baked, allow it to come to room temperature.
Refrigerate the cheesecake for at least two hours or preferably overnight before unmolding.
Once you've unmolded the cheesecake and it's completely cooled, evenly sprinkle 1 teaspoon Sprig Demerara sugar on the top surface and then caramelize it by using a blowtorch. Serve immediately!