CREME BRULEE CHEESECAKE RECIPE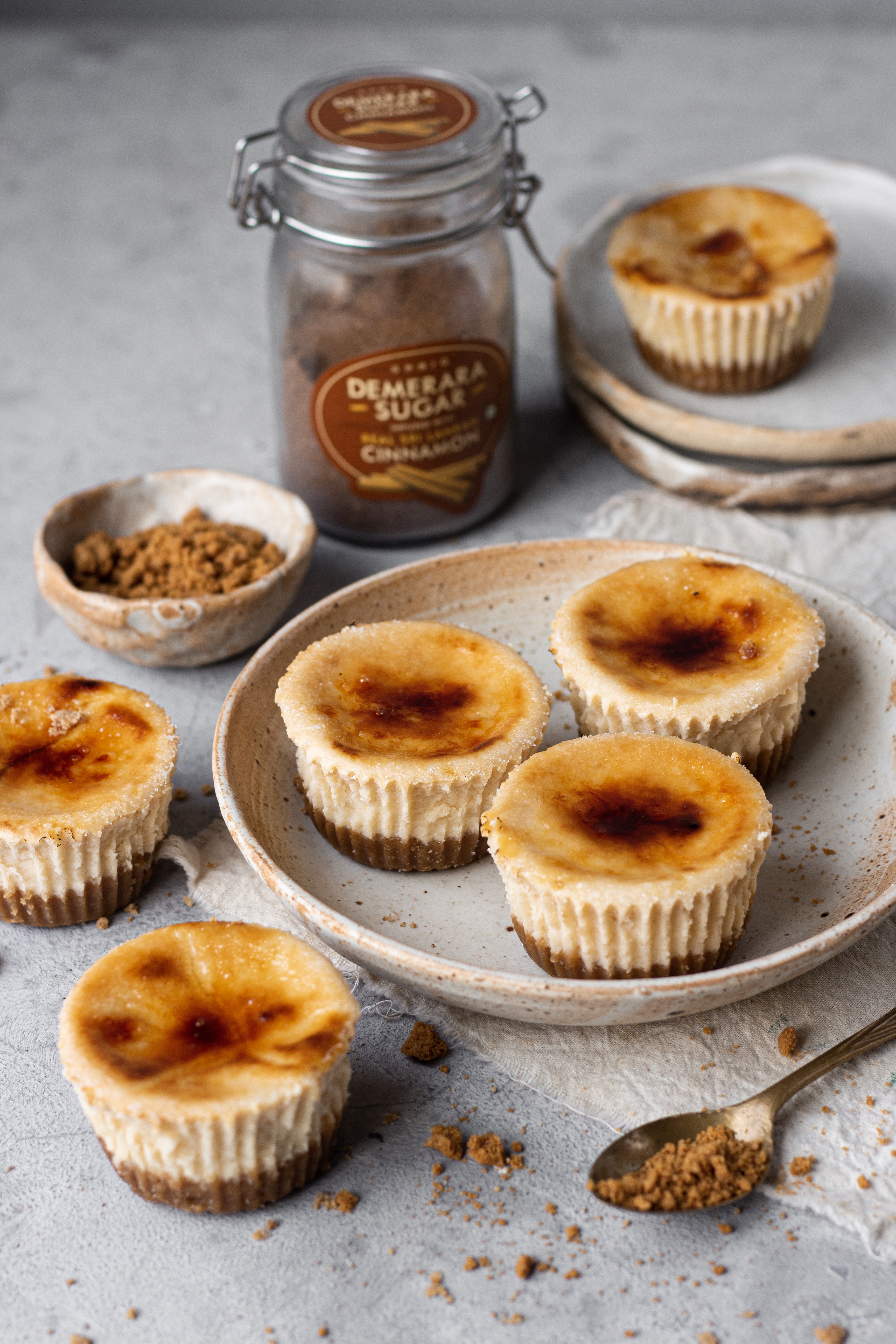 1 cup (100g) crushed digestive biscuits
¼ cup (57g) butter, melted
¾ cup (170g) softened cream cheese
¼ cup (60mL) heavy cream
½ cup (150g) sweetened condensed milk
2 teaspoons (10mL) Sprig vanilla extract
¾ (10g) tablespoons corn flour
1 teaspoon Sprig Demerara sugar (on each cheesecake)
Line the cupcake pan with cupcake liners.
Combine crushed digestive biscuits and melted butter in a mixing bowl.
Transfer the biscuit mixture into the cupcake pan and press it down into the base of each cupcake mould.
Refrigerate the crust for 10 minutes.
Preheat the oven at 160 degrees.
For the filling, whip together the cream cheese and heavy cream, using either an electric mixer or a hand whisk, only until the mixture is smooth.
Gradually add sweetened condensed milk, Sprig vanilla extract, and cornflour, whisking till everything is smooth and well combined.
Pour this mixture over the cooled crust and gently tap to remove any air bubbles.
Place the cupcake tray in a deeper tray filled with hot water up to one inch, to create a water bath. This will ensure that the cheesecake bakes slowly and evenly.
Bake the cheesecake at 160C for 35-40 minutes or until the filling starts to set. The center might seem wobbly but it will continue to cook as the cheesecake cools.
Once the cheesecake is baked, allow it to come to room temperature.
Refrigerate the cheesecake for at least two hours or preferably overnight before unmolding.
Once you've unmolded the cheesecake and it's completely cooled, evenly sprinkle 1 teaspoon Sprig Demerara sugar on the top surface and then caramelize it by using a blowtorch. Serve immediately!
Recipe by
Bake with Shivesh
at https://bakewithshivesh.com/creme-brulee-cheesecake/