A recent trend I've noticed among a lot of food bloggers is recreating a childhood iconic food product. And if you've been following my work, you'd know that I quite recently tried to replicate and make my own homemade chocos kind of a cereal. This time, I've tried to replicate another cereal which is, as we all know it as, Cornflakes. Corn Cereal at Home are a fantastic alternative to store-bought cereals, offering a healthier and tastier option for breakfast or snacks. By following this simple recipe, you can enjoy the satisfaction of creating your very own batch of crispy cornflakes. Experiment with different flavors and toppings to customize them according to your preferences. Say goodbye to store-bought varieties packed with preservatives and artificial flavors, and say hello to a fresh and wholesome breakfast option that will surely impress your family and friends.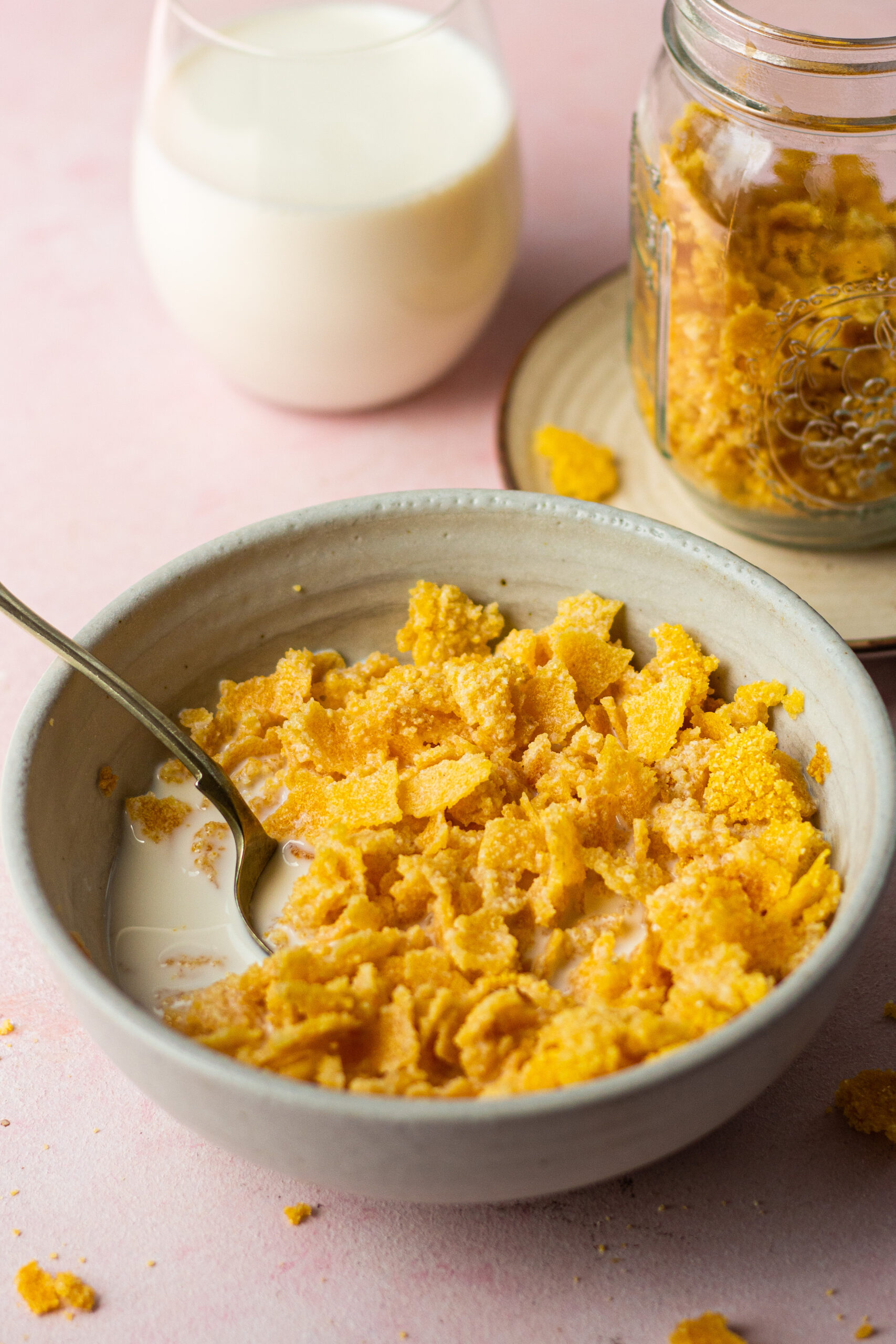 INGREDIENTS USED IN CORN CEREAL AT HOME
Cornmeal in making Corn Cereal at Home is essential, as it serves as the main ingredient in creating the crispy flakes. Cornmeal provides the distinct corn flavour that is characteristic of Corn Cereal. It adds a slightly sweet and nutty taste to the flakes, enhancing their overall flavour profile. The cornmeal acts as a binding agent in the cornflake mixture. When combined with water and other ingredients, it forms a thick batter that holds the flakes together during the baking process. This helps in maintaining the shape and structure of the cornflakes.
Sugar adds sweetness to Corn Cereal, making them more appealing and enjoyable to eat. When Corn Cereal are baked, sugar aids in browning and caramelization. As the sugar melts and interacts with the heat, it contributes to the crispy texture and golden colour of the flakes. The amount of sugar used in homemade Corn Cereal can be adjusted to suit personal preferences and dietary needs. Some individuals may choose to reduce or omit sugar altogether for a healthier option.
Water serves as a binding ingredient that helps to bring together the dry ingredients, such as cornmeal and sugar. When mixed with these ingredients, water helps create a batter that can be spread into thin layers for baking. During the baking process, the water in the Corn Cereal batter turns into steam. The steam helps create pockets of air within the batter, contributing to the flakiness and crispiness of the final Corn Cereal.
The primary purpose of salt in Corn Cereal is to enhance the flavor and provide a well-balanced taste experience. Even though Corn Cereal are typically associated with sweetness, a small amount of salt helps balance the flavors and prevents the cereal from tasting overly sweet.
EQUIPMENT USED FOR MAKING CORN CEREAL AT HOME
This recipe doesn't require a lot of equipment. Measuring Cups and Measuring Spoons are an integral part of any baker's kitchen and it's very important to measure ingredients with precision.
A few mixing bowls and a spatula is what you need to prepare the batter in. A spatula is my favourite kitchen equipment.
You would require a silicon mat to pour the batter on and an offset spatula to spread an even thin layer of the batter on the mat.
Finally, I baked this delicious Corn Cereal at Home in my Borosil 60L oven.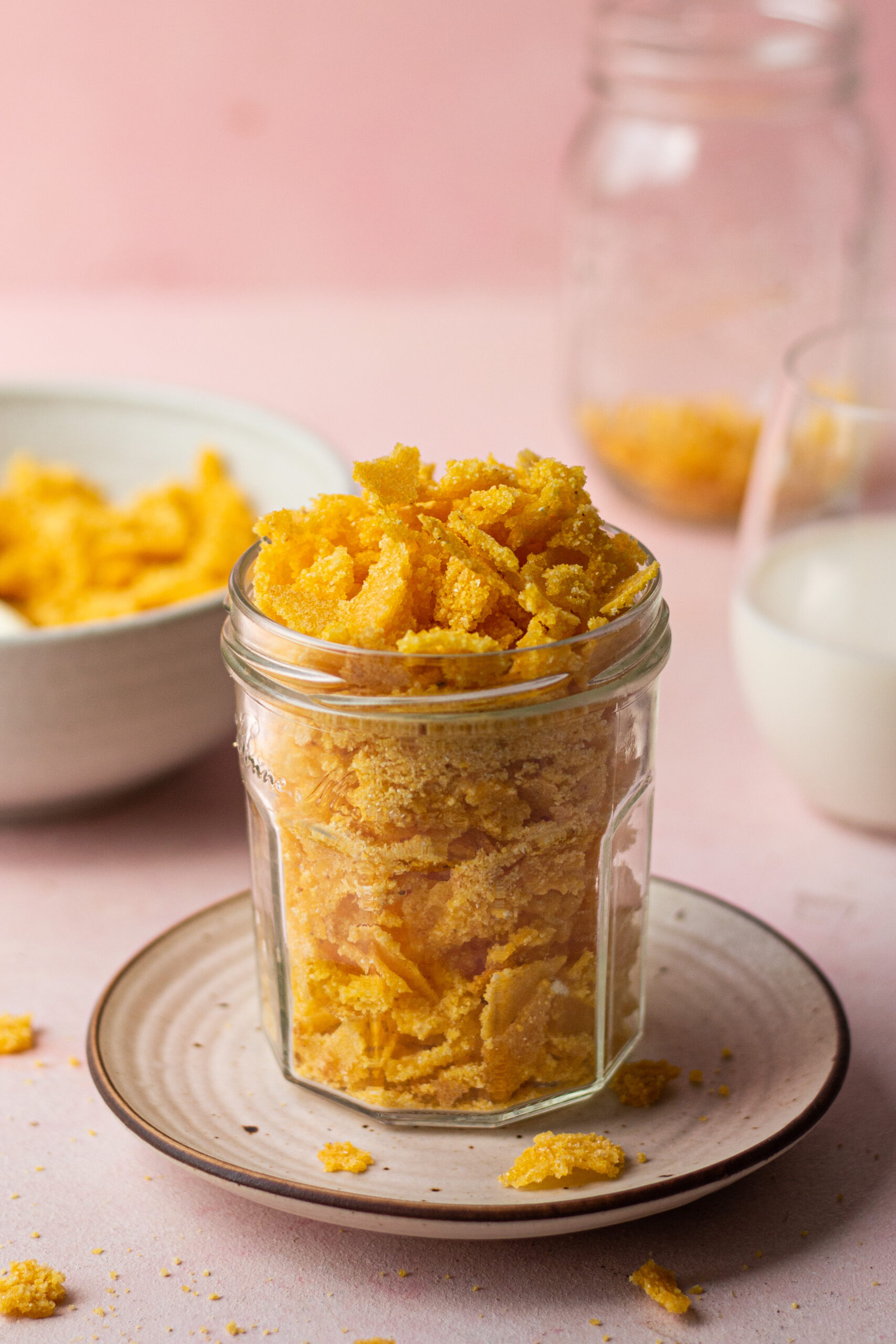 OTHER RELATED RECIPES FROM THE BLOG
TIPS TO MAKE CORN CEREAL AT HOME
Opt for fresh cornmeal and other ingredients to ensure the best flavor and texture in your Corn Cereal.
Depending on your preference, you can use either fine or coarse cornmeal. Fine cornmeal will result in a smoother texture, while coarse cornmeal will add a slightly more rustic texture to the flakes.
Thicker layers may result in less crispy flakes. Use the back of a spoon or an offset spatula to achieve a consistent thickness.
Allow the baked Corn Cereal to cool completely on a wire rack before storing them. This ensures that they retain their crispness.
Feel free to experiment with different toppings to add variety to your cornflakes. Sprinkle them with cinnamon, nuts, dried fruits, or a drizzle of honey or maple syrup to enhance the flavor and make them even more enjoyable.
CORN CEREAL AT HOME
Ingredients
½ cup + ⅓ cup yellow cornmeal
1 tablespoon sugar
½ teaspoon salt
1 cup + 1 tbsp water
Instructions
In a large bowl, combine the cornmeal, sugar, and salt. Mix them well to distribute the ingredients evenly.
2. Add the water to the cornmeal mixture in three parts while stirring continuously to prevent lumps from forming. The mixture should resemble like a pancake batter consistency.
3. Preheat your oven to 180 degrees Celsius.
4. Spread the cornmeal dough onto a baking tray lined with silicone baking mat.
5. Use an offset spatula to spread the batter into a thin, even layer. Aim for a thickness of around ⅛ inch.
6. Combine the remaining ⅓ cup cornmeal with 1 tablespoon water and mix until the mixture resembles coarse breadcrumbs. Sprinkle the crumb mixture on the top of the batter.
7. Bake for about 10-15 minutes, until you will start seeing cracks. Keep an eye on them to prevent burning.
8. If necessary, rotate the baking sheet halfway through the baking process for even browning.
9. Once the cornflakes are golden and crisp, remove the baking sheet from the oven and let them cool completely. Reduce the oven temperature to 120 degrees Celsius
10. Then use your hands to tear and crack the dough into small flakes and again bake for 35-40 minutes until the pieces are dried and golden.
11. Let them cool down before serving. Enjoy your homemade cornflakes with milk, yogurt, or as a crunchy topping for desserts and ice cream !
12. Transfer the leftover homemade cornflakes to an airtight container or ziplock bag for storage. They can be kept at room temperature for several weeks.
If you like my Corn Cereal at home recipe and happen to make them in your kitchen, do tag me on Instagram and share pictures with me using #Bakewithshivesh. Happy Baking!