Are you a person who loves soft drinks but avoid them because of the extra calories they add in your diet? Then this recipe is definitely for you! Ever since I have tried Grape Mogu Mogu, making a homemade version of it was always on my mind and here it is! Homemade mogu mogu, which tastes better than the store bought one and its super healthy.
Grapes have always been my flavour so wanted to try grape juice with mogu-mogu jelly.
If you try it at home do tag me on Instagram @bakewithshivesh.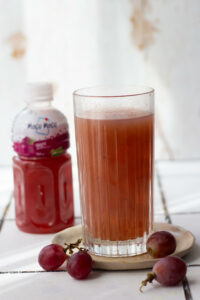 INGREDIENTS USED IN GRAPE MOGU MOGU
COCONUT WATER
Mogu Mogu is a Nata de Coco juice drink, the jelly of the drink is made of coconut water and artificial ingredients. To make homemade Mogu Mogu I have used fresh coconut water to make it as healthy as possible. It tastes exactly like the Nata de coco jelly in mogu mogu.
SUGAR
To make my Mogu Mogu more flavour full I have used this caster sugar. As the coconut water is already a little sweet you just have to add a little to give it a better flavour. If you want you can also use powdered sugar which is made by blending granulated sugar in the blender. Do not use brown sugar or jaggery.
AGAR-AGAR
It is a vegetarian alternate to gelatine. It is a helpful culinary ingredient and can be used to thicken soups, make jams and jellies, custards, ice creams and other desserts that need to gelatinize and set. This is the most important ingredient to set nata de coco. You can use gelatin also. Which ever is available to you. I have used this agar agar powder.
GRAPE JUICE
Since this recipe is in grape flavour, I have used fresh red grapes which makes this drink super refreshing and healthy. You can also add store bought grape juice or any other flavour you like. Jelly in this homemade Mogu Mogu pairs well with any juice.
EQUIPMENTS USED FOR MAKING GRAPE MOGU MOGU
The kind of equipment you use in the kitchen makes a huge difference to the end result! I would always recommend you to use quality gadgets and other equipment to make your cooking and baking game strong.
For grape juice I have used borosil and you cold press juicer for the fresh grape juice. It is so stylish and also separates the pulp from the juice, which is too satisfying to watch. It's easy to assemble, disassemble, clean and use!
And if you try this homemade mogu mogu and like it, do try other recipes from the blog. I am sure you are going to love them too!
OTHER RELATED RECIPES FROM THE BLOG
TIPS TO MAKE GRAPE MOGU MOGU
If using gelatin instead of agar agar, bloom the gelatin first in cold water and then add it to the boiling coconut water. Mix well until gelatin is fully dissolved.
You can use stevia also instead of sugar, but as stevia is 5 times sweeter than normal sugar, add 10-12 drops only.
If using store bought coconut water, try avoiding sugar because tetra packed coconut water is generally sweet.
Make sure you use cold grape juice and not the one at room temperature.
GRAPE MOGU MOGU
Ingredients
For coconut jelly
1 cup coconut water
⅓ cup sugar
½ tsp agar agar
For grape juice-
2 cups red grapes
¾ cup water
2 tbsp sugar
Instructions
In a saucepan take coconut water and sugar and cook it untill sugar melts completely and the mixture comes to a slight simmer.
Add in the agar agar and cook the mixture till it comes to a boil.
Transfer it to a shallow dish and let it set in the fridge for at least an hour.
Wash the grapes thoroughly under running water to remove any dirt or impurities.
Cut the grapes, remove the seeds from them and add them in a blender.
Add water and sugar to the blender and blend until you get a smooth grape juice.
Place a fine-mesh strainer over a bowl and pour the grape juice through it to remove any seeds or skins.
Now, cut the jelly in cubes and add in a glass.
Pour the grape juice and voila! Homemade Mogu Mogu is ready.
If you like my grape mogu mogu recipe and happen to make them in your kitchen, do tag me on Instagram and share pictures with me using #Bakewithshivesh. Happy Baking!