Mid week blues making you crave for a simple and yummy dessert? With hectic work schedules and striving to find some quality time to spend with family and friends, we're all constantly looking for cheat tricks and easy recipes which we can whip up in a jiffy without worrying about running here and there in search for ingredients.
I absolutely love desserts which are super easy and simple to make but pack an incredible flavor in every bite. This is how I would describe this yummy biscoff fudge which comes together using just 4 ingredients and even looks fancy enough to serve in a party!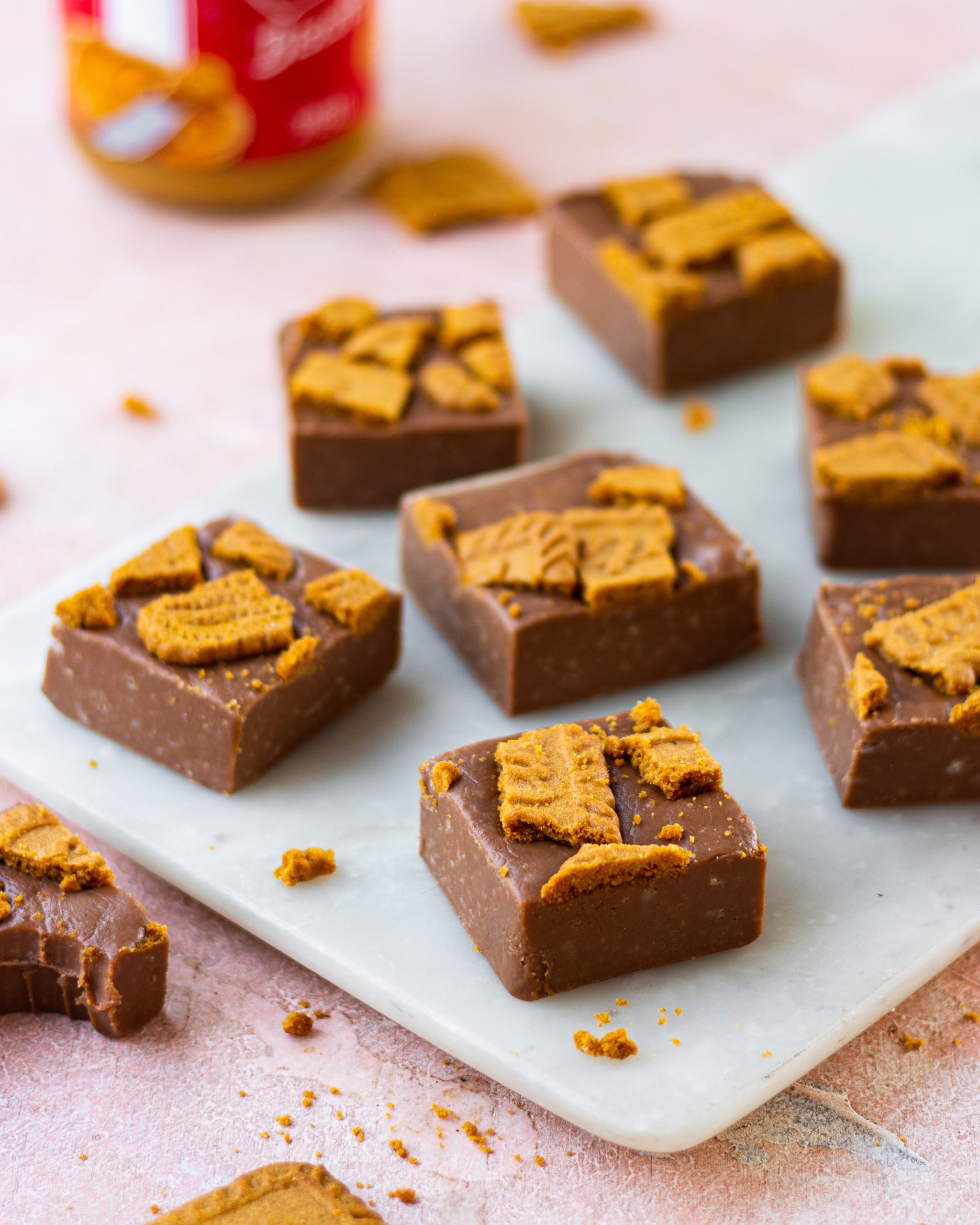 INGREDIENTS FOR MY Biscoff FUDGE
This biscoff fudge is delicious to eat but even extremely simple to make. It only requires 4-5 ingredients! For my biscoff fudge, all I used is milk chocolate, sweet condensed milk, butter, biscoff spread and some biscoff biscuits.
I used milk chocolate for making my biscoff fudge but you can use any chocolate you like. Dark and white chocolate will also work well here. If you're wondering about which chocolate to buy, then the most commonly available brands are Morde and Amul. I however use Callebaut chocolate for this biscoff  fudge. I would not recommend using compound because you need a silky, smooth chocolate mixture for your fudge to be lump free. If you want to know more about baking chocolate, I have got you covered. I wrote a blog post about all things chocolate that will help you through all your doubts!
Sweet condensed milk is also very commonly available in all local markets. You can use either Nestle's Milkmaid or even Amul's condensed milk. Both work equally well and give your fudge all the sweetness that it needs and also adds to its decadent and luscious texture.
Don't worry about finding unsalted butter to make chocolate fudge. I use salted butter in all my recipes and they turn out great. Lastly, I added the best ever Biscoff Spread which is the most important ingredient for our biscoff fudge and top them with some crushed biscoff biscuits for that lovely crunch.
Tips to MAKE the best biscoff fudge
This biscoff fudge is incredibly simple to make but here are a few tips which will make it even simpler for you –
1. DON'T SKIP ON THE SWEET CONDENSED MILK
I know the quantity of sweet condensed milk seems a bit much, but trust me you need all of this goodness to make the perfect fudge. When you mix your melted chocolate with sweet condensed milk you will see the mixture turn thick in no time and you would literally want to dive right into it. It is so good.
2. LINE YOUR PAN CORRECTLY
The process of making chocolate fudge is extremely easy. One thing you do need to take care of is lining your pan correctly. Make sure to spread some melted butter all over the base and sides of your pan. The parchment sheet that you will line your pan with needs to have handles on both sides so that once the fudge is set, you can easily pick it up and take it out of the pan.
3. MELTING YOUR CHOCOLATE
It is important to melt your chocolate nicely and evenly. My preferred way of melting chocolate is on a double boiler but you can also do it in the microwave in 10 second intervals. Be careful not to overheat and seize your chocolate.
4. REFRIGERATION IS IMPORTANT
Please don't rush this step. Fudge needs time to set. I set mine for 3-4 hours, and you should do the same. You can also just let it set overnight in  the fridge. The wait is well worth it. Trust me.
I don't know about you, but I am a bit of a fudge fan. Some other fudge recipes that are already there on my website are Cranberry & Pistachio Fudge and Fudge Balls. If you liked this recipe, you are going to love these two.

HOW TO STORE BISCOFF FUDGE
This fudge can be stored in your fridge very conveniently for 2 weeks when kept in an airtight jar and you can even cling wrap them separately. In the freezer, they are good for up to two months. Before having them, you just need to thaw the fudge properly. They can stick to each other so make sure you add parchment paper in between the layers. If your family or friends are coming over on a short notice, this refrigerator-stored fudge can then come handy! I know I happen to be in that situation quite often and that is why my fridge is always stocked with this biscoff fudge. They are not just festive treats but absolutely good for any day.
BISCOFF FUDGE RECIPE
Biscoff Fudge
Ingredients
1 cup milk chocolate
¾ cup (200 g) condensed milk
1 tbsp melted butter
2 tbsp Biscoff spread
Crushed Biscoff biscuits, to top
Instructions
Grease your pan with butter and line it with parchment paper with handles on two sides. Set this aside.
Set a double boiler and melt your chocolate while stirring it occasionally. Once all chunks are melted, take it off the heat.
In the same bowl add in condensed milk, melted butter and Biscoff spread. Combine everything really well. You will soon have a thick mixture.
Pour in all the fudge mixture into your prepared pan. Top with crushed biscoff biscuits and refrigerate this for 3-4 hour or until completely set.
Cut into squares and enjoy!
If you liked this recipe of biscoff fudge and happen to make it in your kitchen, then do share pictures with me by tagging me on
Instagram
using #bakewithshivesh.