A simple, delectable, and quick morning breakfast option is chocolate waffles. A fluffy, golden waffle is the epitome of "good morning" and "get ready for the best day ever."
I can make these small serve eggless chocolate waffles to satisfy my mood every day. It never ceases to amaze me how simple it is to have this basic recipe in your books.
These small serve chocolate waffles came out to be both incredibly fluffy and crispy. To make my chocolate waffles more decadent, I melted dark chocolate and drizzled it on top.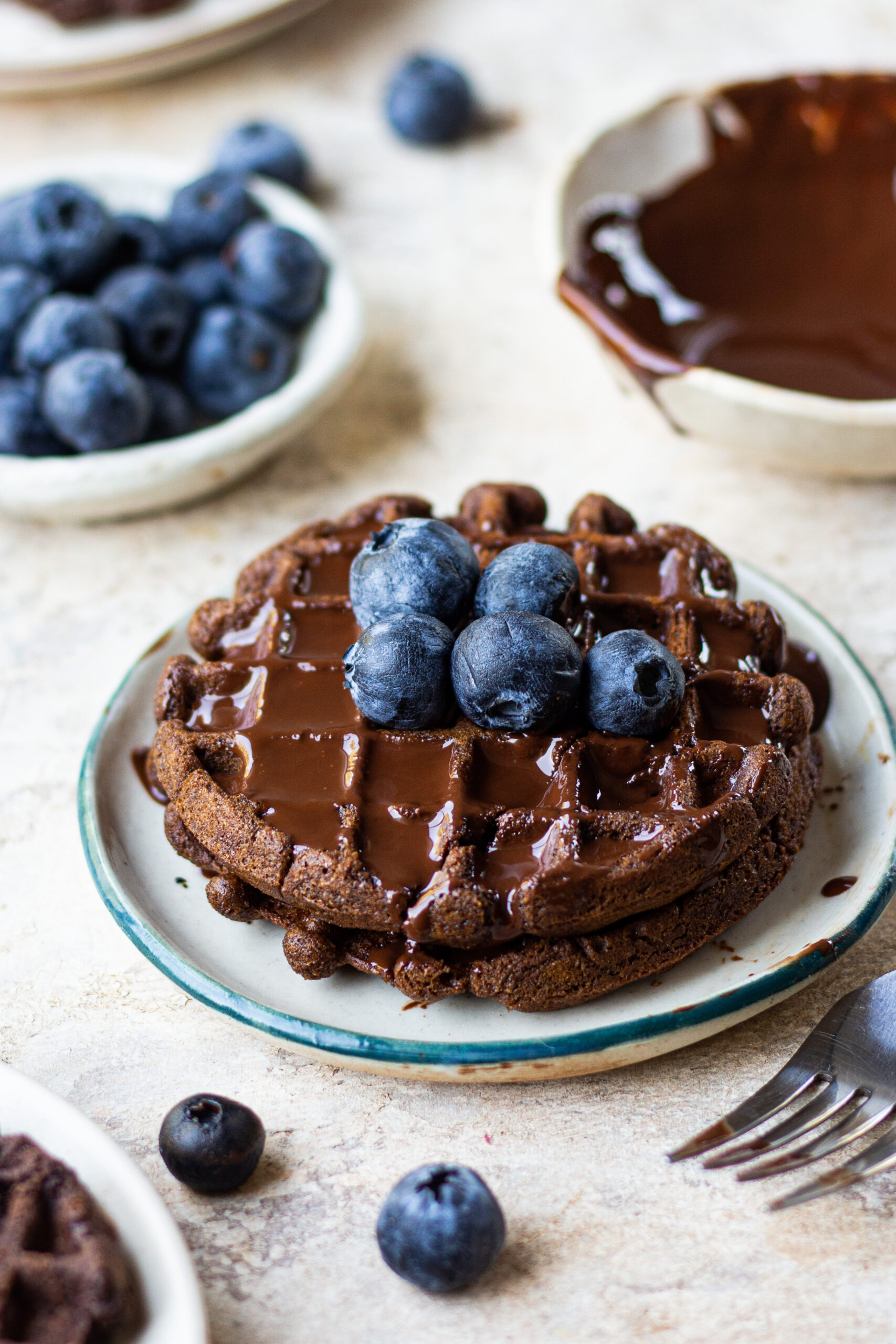 INGREDIENTS USED IN SMALL SERVE CHOCOLATE WAFFLES
Waffle lovers will adore these waffles because they are delicious and healthy. To make waffles a healthy breakfast alternative, I have substituted whole wheat flour for all-purpose flour in this recipe.
You can substitute all-purpose flour for the entire amount if you'd like.
Corn flour is our secret ingredient for making the crispiest waffles. It guarantees that the waffles will be perfectly crisp and tender.
We are using cocoa powder here for that chocolate flavor, we want in our waffles. Using a good quality unsweetened cocoa powder would be suggested. I use Cadbury or hershy's cocoa powder generally.
We need some melted butter to grease the waffle iron and to give structure to our waffles.
As we are not using eggs in this recipe, our chocolate waffles need some kind of protein without the eggs. This gives perfect smooth texture and makes waffles really fluffy.
EQUIPMENTS USED FOR MAKING SMALL SERVE CHOCOLATE WAFFLES
To combine all the ingredients for this recipe, you can used any bowl of your choice.
Measuring Cups and Measuring Spoons. are an integral part of any baker's kitchen and its very important to measure ingredients with precision.
To make these waffles, I have used small serve waffle maker
OTHER RELATED RECIPES FROM THE BLOG
TIPS TO GET YOUR WAFFLES RIGHT EVERY SINGLE TIME!
RESTING YOUR BATTER
I know when whipping up such delicious desserts anyone can get impatient and would indulge in rushing the project. But if you want to make the most perfect, fluffy yet crisp waffles. You would wanna give your batter a little rest. I recommend doing that for at least 7-10 minutes.resting your batter would ensure that all the ingredients have the time to get along and the leavening agents can react with other ingredients. This is a crucial step and 100% should not be skipped. Plus it's a short wait, brew yourself a nice cup of coffee, give it a looksie out the window and boom its waffle time!!
GREASE THE WAFFLE MAKER
Generously grease the waffle maker with either cooking spray or butter. Make sure to brush all the indents so that nothing sticks and the waffles lift off easily. Check this waffle recipe without waffle maker.
DON'T OVERFILL YOUR WAFFLE MOULD
Only add the batter to the center of the waffle maker, a couple of scoops does the job. Overfill your waffle mould and you will end up with a massive mess of overflowing batter and raw waffles.
SMALL SERVE CHOCOLATE WAFFLES
Ingredients
¼ cup whole wheat flour
¼ tsp baking powder
2 tsp cornflour
3 tbsp jaggery powder
½ tbsp cocoa powder
¼ cup milk
1 tbsp butter, melted
¼ cup dark chocolate, melted
Instructions
In a bowl, mix whole wheat flour, jaggery powder, cornflour, baking powder and cocoa powder.
Now add milk and melted butter and whisk it together. Don't overmix the batter.
Preheat the waffle maker and grease it with melted butter.
Transfer about 2 tbsp of the batter into the waffle maker and cook them untill its crisp.
Melt the chocolate and pour it over the waffles.
Serve them warm!
If you like my small serve chocolate waffles recipe and happen to make them in your kitchen, do tag me on Instagram and share pictures with me using #Bakewithshivesh. Happy Baking!