The scorching summer is making me crave everything frozen and refreshing. Today, I am sharing the luscious recipe of Mango Litchi Bingsu, an exquisite Korean dessert that combines the refreshing goodness of shaved ice with the tropical sweetness of mango. With just a few simple ingredients and a little bit of effort, you can indulge in this refreshing Korean Mango Litchi Bingsu in the comfort of your own home. Get ready to impress your friends and family with this delightful treat that combines the sweetness of mangoes and litchi with the coolness of shaved ice. Picture this: a bowl filled with a fluffy mound of shaved ice, adorned with a generous portion of juicy mangoes, and crowned with a dollop of whipped cream. As you take your first spoonful, the delicate ice melts on your tongue, releasing a burst of mango goodness. The sweetness of the mangoes harmonizes with the creamy condensed milk, creating a symphony of flavors that will transport you to a tropical paradise. Each bite is a refreshing delight, leaving you craving for more.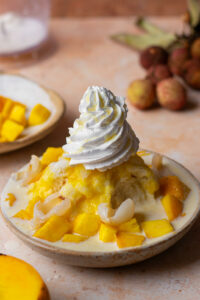 INGREDIENTS USED IN MANGO LITCHI BINGSU
Milk adds creaminess and enhances the overall flavour and texture of the dessert. Milk is also used as a binding ingredient to help create a cohesive mixture. You can swap normal milk for vegan, dairy-free options as well.
In Mango Litchi Bingsu, the addition of sweetened condensed milk adds a touch of sweetness and richness that complements the natural sweetness of the mangoes. It creates a harmonious balance of flavours, making each bite more enjoyable. Condensed milk has a thick and creamy texture, which adds a rich and velvety element to Bingsu. When combined with the shaved ice, it creates a creamy and smooth mouthfeel that enhances the overall enjoyment of the dessert. The creaminess of condensed milk gives Bingsu a luxurious and satisfying texture. Overall, condensed milk adds sweetness, creaminess, flavor, and visual appeal to the Mango Litchi Bingsu.
Ripe, juicy mangoes are the star of this dish. Their vibrant colour, tropical fragrance, and natural sweetness are essential to achieving the authentic Mango Bingsu experience. In Mango Bingsu, the ripe mangoes provide a burst of natural sweetness that is both refreshing and indulgent.
While mangoes naturally contain sugars, adding additional sugar enhances and intensifies their sweetness. The level of sweetness can be adjusted based on personal preference and the ripeness of the mangoes used. The sweetened mango puree adds depth to the dessert and ensures that the sweetness is evenly distributed throughout the Mango Litchi Bingsu.
The fragrance of litchis adds to the sensory experience of Mango Litchi Bingsu, enhancing the overall enjoyment of the dessert. The aroma of litchis further transports you to a tropical paradise.
EQUIPMENTS USED IN MAKING MANGO LITCHI BINGSU
Just a few kitchen staples are required to bring this recipe together.
My set of Measuring Cups and Measuring Spoons always come in handy and are the most important part of any recipe.
A good quality whisk is one of my favourite kitchen tools that I love working with and is required in this recipe to combine the milk and condensed milk.
A basic kitchen container or anything is required to freeze the mixture.
You also need a strong grinder to grind the mixture and break the ice mould.
RELATED RECIPES FROM THE BLOG
TIPS TO MAKE THIS MANGO LITCHI BINGSU
For a creamier texture, you can add a scoop of mango or vanilla ice cream on top of the shaved ice.
Experiment with different toppings such as crushed nuts, coconut flakes, or even a sprinkle of matcha powder for unique flavour combinations.
Adjust the sweetness of the dessert by adding more or less sugar to the mango puree, depending on your preference and the sweetness of the mangoes.
If fresh mangoes are not available, you can use frozen mango chunks to make the puree.
You can keep the milk and condensed milk mixture in the freezer for upto 3-4 months and use it as and when required along with fresh or frozen fruits.
MANGO LITCHI BINGSU
Ingredients
1+ ½ cup milk
2 tbsp condensed milk + more for topping
½ mango, puréed
1 tbsp sugar
¼ cup water
1 mango, cubed
4-5 litchis
½ cup whipped cream (for garnish)
Instructions
Pour milk and condensed milk into a container and whisk until the condensed milk is completely mixed with milk and no lumps are left. Freeze overnight.
Make the mango syrup by combining mango puree, sugar, and water and heating it till everything comes together into a syrup consistency.
Take a blender/grinder and add the frozen milk block to it. Grind to achieve shaved ice-like consistency.
Quickly add half of the shaven mixture to a serving plate. Top it with some condensed milk and mango syrup.
Add the remaining ice mixture on top of it and add some more mango syrup.
Lay mango chunks and litchi slices around the corner to give it a finished look.
Complete this dessert by adding a generous swirl of whipped cream on the top and drizzling some condensed milk.
Serve immediately.
If you like my Mango Litchi Bingsu recipe and happen to make them in your kitchen, do tag me on Instagram and share pictures with me using #Bakewithshivesh. Happy Baking!