These days, I'm certainly making and eating a lot of crepes. I tried eggless nutella crepes with banana slices today and totally enjoyed them. My mother normally makes crepes with whole wheat flour to make them healthier, but I was pleasantly delighted to make these crepes made with flour were just as tasty!
If you try it at home do tag me on Instagram @bakewithshivesh.
To make these crepes you only need a very few staple ingredients like sugar, milk, butter, etc. I'm sure you already have these ingredients sitting on your kitchen shelf , so all you have to do now is to pull them out and get cooking.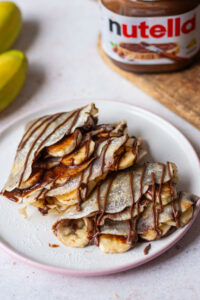 EQUIPMENTS USED FOR MAKING EGGLESS NUTELLA CREPES
The kind of equipment you use in the kitchen makes a huge difference to the end result! I would always recommend you to use quality gadgets and other equipment to make your cooking and baking game strong.
For Nutella crepes I have used stahl cast iron pan. It is so stylish and easy to use.
OTHER RELATED RECIPES FROM THE BLOG
TIPS TO MAKE EGGLESS NUTELLA CREPES
If the batter is too thick, do not be afraid to add more milk. It should be a runny batter.
Use a non stick pan. This ensures that the crepes don't stick to the pan and come off easily.
Lightly grease the pan before pouring the batter on it.
Spoon the batter onto the pan and swirl it around for it to completely coat the surface with a thin layer.
EGGLESS NUTELLA CREPES
Ingredients
½ cup maida
½ tbsp sugar
¾ cup milk
1 tbsp oil
½ tsp vanilla extract
¼ cup Nutella
1 banana, chopped
Instructions
In a bowl, mix the flour, sugar, milk, oil, and vanilla extract.
Whisk all the ingredients together until there are no lumps.
Heat a Stahl cast iron pan over medium heat. You can lightly grease the pan with some butter if needed.
Pour a ladleful of the batter onto the pan and quickly swirl it around to form a thin, even layer. Cook for about 1-2 minutes, until the edges start to turn golden brown.
Carefully flip the crepe using a spatula and cook for another 1-2 minutes on the other side.
Repeat the process with the remaining batter, making sure to stir the batter before pouring it onto the pan each time.
Once all the crepes are cooked, spread a generous amount of Nutella
Add sliced bananas or strawberries to the Nutella.
Roll up the crepes or fold them into quarters.
Dust the crepes with powdered sugar, if desired, and serve warm.
If you like my eggless Nutella crepes recipe and happen to make them in your kitchen, do tag me on Instagram and share pictures with me using #Bakewithshivesh. Happy Baking!