Cherries are back in season and I couldn't be more excited! While cherries are not my favorite to eat just like that, I love using them in my cakes and desserts. This cherry-vanilla loaf cake with oat crumble topping is on top of my list. While this cake tastes amazing without the oat-crumble topping and you can skip it if you're feeling lazy, I feel like it adds something extra to the cake. The texture of this cherry-vanilla loaf cake with oat crumble is absolutely amazing and you'll be proud of yourself for whipping up this delicious tea cake in no time!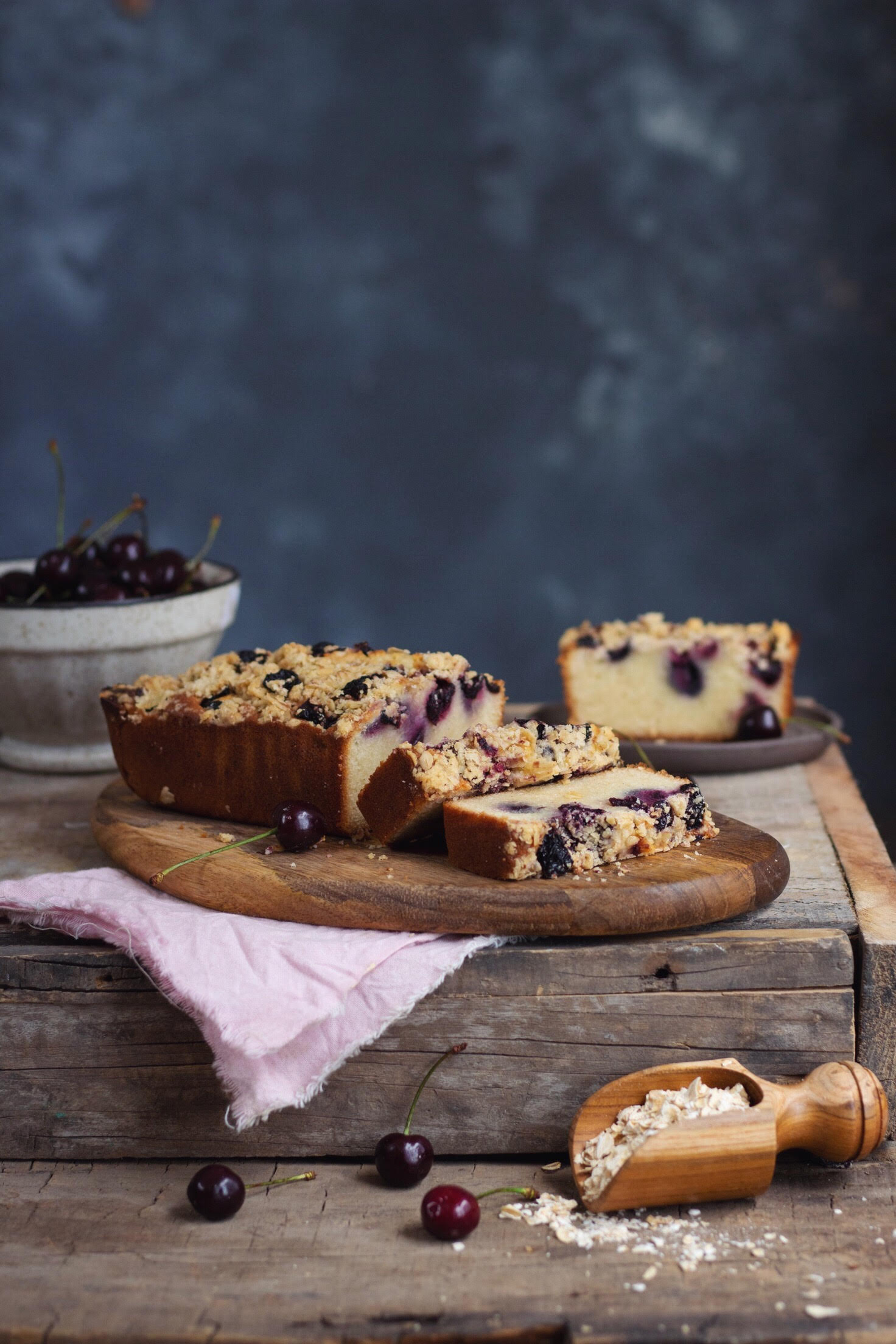 Experimenting with Cherry Vanilla Loaf Cake
Always remember that there is certainly no ends to experimenting with food and especially desserts. Furthermore, how you like your desserts is totally up to you. Therefore, never ever let others define your dessert choices for you.
Similarly, you can convert this cherry vanilla loaf cake into a pretty cherry vanilla bundt cake by doubling the entire recipe and using a bundt cake tin.
Likewise, you guys can also choose to skip the oat crumble completely and use frosting for your cherry vanilla loaf cake to make it more decadent and wholesome. You can go ahead and try the Vanilla Bean Buttercream Frosting for that extra tinge of vanilla freshness!
More Cherry Recipes from the Blog
If you like desserts with cherries as I do, you will certainly want to try out the following recipes:
If you try out any of these recipes, please tag me on Instagram and do not forget to add the hashtag- #bakewithshivesh.
Cherry Vanilla Loaf Cake Recipe
Cherry-Vanilla Loaf Cake with Oat Crumble
Ingredients
FOR THE CAKE-
1 + ½ cup all-purpose flour
2 teaspoons baking powder
½ cup butter softened
1 cup caster sugar
3 eggs
½ teaspoon vanilla extract
¾ cup whole milk
1 cup cherries, pitted
FOR THE CRUMBLE-
½ cup butter, cold
½ cup all-purpose flour
½ cup rolled oats
Instructions
Pre-heat the oven to 180C. Line an 11" by 4" loaf pan with parchment paper
In a bowl, combine flour and baking powder
In a separate bowl, beat butter and sugar until the mixture is light and fluffy.
Add eggs, one at a time, and beat well after each addition. Beat in the vanilla.
Whisk in the milk.
In three batches, gently fold in the dry ingredients into the wet ingredients without over-mixing. Make sure that the batter does not have any flour pockets. Fold in the cherries.
Pour the batter into the prepared loaf tin.
To make the crumble, whisk oats and flour together. Using your hands,  combine the cold butter into the flour-oat mixture. Sprinkle the crumb on top of the loaf.
Bake at 180C for 30-40 minutes or until a skewer inserted into the center comes out clean.