Cherry-Vanilla Loaf Cake with Oat Crumble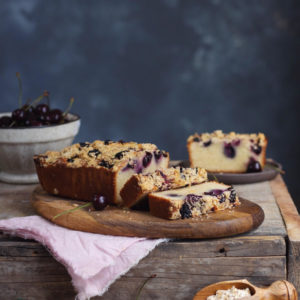 1 + ½ cup all-purpose flour
2 teaspoons baking powder
½ cup butter softened
1 cup caster sugar
3 eggs
½ teaspoon vanilla extract
¾ cup whole milk
1 cup cherries, pitted
½ cup butter, cold
½ cup all-purpose flour
½ cup rolled oats
Pre-heat the oven to 180C. Line an 11" by 4" loaf pan with parchment paper
In a bowl, combine flour and baking powder
In a separate bowl, beat butter and sugar until the mixture is light and fluffy.
Add eggs, one at a time, and beat well after each addition. Beat in the vanilla.
Whisk in the milk.
In three batches, gently fold in the dry ingredients into the wet ingredients without over-mixing. Make sure that the batter does not have any flour pockets. Fold in the cherries.
Pour the batter into the prepared loaf tin.
To make the crumble, whisk oats and flour together. Using your hands,  combine the cold butter into the flour-oat mixture. Sprinkle the crumb on top of the loaf.
Bake at 180C for 30-40 minutes or until a skewer inserted into the center comes out clean.
Recipe by
Bake with Shivesh
at https://bakewithshivesh.com/cherry-vanilla-loaf-cake-with-oat-crumb/