I love a good meringue! Meringues are impressive, they are good looking, and they require hardly any effort. And if you're looking to include your meringue into a wonderful dessert, one that you can imagine eating in your garden and loving it to bits, your best shot is the Eton Mess. I especially love using cherries for my Eton Mess and I present to you the recipe of this heavenly Cherry Eton Mess.
This Cherry Eton Mess is a very simple recipe. Traditionally, an Eton Mess is a mixture of strawberries or cherries mixed with whipped cream and meringues. You get a lot of textures in the mouth and every bite is more divine than the one before.
The best part about Eton Mess is that it is a highly customizable dessert! I have used cherries for this Cherry Eton Mess, but you can also use strawberries, you can use the meringue kisses as per your liking as well!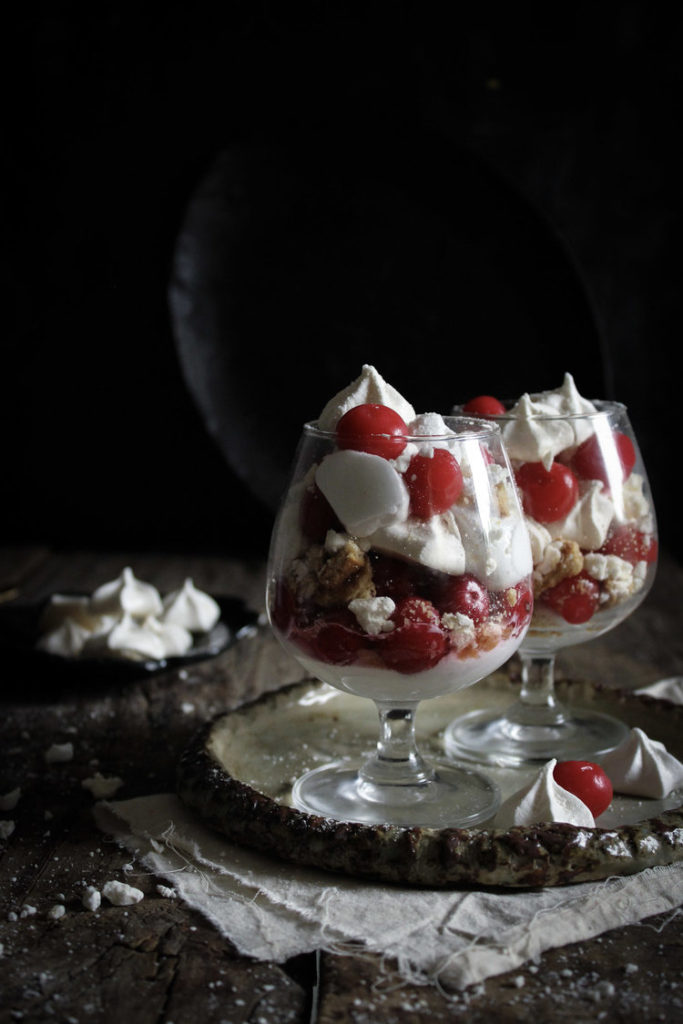 CHERRY ETON MESS
Ingredients
2 egg whites
1 tsp lemon juice
1 cup castor sugar
1 cup Delmonte cherries
½ cup granulated sugar
1 cup whipped cream
Instructions
In an electric mixer on high speed, beat egg whites with lemon juice until they double in volume.
With the mixer on high speed, add 1 tablespoon of castor sugar at a time. Beat until stiff peaks form.
Pipe the meringue on a lined baking sheet and bake at 100C for 1 hour to make meringue kisses.
In a saucepan over medium heat, cook cherries with granulated sugar until the cherries become juicy. Let it cool.
In a dessert glass, layer whipped cream, cherries and crushed meringue kisses.