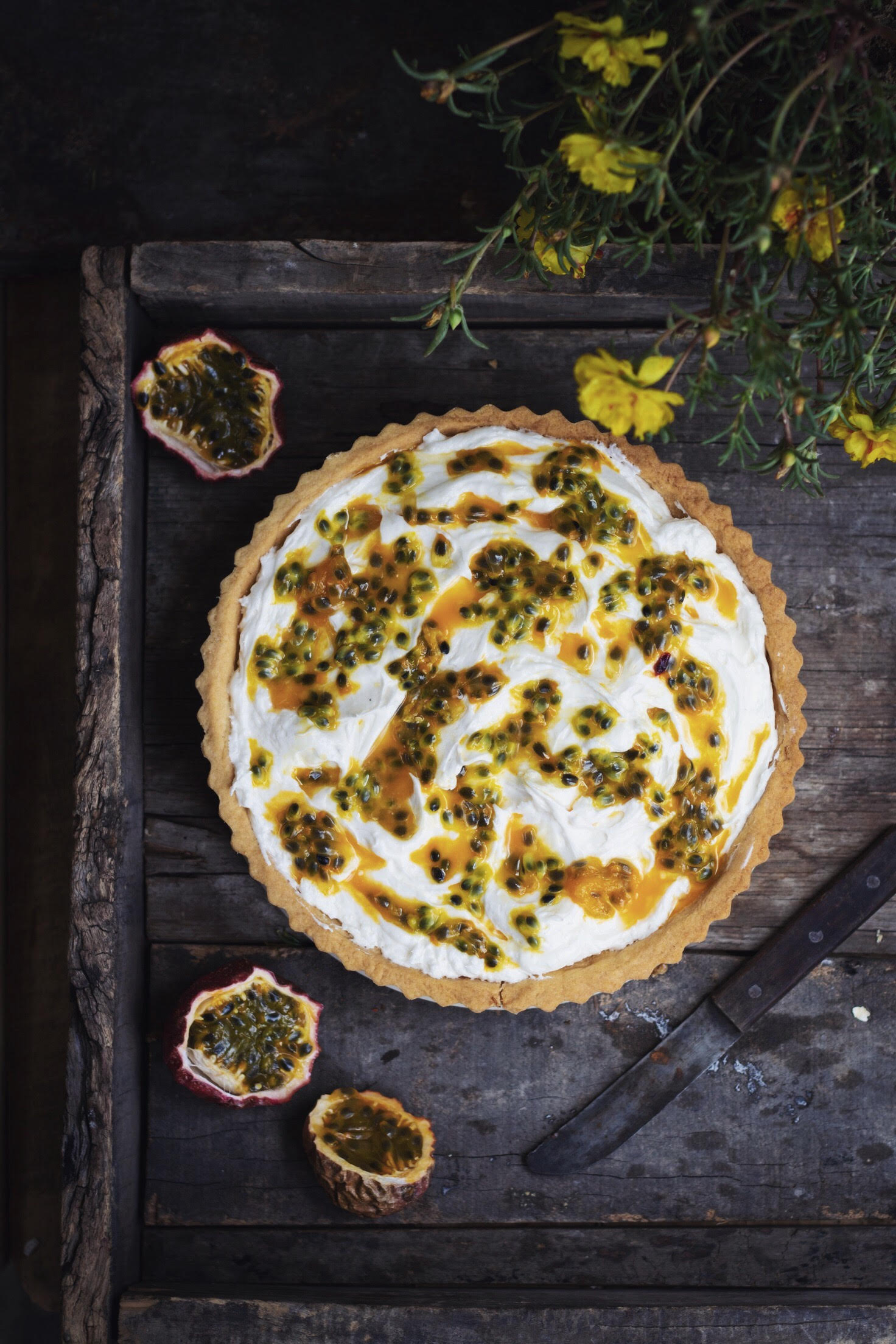 It's raining tarts on the blog, isn't it? Since y'all loved the eggless mango tart so much, I have another summery bright and happy tart recipe here for you- passion fruit and cream cheese tart! Passion fruit is definitely one of my favorite flavor but it's such a shame that we don't find them very easily in Delhi and when we do, they're so expensive! Whenever I travel abroad, I make sure I get back some passion fruits hehe. I remember getting back a kilo from Singapore. Last month, I traveled to Kerala in the first week. I was elated to find the local markets flooded with passion fruits. They were so cheap! I bought the entire stock from one of the vendors in Munnar. I came back home, scooped out the pulp and filled it in a jar- it's happily resting in my freezer now!
Last week when I was in Bali, I got excited to see loads of passion fruits in the markets of Ubud. Although I had an entire jar of frozen pulp at home already, I couldn't resist filling my suitcase again!! Bought as many as my bag could take and I made this delicious passion fruit and cream cheese tart once I got back home.
If you have a good batch of passion fruits in your fridge, you got to make this passion fruit and cream cheese tart! Enjoy!
INGREDIENTS-
TART SHELL
1/2 cup butter, softened (113 grams/ 8 tbsp)
1/3 cup castor sugar
1 large egg yolk
1 + 1/4 cups all purpose flour
FILLING-
1 cup cream cheese softened
3 tablespoons icing sugar
1/2 teaspoon vanilla extract
1/2 cup heavy cream, whipped to firm peaks
1/4 cup passion fruit pulp
PROCEDURE-
To make the base of the tart, cream butter and sugar.
Beat in the egg-yolk.
Mix in flour and beat until the dough begins to come together.
Transfer the dough to a 9″ tart pan with a removable bottom. Use your fingers to press the dough into the bottom and the sides of the pan in an even layer.
Refrigerate for at least 30 minutes.
Pre-heat the oven to 180C.
Once the tart shell has chilled completely, prick all over the bottom of the tart using a fork.
Bake at 180C for 15 minutes or until the tart shell is golden-brown.
Let it cool completely and remove from the tart shell.
To make the filling, beat cream cheese with sugar and vanilla until it is light and soft.
Using a spatula, carefully fold the cream cheese into the whipped cream.
Transfer the filing into the cooled tart shell.
Top with passion fruit pulp.