I cannot believe that it is November already! We have less than two months left of this beautiful year and I'm super excited for everything that is yet to come. I hope you all had a fantastic Diwali full of sweets, love, and gifts, haha. But now that Diwali holidays are over, me and my team are back in the kitchen and we're going to be sharing lots of new recipes with you!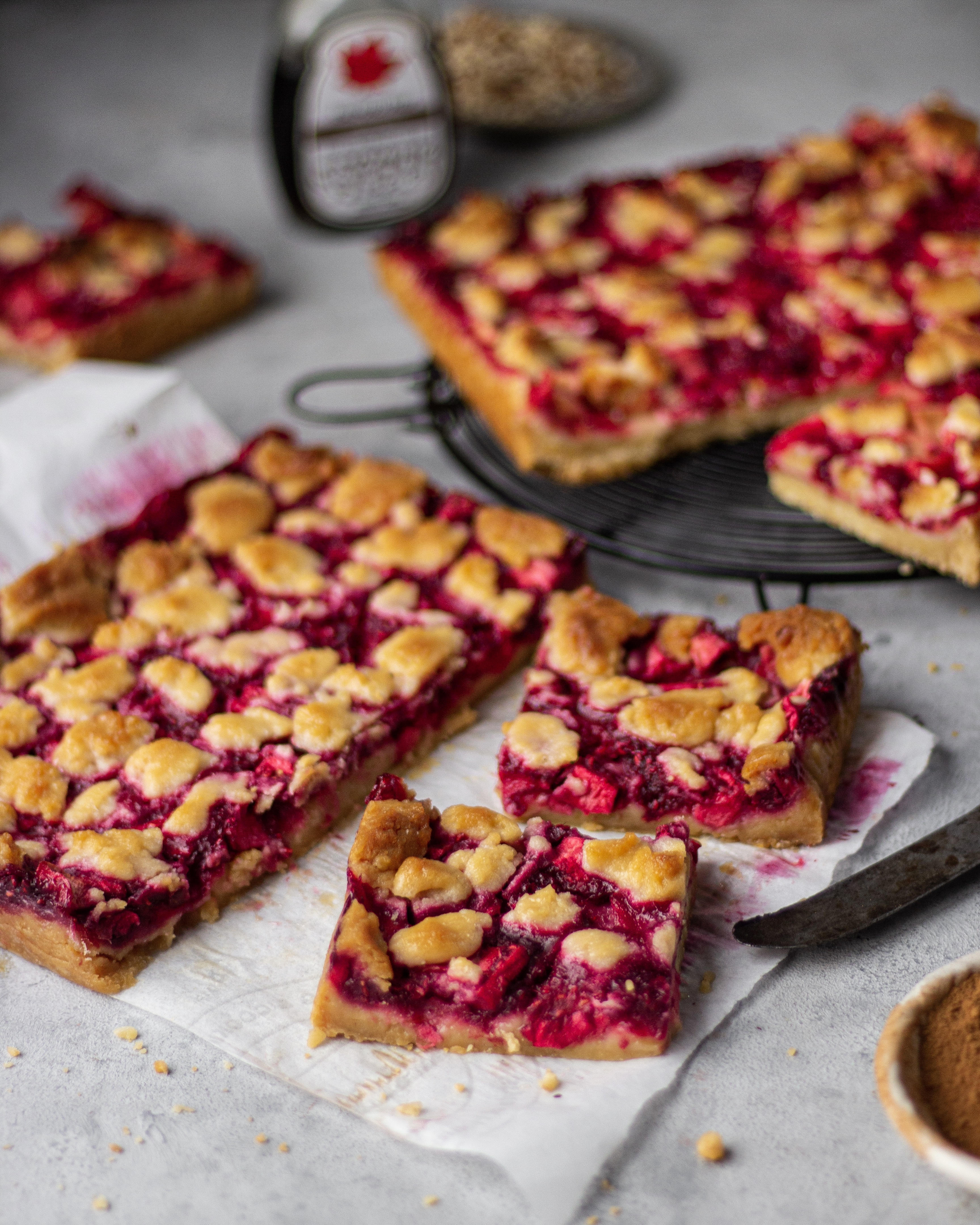 Today I'm sharing the recipe of these lip smacking Apple and Raspberry Bars and trust me when I say that once you taste these, it's going to be love at first bite. I love using fresh fruits in my desserts and I have a plethora of apple dessert recipes, as well as raspberry recipes, but I've only combined these two flavors once before in my Raspberry Apple Crisp recipe. I'm back with this beautiful flavor combo in the form of these delectable dessert bars! These Apple and Raspberry Bars are fresh and fruity, perfectly sweet and unbelievably delicious.  
Components of these Apple and Raspberry Bars
These Apple and Raspberry Bars have just two components in them- the crumble and the apple-raspberry filling. Both of these components are fairly easy to make and require the most basic ingredients that you might already have in hand.
While you're making the crumble for these apple and raspberry bars, make sure that you're using cold butter that has been cubed. If you use soft butter, you won't be able to make the perfect crumble. Half of the crumble will be used as the base of the bars and the other half should be saved to serve as the crumble on the top. 
 The apple and raspberry filling only requires 5 ingredients and it comes together in minutes. The ingredients only need to be mixed well in a bowl. That's all.
Choosing Fruits and Berries
 I love baking with fresh fruits and berries. Always pick fresh fruits and berries over canned or dried ones. Fresh berries are expensive and not always available, and in such a case, you can always use frozen berries. I already had some frozen raspberries on hand, so I decided to use them for these apple and raspberry bars and they worked out beautifully. If you're in Delhi, you can source fresh berries from INA Market, Khan Market, Foodhall or Modern Bazaar. If you want to buy frozen berries, you can buy them from the same markets. Delish is the brand that I usually use for the frozen berries.
The Beauty of Bars
Apart from being super easy to make, the beauty of bars are in their versatility. You can do so much with this recipe and tweak it to your liking. If you don't want to use apple and raspberries, use whatever berries and fruits you like or have on hand.
I've previously shared some amazing recipes for bars on my blog. We've got salted caramel, oat and apple, chococchip, and more! Just take your pick 🙂  
 If you're looking for eggless options, you can drool over these eggless recipes of delectable dessert bars.
If you make these fruity fresh and delicious bars, don't forget to tag me on Instagramor use the hashtag #bakewithshivesh
Apple and Raspberry Bars
Ingredients
For the crumble:
3 cups all-purpose flour
1 teaspoon baking powder
½ cup honey
1 cup castor sugar
1 cup cold butter, cubed
For the apple and raspberry filling:
1 ½ cups raspberries, frozen
2 cups apples, diced
½ cup castor sugar
1 tablespoon cornflour
1 teaspoon lemon juice
Instructions
Pre- heat the oven to 180°C. Line a 9x13-inch rectangular cake pan with parchment paper, leaving the excess of parchment paper on both sides of the rectangular pan.
In a bowl, combine flour, sugar, baking powder and honey. Use your fingers to incorporate the cold butter into the dough.
Once the dough is prepared, press down half of it evenly into the bottom of the prepared pan. Set this aside.
Take a separate bowl and make the apple and raspberry filling. Combine raspberry, diced apples, sugar, cornflour and lemon juice.
Transfer the filling onto the crust in the prepared pan and crumble remaining dough over the filling.
Bake at 180°C for 30-40 minutes or until the crumb is golden-brown.
Let it cool completely before cutting the bars.