The weather in the capital has slowly shifted from burning hot summers, to cooler wind and light showers. This weather is making me feel so good, the only sad part is that the mango season is ending. But apart from that, monsoon really excites me, it means one season closer to my favourite season aka winter! Having chai/coffee with my family every monsoon evening is a tradition in my house. And you know warm beverages in an Indian household are incomplete without cookies. Which is why I made my healthy keto cookies.
This healthy keto cookie recipe is unimaginable, like i still can not believe that this healthy treat tastes as good as the real deal. But it is completely guilt free. Also, it is perfect to consume for people who can not have sugars in their diet or people who are on keto. This keto cookie is low in carbs, has no sugar, and no flour! They are also gluten free and absolutely delicious! So it's a win-win!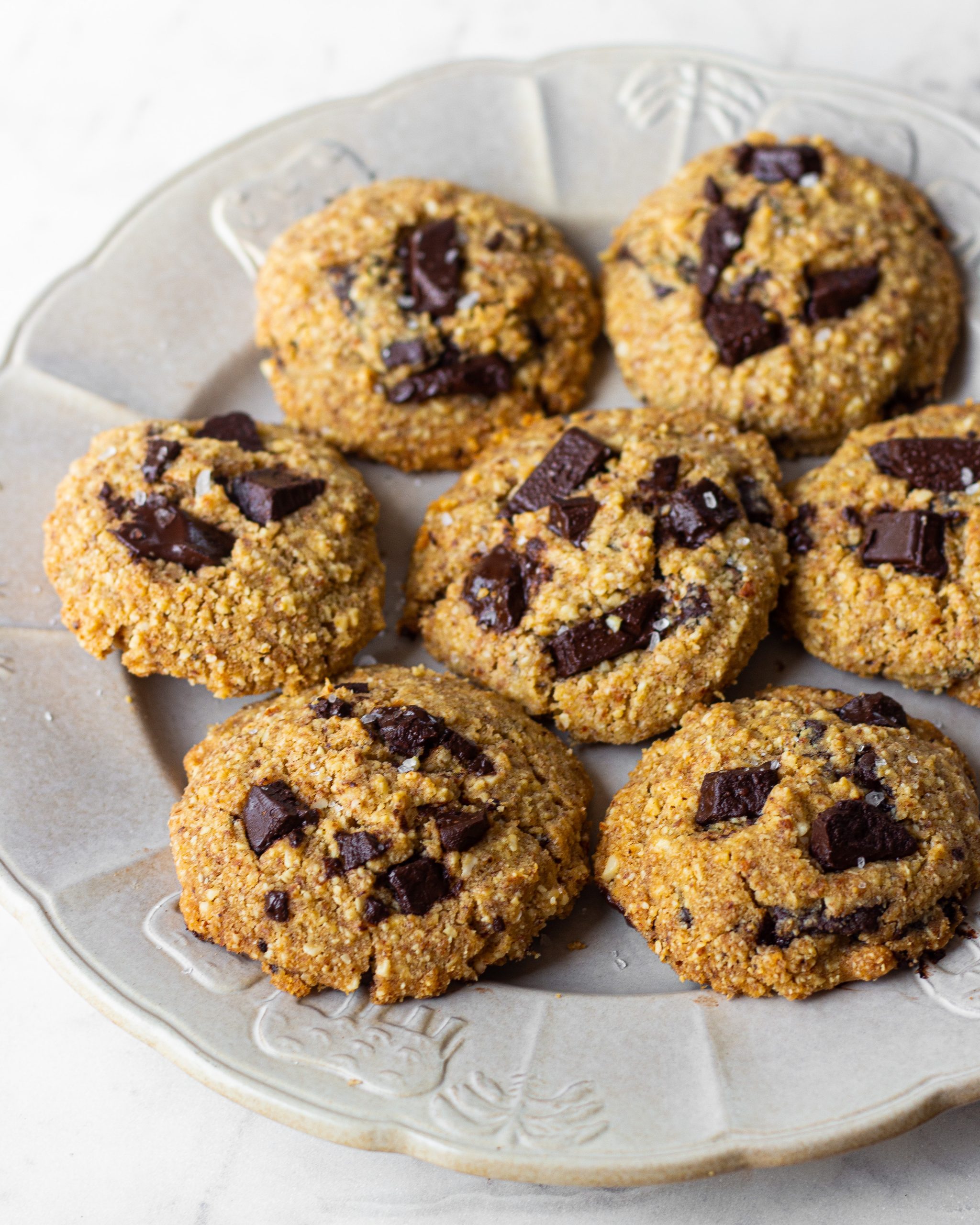 Ingredients for these keto cookies
Keto cookies Almond flour
Now to prepare this healthy keto cookie, instead of regular flour/whole-wheat flour which are high in carbs I have used almond flour. Almond flour is high in fats, low in net carbs and is grain free. For this recipe I have used homemade almond flour. To make the homemade almond flour, I blitzed the almonds in a food processor with their skins on. This coarsely blended almond flour will be perfect for cookies and give it a good texture. Be careful to only pulse the almonds until they form a meal like consistency. Blend the almond for too long and you will end with almond butter, which is amazing but not what this recipe calls for, haha!
You can also use the packaged almond flour that is made from blanched almonds. This type of almond flour is sweeter in nature and is much finer in texture. However if you are allergic to nuts,  you can also make keto cookies coconut flour!
How to store almond flour?
Homemade or store bought, any type of almond flour or meal has the tendency to go rancid very fast. I would suggest storing it in an airtight container in the fridge or freezer always. Leaving it at room temperature will result in the flour smelling rancid or acidic and tasting always sour!
Butter
The general idea of anything being keto friendly is that it should be high in fat and low in carbs. For this healthy keto cookie I have used butter as the source of fat. Butter will add flavour and moisture to our cookies. Butter also helps in making the cookies tender. It is very important to use softened butter and not melted or fridge cold butter.
The best way to soften your butter is setting it on your kitchen table for 5-10 minutes. The butter should be soft enough to poke but should still hold its shape. If you do live in a colder place (for which I envy you), you can also microwave. Microwave your butter in 10 second intervals until it is softened. Be careful, it is very easy to melt your butter in the microwave.
Eggs and baking powder
Since we are using almond flour for these healthy keto cookies, it is important that we use leavening agents like eggs and baking powder. Almond flour is high in fat, which means it will provide much structure to the cookies. Using eggs and baking powder here will ensure that our cookies hold their shape well and have a good cookie like texture.
If you do want to make these cookies eggless, you can use egg substitutes such as  flax eggs. To make flax eggs you can take 2 tbsp ground flax seed powder and add 5 tbsp of water to it. Let this mixture sit for 5 minutes until it resembles the consistency of an egg and is gel like.
Sugar free dark chocolate
To make these healthy keto cookies even much more yummier, I have added in chopped chocolate. Cause what is better than a chocolate chunk cookie? Right? To make sure we stay on track with our 'no sugar' cookie recipe. I have here used a sugar free dark chocolate from amul. This particular type of dark chocolate does not have added sugar in it. Instead it has maltitol which is a keto friendly sugar alternative. Maltitol is a sugar alcohol, much lower in carbs than sugar and has lower glycemic index.
I also have an article of different types of sugar, on the website that walks you through all the kinds of sugar there is.
These cookies do not contain any sugar. It depends completely on the little sweetness from almonds and chocolate. If you wish you can add Erythritol/ Stevia into your dough.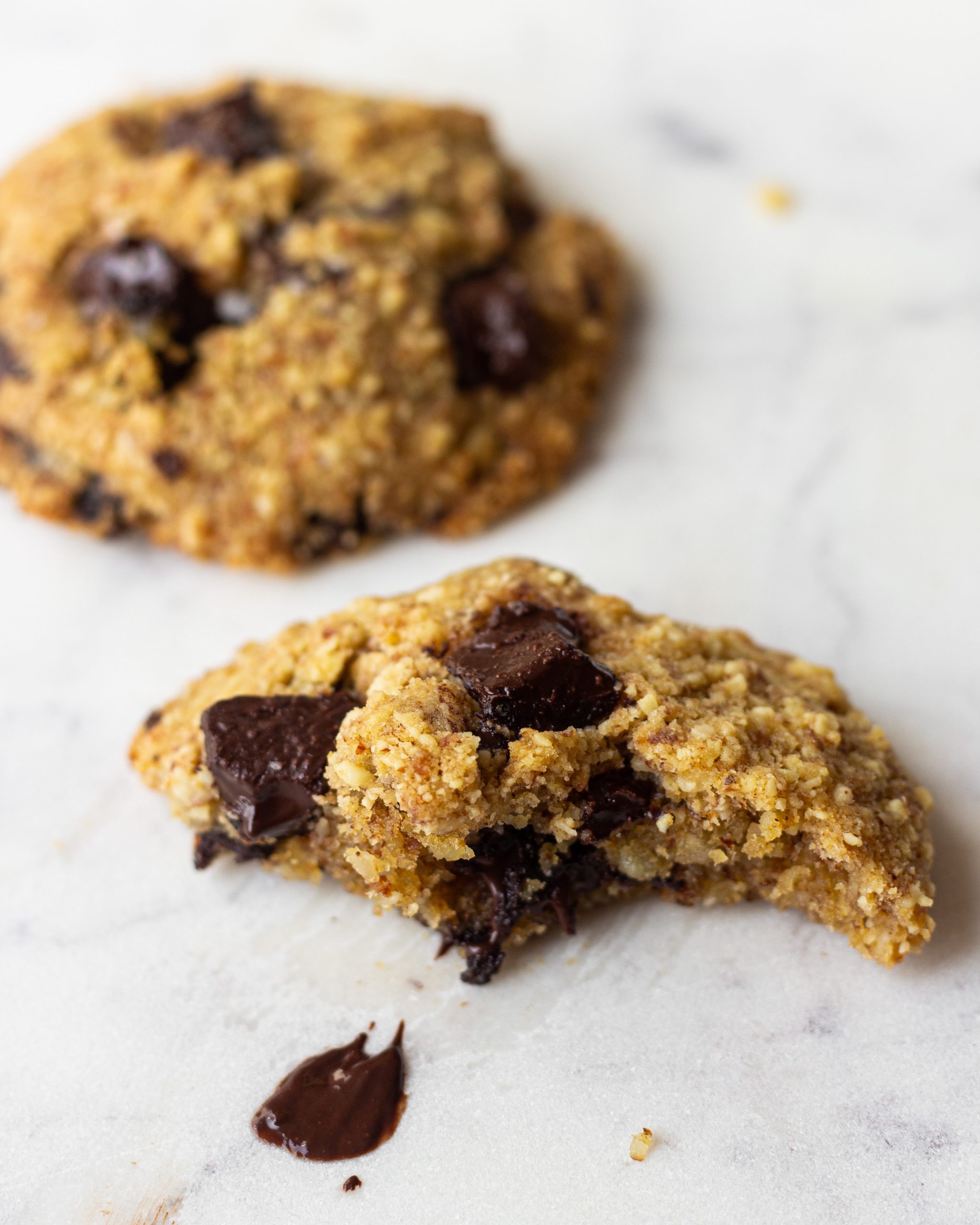 More recipes from the blog
If you are a cookie fanatic, you will also love my healthy chocolate chip cookie, oat cookies, chocolate chip and pecan cookies. All of which you can find here. If you do recreate any of my recipe, be sure to tag me on Instagram!
Keto cookies with almond flour recipe
HEALTHY LOW CARB KETO COOKIE RECIPE
Ingredients
½ cup salted butter, softened
1 tsp vanilla extract
1 egg ( substitute it with  mixture of 2 tbsp powdered flax seeds and 5 tbsp water)
1 + ½ cup ground almonds/ almond flour ( simply process almonds in a blender into a fine powder. Do not blend for to long otherwise It will form almond butter)
½ tsp baking powder
½ cup sugar free dark chocolate
Instructions
Preheat the oven @180 C.
In a bowl add softened butter and vanilla extract. Use a spatula and mix these ingredients together until well combined.
Add the egg to the mixture now and beat it well until nicely incorporated.
Add the almond flour and baking powder, mix the dry ingredients well until the dough is formed.
Add in the chopped dark chocolate and mix. Refrigerate the dough for 30 minutes.
Once the dough has chilled using an ice cream scoop, scoop the dough onto the baking tray lined with parchment paper and bake for 10-12 minutes.