I'm so glad to bring to you guys yet another eggless recipe! I know a lot of you don't consume eggs or cannot use eggs in your kitchens, but love to bake! It has been my conscious endeavour to make as many eggless recipes as possible. These eggless chocolate chip cookie cups are so delicious! I've topped mine with a dark chocolate ganache, because is there ever enough chocolate? The replacement for eggs in this recipe is a flax egg, that I've used before. I usually use a flax egg to make my cookies eggless. That's how I made my Eggless Red Velvet Cookies with Chocochips, have you tried that yet?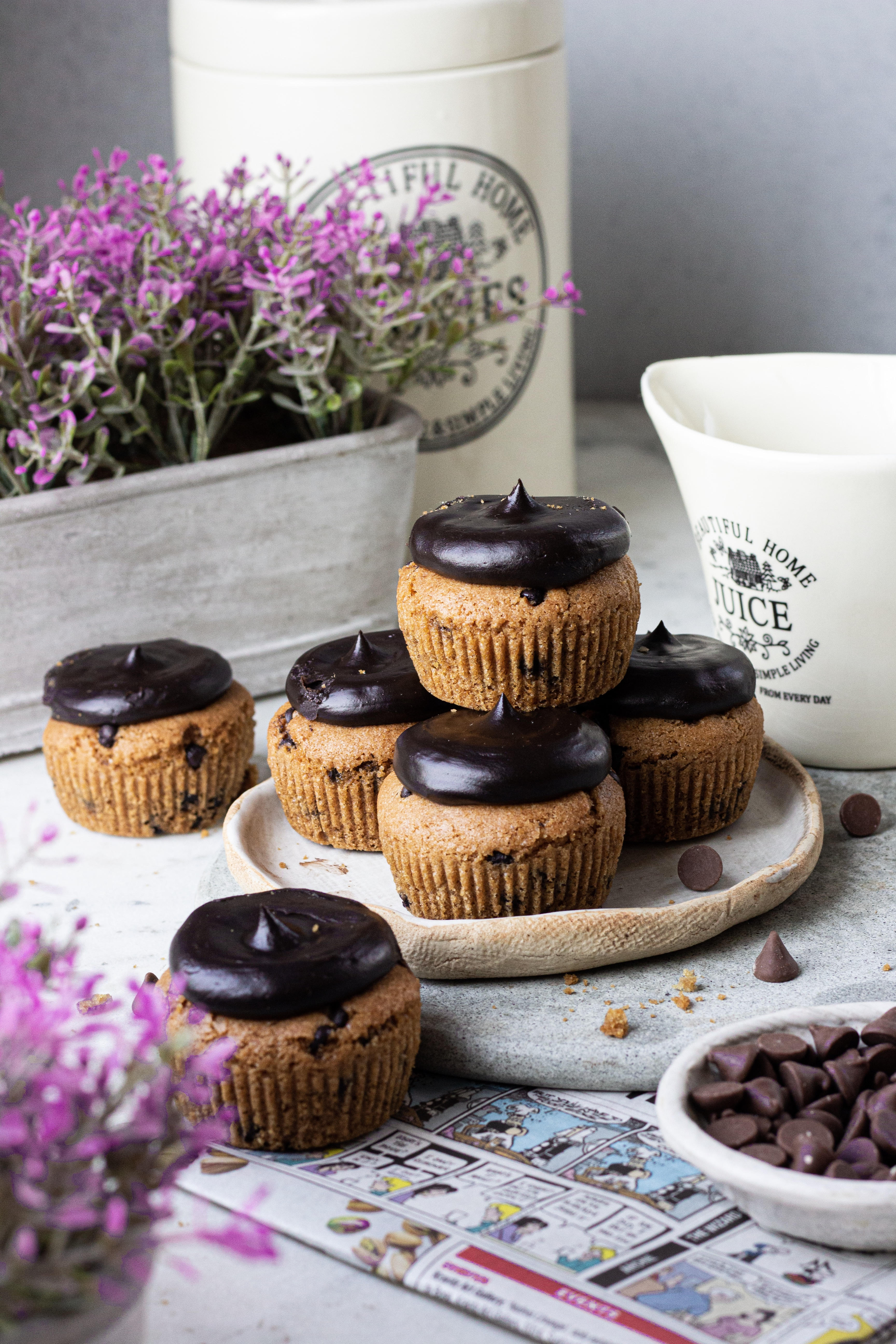 How to make flax egg?
To replace eggs in a cookie recipe, I usually go for something called a flax egg. It is simply ground flax seeds with water. I have observed that it works in almost all cookie recipes. It is no thumb rule if it will work standardly to replace eggs in cakes too, but why don't you guys try and get back to me? To make one flax egg, I take 1 tablespoon of flax seed powder and add to it 2 tablespoons of water. Allow it to stand for 5 minutes until it thickens. You can use this as you would an egg! So cool, isn't it?
How to make chocolate chip cookie cups?
I usually use butter in most of my cookie recipes. This recipe, however, uses olive oil. You could replace olive oil in the recipe with any neutral oil, like canola oil, or vegetable oil. I haven't tried using coconut oil, but I see no reason why it wouldn't work. However, do not use a very strong flavoured oil like mustard oil, as that would overpower the flavours in the cookie. I have simply made a cookie dough, put equal amounts in cupcake paper liners and baked it. Once cooled, I have topped it with a chocolate ganache.
How to make a dark chocolate ganache?
Making a chocolate ganache is very easy. Just chop the chocolate into small chunks. Take an equal amount of fresh cream and bring it to a simmer. Pour simmering cream over chopped chocolate and let it stand for a couple minutes for the heat of the cream to semi melt the chocolate. Using a whisk or a spatula, homogenise the chocolate and cream to get a ganache! I also have a post on How to make the perfect chocolate ganache that you should go through before you try this!

EGGLESS CHOCOLATE CHIP COOKIE CUPS
Ingredients
For cookie cups
⅓ cup olive oil
½ teaspoon vanilla extract
1 flax egg
⅓ cup caster sugar
⅓ cup brown sugar
1 + ¼ cup all purpose flour
½ teaspoon baking soda
1 tsp sea salt
4 tablespoons milk
¾ cup chocolate chips
For chocolate ganache
1 cup dark chocolate, chopped
1 cup fresh cream
Instructions
In a large bow, beat together the caster sugar, brown sugar and olive oil.
To this, add the flax egg and vanilla extract.
In a separate bowl, combine the dry ingredients- flour, baking soda and sea salt.
Add the dry ingredients to the wet ingredients, adding milk to get the consistency of the dough right.
Fold in he chocolate chips.
Let the dough rest in the refrigerator for 30 minutes.
Line a muffin tray with paper liners. Scoop the dough into them and bake at 180C for 15-20 minutes.
Meanwhile, to make the ganache, pour simmering cream over chopped chocolate and homogenise.
Let the ganache set and come to room temperature.
Pipe dollops of chocolate ganache over completely cooled cookie cups.