In the ongoing Christmas Recipe edition, I bring to you another lip-smacking dessert, the Spiced Orange Wreath Cake.
There are a plethora of recipes involving Orange on the blog and this Spiced Orange Wreath Cake will immediately become your absolute favorite like it became mine. Winters are the season for spices that create an explosion of flavors with each bite and also help to keep your body temperature stable with that of the outside temperature because the efficacy of spices is to make the internal body warm.
This Spiced Orange Wreath cake is perfect for holidays. It helps to battle the monotony of desserts that we keep on baking for gatherings and occasions and each bite has a generous sprinkle of a holiday or rather, Christmassy feeling.
This recipe is brought to you in association with SPRIG. As you guys would know, I use SPRIG products all the time. I love their products because the quality is highly indubitable. They have made my work easier manifolds and I always ensure that there are SPRIG products very well stocked in my refrigerator all the time. For this beautiful Spiced Orange Wreath Cake, I have used Natural Bourbon Vanilla and Coconut Palm Sugar with a quartet of spices. 
For more delicious Christmassy recipes, you can try the Festive Chocolate Caramel Cupcakes or choose from a variety of festive recipes here.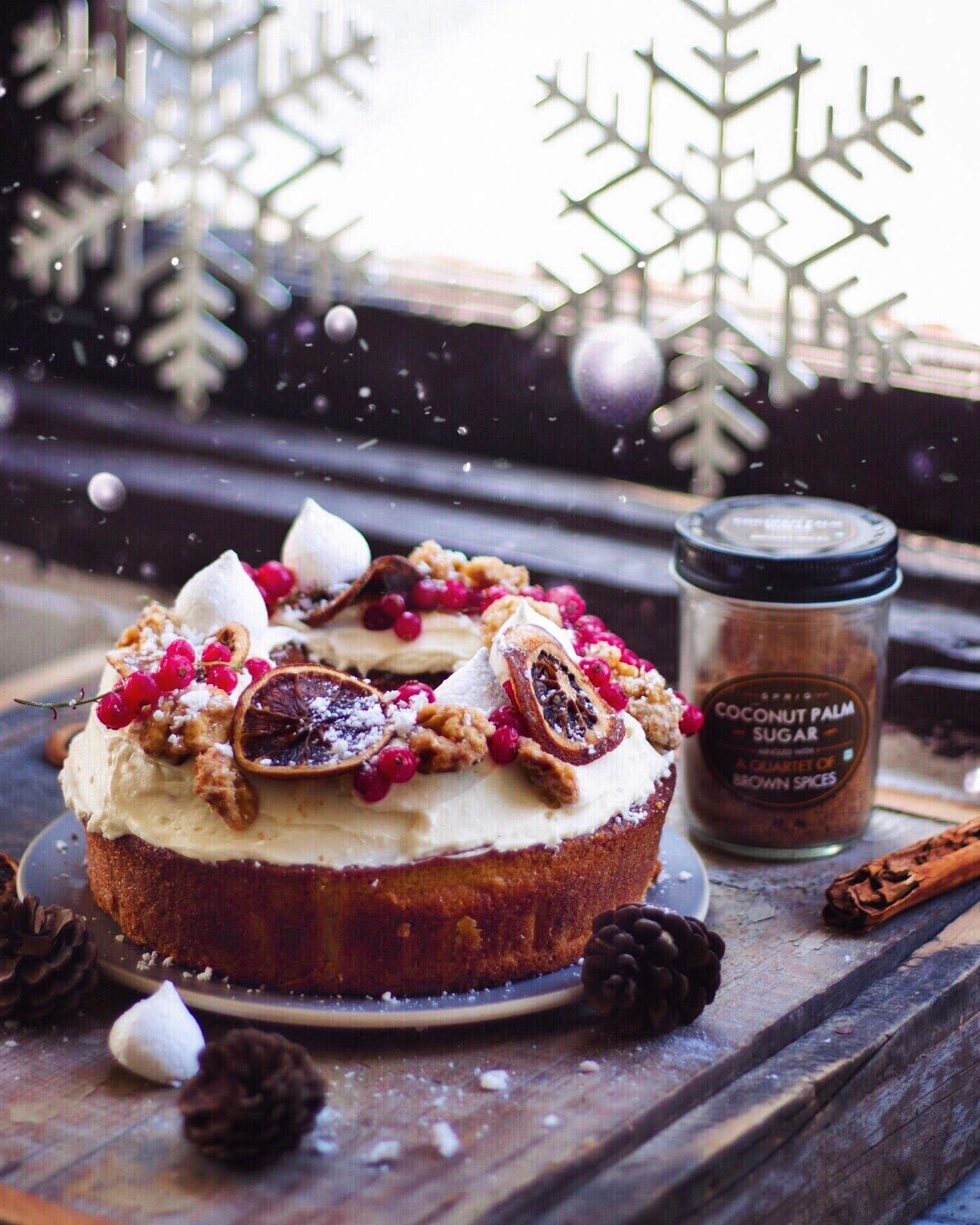 SPICED ORANGE WREATH CAKE
Ingredients
2 cups (240g) all-purpose flour
2 teaspoons (8g) baking powder
¼ teaspoon (2g) salt
1 tsp (4g) cinnamon powder
½ tsp (2g) ginger powder
1 tbsp (6g) orange zest
¾ cup (180mL) vegetable oil
½ cup (100g) castor sugar
½ cup (100g) Sprig Coconut Sugar with a quartet of spices
1 teaspoon (5mL) Sprig Bourbon Vanilla Extract
2 eggs
¼ cup (60mL) fresh orange juice
Instructions
Pre-heat the oven to 180C. Line an 8″ round cake pan with parchment paper
In a bowl, whisk together flour, baking powder, cinnamon powder, ginger powder, orange zest and salt
In a separate bowl, beat vegetable oil, castor sugar, and Sprig Coconut Sugar.
Beat in the Sprig Bourbon Vanilla Extract.
Add eggs, one at a time and beat well after each addition. Mix in the orange juice.
Using a spatula, gently fold in the dry ingredients into the wet ingredients. Mix only until well combined. Fold in the sliced strawberries
Pour the batter into the prepared cake pan. Bake at 180C for 40-45 minutes or until a skewer inserted into the center comes out clean.
Once the cake has cooled completely, top with cream cheese frosting