This season is all about homemade happiness. As soon as December starts, I start getting excited to begin the festive baking. Everyone at home looks forward to this time of the year because they know I'll be whipping up something special almost every day. 
I bake everything from cookies to tarts and pies. I love shortbread cookies, apple pies, and cupcakes this time of the year but my favourite thing to bake and eat has to be the Rum Cake! It defines this season for me and all its warm flavours make me feel fuzzy and happy.
Rum cake is extra special because it's loaded will all kinds of raisins, dried berries, dates, apricots, and dry fruits. What makes it even more delicious is the
Captain Morgan Original Rum
.
I can't imagine whipping up this festive special cake without Captain Morgan Original Rum. It's intensely deep and rich taste is what elevates the flavours and takes this cake to another level.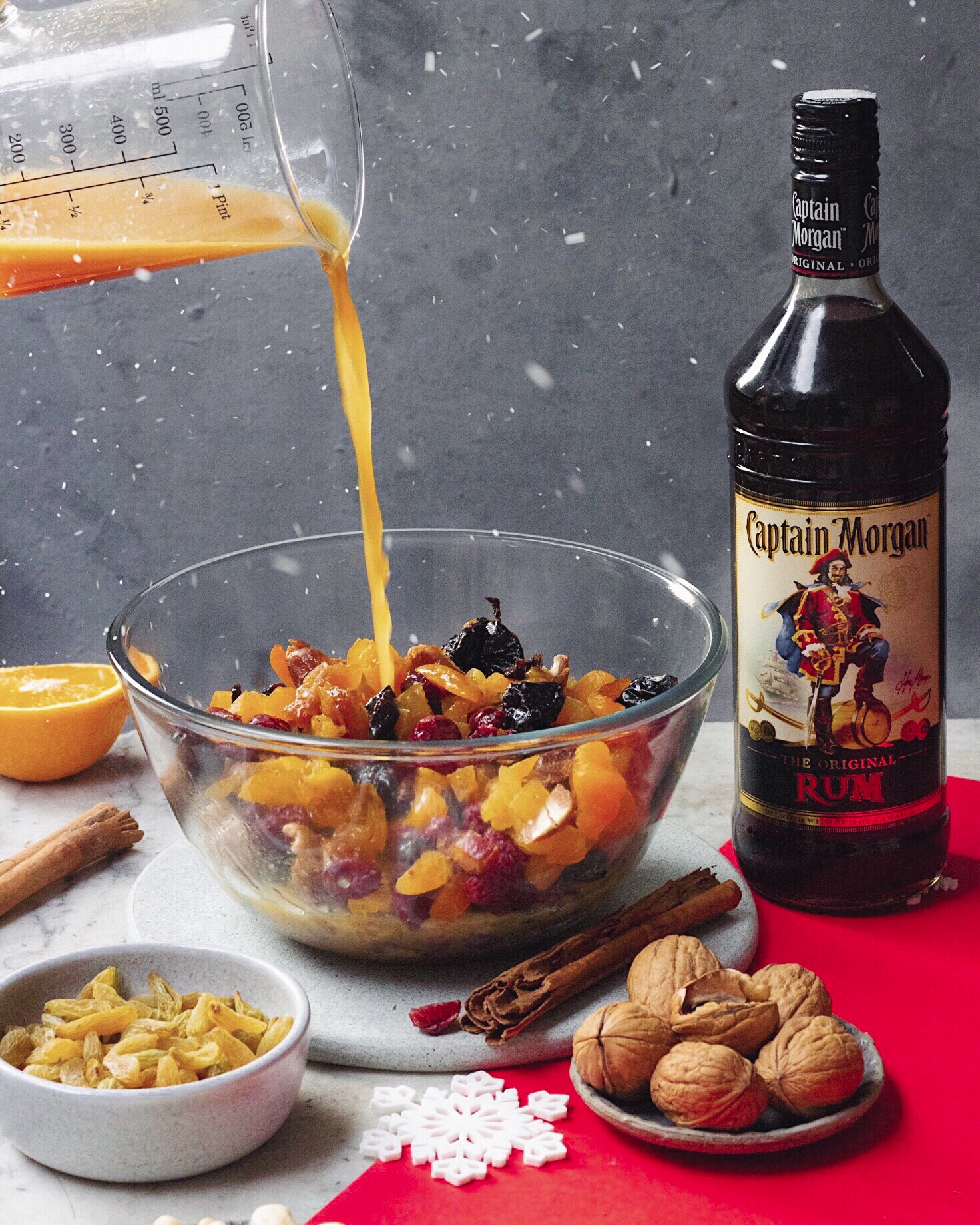 Rum cake was first made in the Bahamas where people had started using alcohol to preserve food. They also slowly started finding ways to incorporate rum in their recipes. Initially, rum was infused into traditional English figgy puddings which is thought to be the precursor to rum cake as we know it today.
Nothing makes me happier than chopping loads and loads of dried cranberries, apricots, dates, raisins, walnuts and cashews and then soaking them in a special mixture. I make this mixture using orange juice, butter and Captain Morgan Original Rum.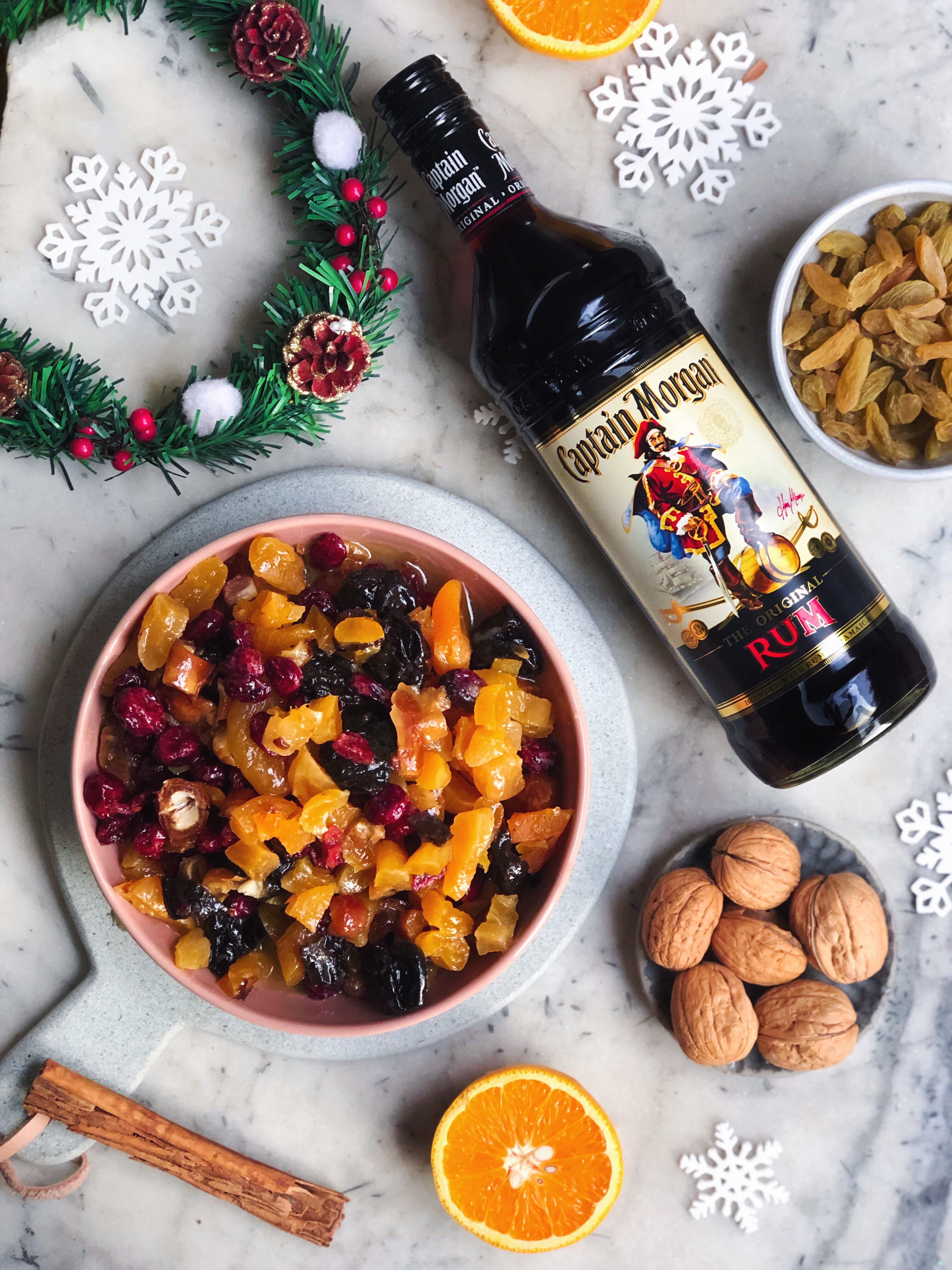 RUM CAKE FOR CHRISTMAS
Ingredients
For fruits:
2 cups mixed dried fruits and nuts, roughly chopped
1 + ½ cup (360mL) orange juice
½ cup (113g) butter
150 mL Captain Morgan Original Rum
For cake batter :
2 cups (240g) flour
1 tsp (4g) baking powder
1 tsp (4g) cinnamon powder
½ tsp (2g) ginger powder
¼ tsp (1g) grated nutmeg
1 tbsp (6g) fresh orange zest
1 cup (226g) butter, softened
1 cup (200g) castor sugar
⅓ cup (67g) brown sugar
4 eggs
Instructions
Place the roughly chopped fruits and nuts in a bowl.
In a saucepan set over medium heat, bring the orange juice to a boil. Add butter and let it melt.
Set if off the heat and add Captain Morgan Original Rum. Mix well.
Pour the rum mixture over the fruits. Cling wrap it and let it sit overnight.
Next day, preheat the oven to 180C and line a 9" cake pan with parchment paper.
In a medium down, whisk flour, cinnamon, ginger powder, nutmeg and orange zest.
In another bowl, beat both sugars and butter until the mixture is light and fluffy.
Add eggs, one at a time and beat well after each addition.
Combine the wet and dry ingredients.
Mix in the rum soaked fruits along with the liquid.
Pour the batter into the prepared pan and bake at 180C for 40-50 minutes