I love baking with plums and I love working with lavender but this is the first time that I'm using both these ingredients in a recipe together. I use lavender extract from SPRIG in the filling of this plum lavender tart. That's not it! I also fold a generous amount of plum curd in the whipped cream filling to make it even better.
Lavender is such a beautiful flavor and adds so much elegance to a dessert. Just a couple of drops of the SPRIG lavender extract lifts this plum lavender tart and makes it even better. Some lavender desserts I've made before-
The tart shell of this plum lavender tart is made using a mixture of two sugars. I use regular castor sugar and SPRIG Demerara sugar with vanilla beans. It gives it such a beautiful flavor and color. Make sure the butter you use is cold because that is what makes the tart shell flaky.
For the filling, make sure your cream is whipped to stiff peaks. To whip a cream, make sure it has over 30% fat. Most popularly available brands of whipping cream in Indian market are Rich and Tropolite.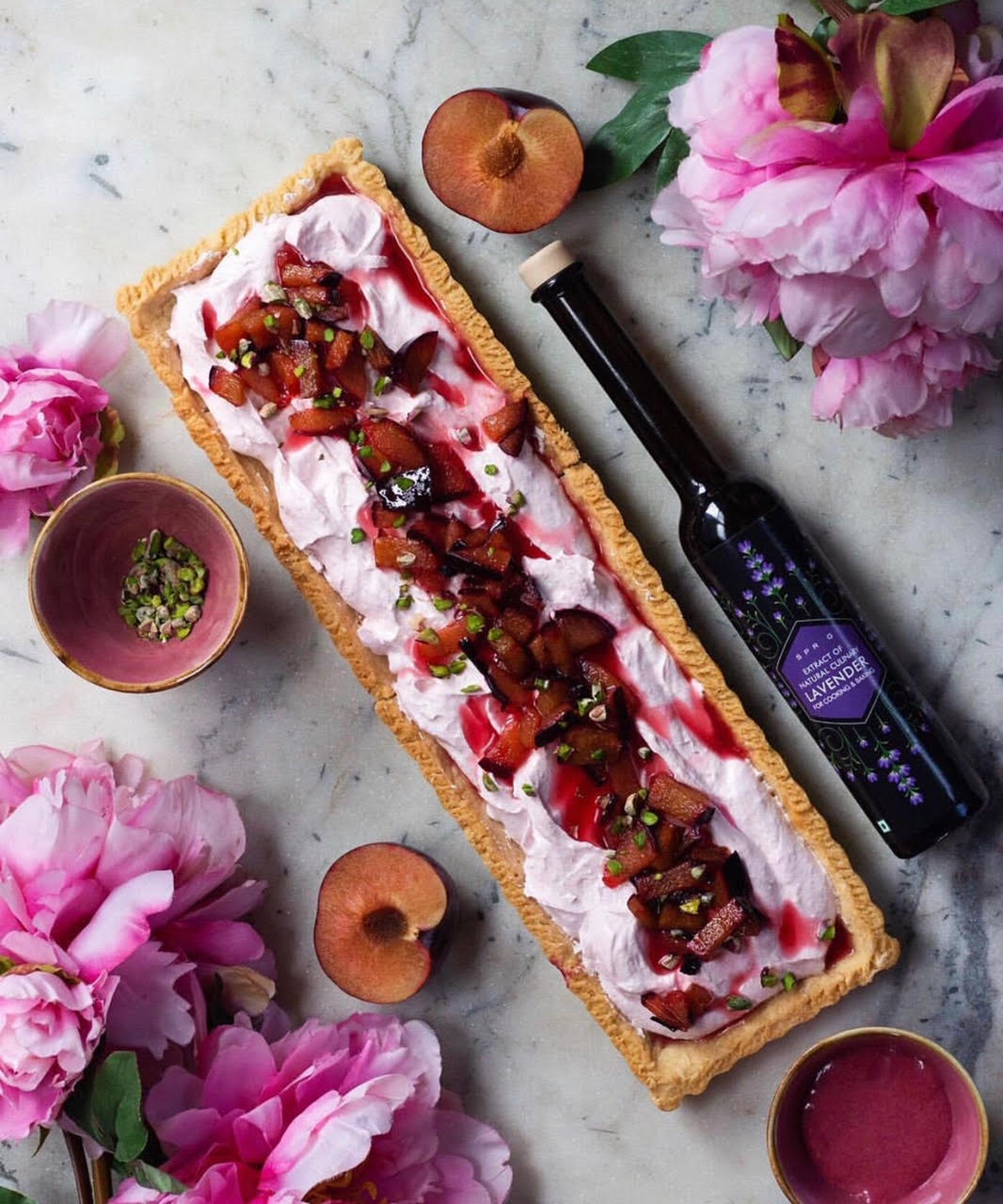 INGREDIENTS-
TART SHELL
1/2 cup (100g) caster sugar
1/4 cup (50g) light brown sugar
1/2 cup butter (113 grams/ 8 tbsp), cold and cubed
1  egg yolk
1 + 1/4 (150g) cups all purpose flour
FILLING
1 cup (240mL) whipped cream
1/4 cup (57g) plum curd ( recipe HERE  )
1/4 teaspoon lavender extract
fresh plums and pistachios, to top
PROCEDURE-
Pre-heat the oven to 180C.
In a large bowl, mix flour and sugars.
Using your hands mix in the cold butter. The mixture will have a sandy texture.
Beat in the egg yolk. Mix and knead until the dough comes together.
Use your fingers to press the dough into the bottom and up the sides of a 9″ tart pan or a rectangular pan. Refrigerate the tart shell for at least one hour or until the dough is firm.
Use a fork to prick the bottom of the tart shell and then bake at 180C for 15-20 minutes or until the tart shell is golden brown.
To make the filling, add lavender extract and plum curd into the whipped cream.
Spread the filling into the tart shell, once it's completely cooled. Top with fresh plums and pistachios.
Your plum lavender tart is ready.