If I were to pick the most elegant dessert that there is, I'd say a panna cotta! It makes for the perfect dessert to serve at a dinner party. If you want to save yourself the hassle of taking it out of the ramekins, simply set them in glass- like I did with the chocolate panna cotta.  Now you know why I like panna cottas and my love for all things citrus is not a secret. No marks for guessing, this yuzu panna cotta makes me very very happy!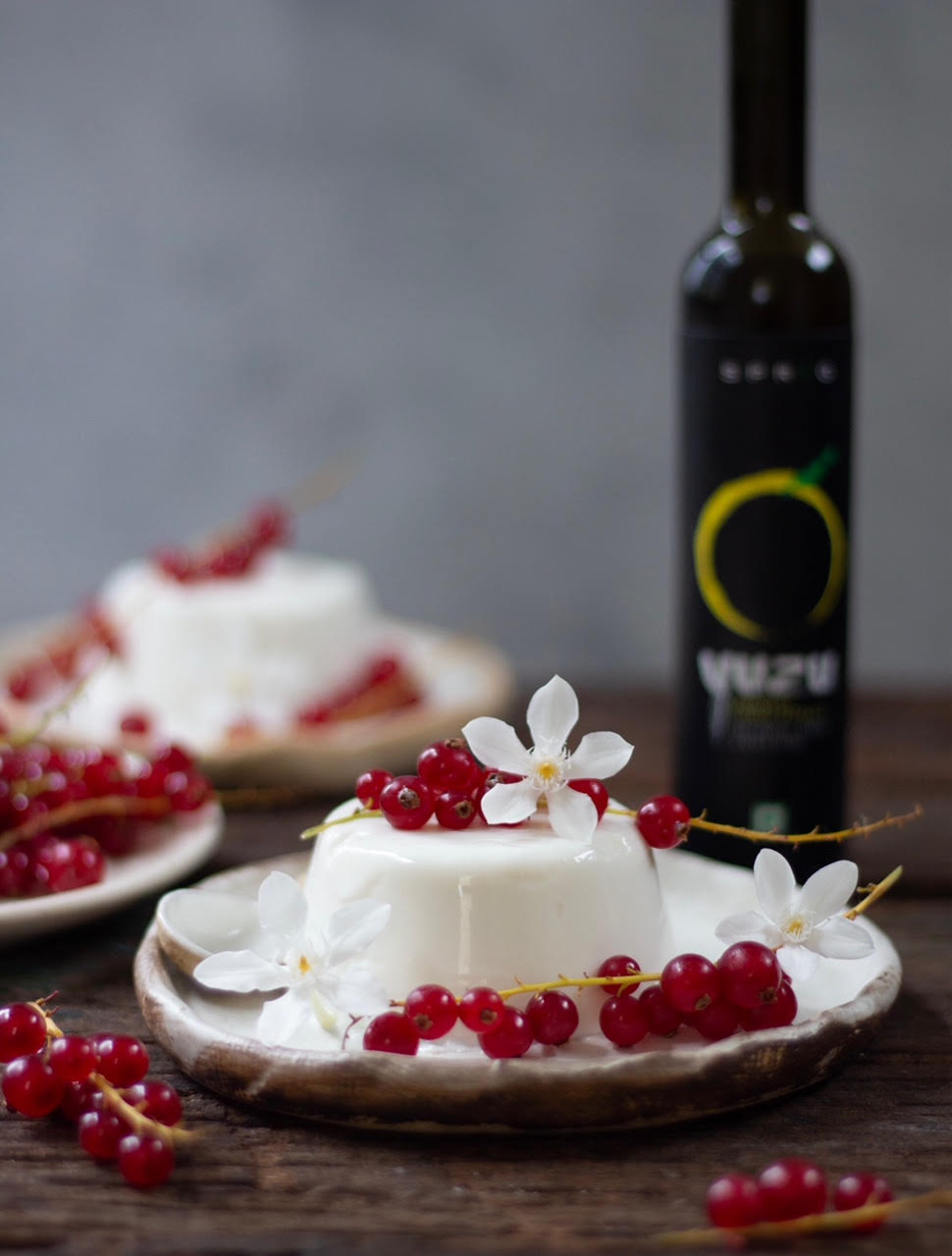 My first introduction to yuzu was 3 years back when I was interning at Le15 in Bombay with Pooja Dhingra. We were to make dessert for 90 people for a charity dinner and I remember we worked with Japanese flavors like matcha, sesame and yuzu. I instantly fell in love with the flavor of yuzu but couldn't get my hands on it. Three years later, I found yuzu extract on the SPRIG website and I couldn't help but add it to my pantry. This yuzu panna cotta is the first thing I made using it and I couldn't be happier.
I use double cream to make my panna cotta but you can also use heavy/whipping cream if you like. I've tried this recipe with both gelatin leaves as well as powder- works well for both. I've not experimented with agar-agar so I'm not sure if that will work. But you can definitely experiment if you want to make a vegetarian panna cotta.
If you make this yuzu panna cotta, don't forget to share a picture with me using #BakeWithShivesh.
YUZU PANNA COTTA
This yuzu panna cotta is so refreshing and makes for a delightful dessert on a warm summer day. One tip to ensure that you're easily able to remove the panna cotta from the ramekins is to carefully dip the ramekins in warm water before sliding out the panna cotta.
Ingredients
3 gelatin leaves ( or 1 tablespoon (9.25g) gelatin powder. Sprinkle the gelatin over 6 tablespoons cold water in a medium-sized bowl and let stand 5 to 10 minutes. )
1 cup (240mL) whole milk
1 cup (227g) double cream
1 tablespoon SPRIG ginger honey
½ teaspoon SPRIG yuzu extract
Instructions
Soak the gelatin leaves in a little cold water until the leaves are soft.
In a saucepan set over medium heat bring milk, cream, honey and yuzu extract to a simmer.
Take the pan off heat. Squeeze the water out of the gelatin leaves and add it to the cream mixture while it is still warm. Mix until the gelatin is dissolved.
Pour into ramekins or any other lightly oiled glass/ ceramic ware and refrigerate overnight.
Once the panna cottas have set, remove them from the ramekins and serve with fresh red currants