Tarts are currently my favorite desserts to bake and lemon and strawberry have always been my favorite ingredients to work with. And that is why I love these gorgeous lemon strawberry tarts. The filling is made using mascarpone cheese and lemon curd- it is super flavorful and delicious.
I'm also sharing a video for this recipe on my Instagram, so make sure you go watch that as well. Happy Baking!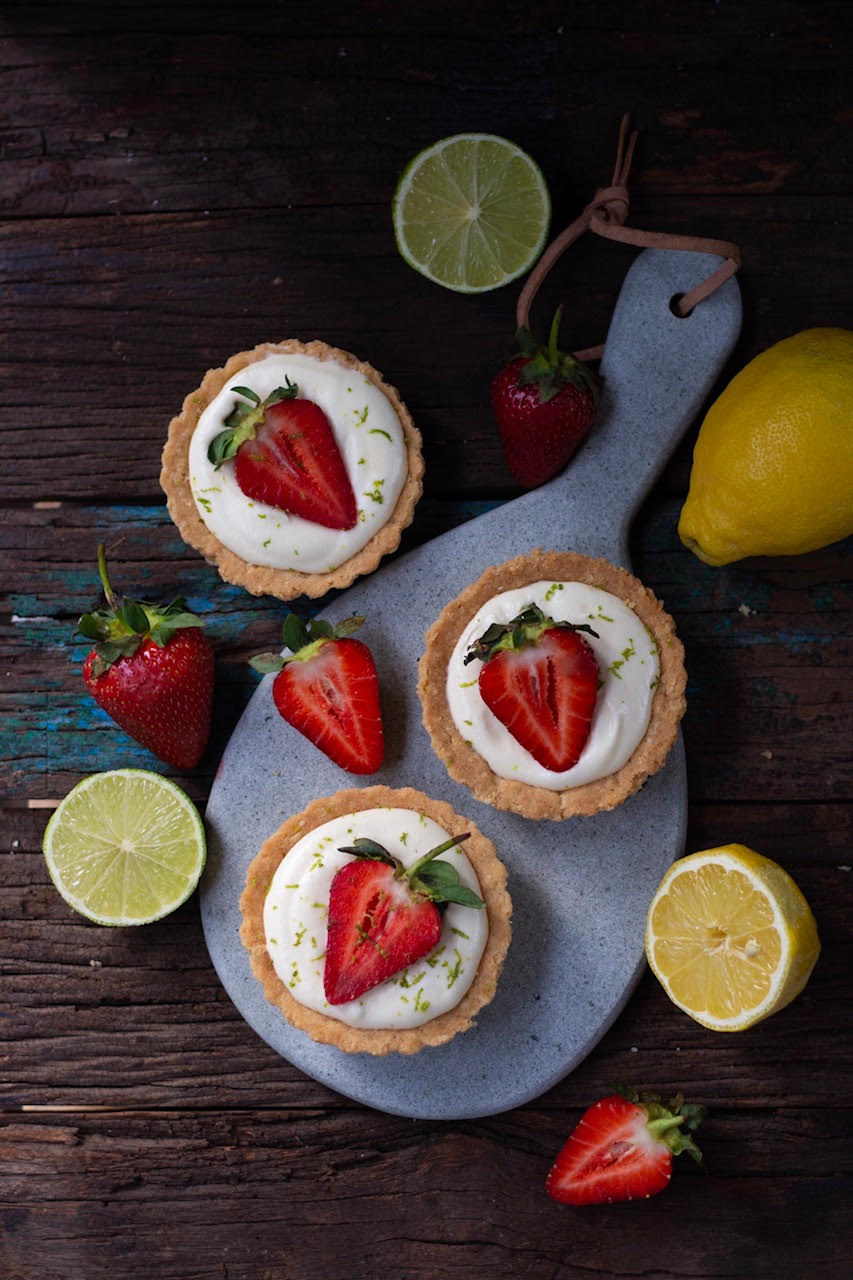 Easy Lemon Tarts
Lemon strawberry dessert recipes are wonderful. They combine my two favourite ingredients- lemons and strawberries! According to me, the difficult part when it comes to baking tarts is the part wherein we need to get the tart shell together. The topping and the decoration are definitely secondary in my opinion and in order to nail these lemon strawberry tarts, forget everything and get working on your tart shell. You guys do know that I always have you sorted when it comes to the difficult part of baking and therefore, you can learn how to bake tart shells easily upon checking out the
How to make Perfect Tarts
article on the website!
This lemon tart also requires you to use lemon curd, which is my absolute favorite fruit curd!
Tips to keep in mind while baking these lemon strawberry tarts
Be careful with the lemon curd recipe and with the tart shell. These are the pillars on which your lemon strawberry tarts come out to be rockstars!
Refer to the article on How to make Whipped Cream on the blog for the perfect finish to your lemon strawberry tarts.
Do not over-zest the lemons. Zest only till the yellow part as the part beyond it becomes bitter. For best results, use a micro grater.
Lemon Strawberry Tart Recipe
Lemon Strawberry Tarts
Ingredients
Tart Shell-
½ cup butter, softened
½ cup caster sugar
1 cup all-purpose flour
¼ cup traditional oats
1 egg yolk
Filling-
1 cup mascarpone cheese
½ cup lemon curd
½ cup sweetened whipped cream
3-4 fresh strawberries
lime zest, to top
Instructions
Pre-heat the oven to 180C
In a large bowl, beat butter with sugar.
Add flour and oats. Mix well.
Beat in the egg yolk and mix until the dough comes together. Knead with your hands, if needed.
Press the dough into 4 small tart pans or one 9" tart pan.
Bake at 180C for 15-20 minutes or until the tart shell becomes golden brown.
To make the filling, beat mascarpone cheese and lemon curd together.
Fold in the sweetened whipped cream.
Fill the cooled tart shells with the filling and top with fresh strawberries and lime zest.