Lemon Strawberry Tarts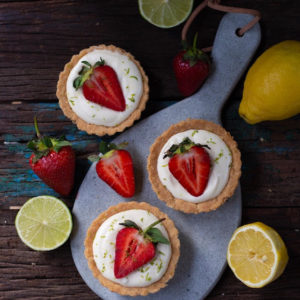 ½ cup butter, softened
½ cup caster sugar
1 cup all-purpose flour
¼ cup traditional oats
1 egg yolk
1 cup mascarpone cheese
½ cup lemon curd
½ cup sweetened whipped cream
3-4 fresh strawberries
lime zest, to top
Pre-heat the oven to 180C
In a large bowl, beat butter with sugar.
Add flour and oats. Mix well.
Beat in the egg yolk and mix until the dough comes together. Knead with your hands, if needed.
Press the dough into 4 small tart pans or one 9" tart pan.
Bake at 180C for 15-20 minutes or until the tart shell becomes golden brown.
To make the filling, beat mascarpone cheese and lemon curd together.
Fold in the sweetened whipped cream.
Fill the cooled tart shells with the filling and top with fresh strawberries and lime zest.