I hate bananas but something miraculous happens to them when you use them in cakes. I don't know if this is just me, but the bananas that I otherwise hate, taste SO good when incorporated in cakes, and especially in this banana cake with cream cheese frosting recipe.
If you are that person too, you know what to do with all those bananas in your kitchen. Get them out, mash them and make this yummy flavourful banana cake out of them.
To be honest, this banana cake tastes fantastic just like that but a generous layer of cream-cheese frosting takes it to an all new level! This banana cake with cream cheese frosting is moist and full of flavor. If you want to add a little crunch to your cake, feel free to throw in some crushed walnuts into your cake batter just before pouring it into the tin. You can drizzle the cake with some caramel sauce or simply decorate them with walnuts as I did.
There are so many banana incorporated cakes in the Bake with Shivesh book that I have especially curated for you guys. If you haven't got it yet, grab it here!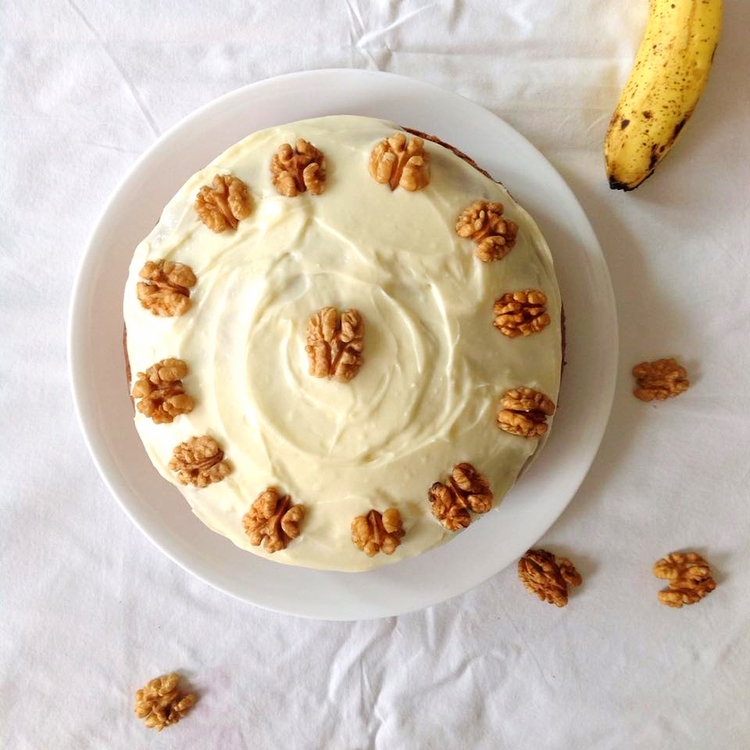 What icing goes with banana cake?
Banana Cakes are really forgiving when it comes to icings and toppings. This is a banana cake with cream cheese topping recipe. However, if you like whipped cream, you can totally go for that. You can also go with vanilla bean buttercream and treat yourself to the perfect banana cream with buttercream frosting. Another icing you can go with is just drizzling the banana cake with a generous layer of caramel or similarly even with salted caramel as a matter of fact.
2 Layer Banana Cake with Cream Cheese Frosting
Layering cakes is always a beautiful idea. It just makes your cake so much more presentable and consequently, the star of the show for all your parties and events.
To make this Banana Cake into a two-tiered cake, use the same measurements. After you have the complete mixture, divide it into two and pour the two mixtures into separate baking tins. If you'd like more height, you can always go with not dividing the given recipe into two and make two full cakes.
When your cakes are ready. Level them using a butter knife and use an offset spatula to layer with cream cheese frosting. You can also add the frosting on the sides or go with the plain, classic look.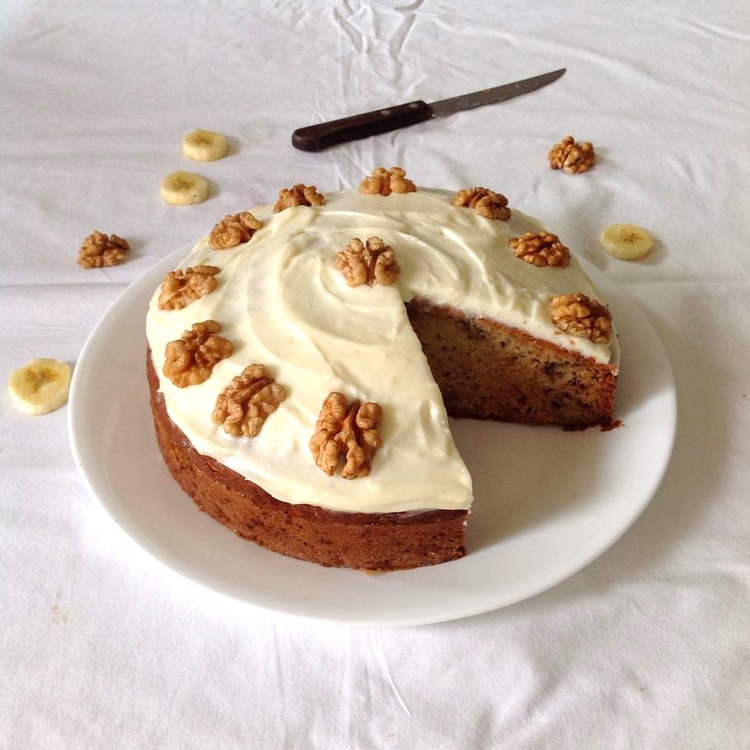 Banana Cake with Cream Cheese Frosting Recipe
BANANA CAKE WITH CREAM CHEESE FROSTING
Ingredients
CAKE
2 ripe bananas, mashed
3 cups all purpose flour
2 teaspoons baking powder
¾ cup oil
2 cups sugar
3 eggs
1 + ½  cup milk
FROSTING
8 ounce cream cheese, softened
½ cup butter, softened
3 cups icing sugar, sifted
Instructions
CAKE-
Pre-heat your oven to 180C. Butter a cake tin and dust with flour.
In a medium bowl, whisk together flour and baking powder
In a large bowl, beat sugar and oil until the mixture becomes pale yellow.
Add eggs, one at a time and beat well after each edition.
Fold in flour mixture, alternating with milk.
Beat in the mashed bananas.
Pour the batter into the prepared cake tin and bake for 40 minutes or until a toothpick inserted in the centre comes out clean. Let it cool completely
For the frosting, cream butter and cream cheese until light and fluffy.
Add icing sugar, one cup at a time, mixing well after each edition.
Cover the cooled banana cake with the frosting using an off-set spatula and decorate with walnuts.