Babka means a sweet yeast cake. This is the first time I attempted making a babka and absolutely loved it. It isn't as tough as it sounds. All you need is some patience. So don't be intimidated and give it a shot. You'll surprise yourself, I promise!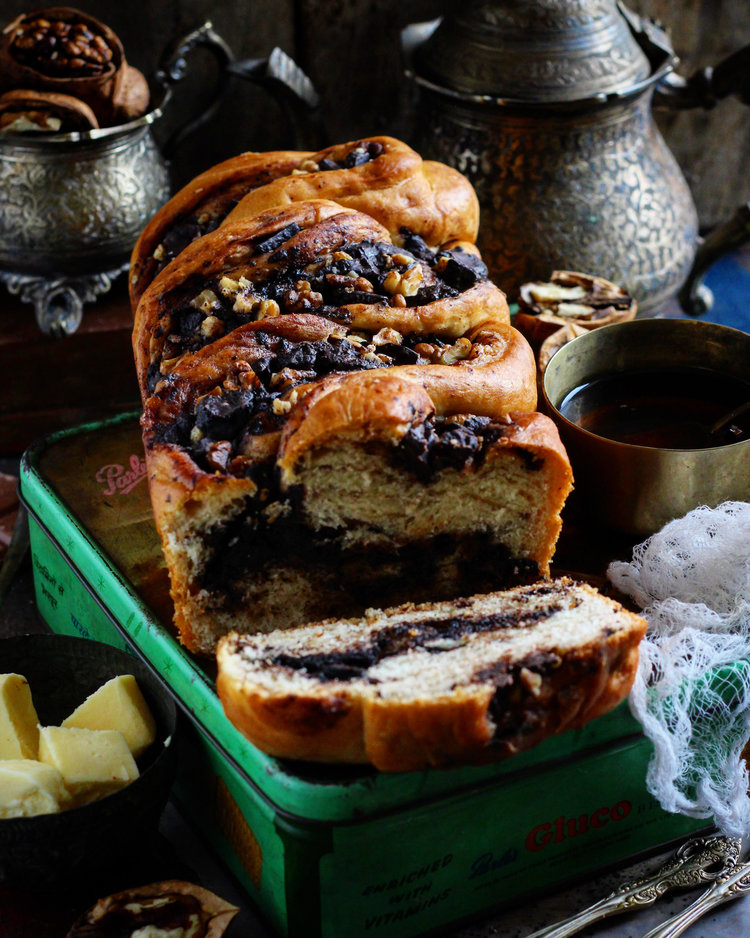 CHUNKY CHOCOLATE BABKA
Ingredients
⅓ cup warm water
1 tbsp sugar
2 + ¼ tsp active dry yeast
3 tbsp extra-virgin olive oil
3 + ¾ cups all purpose flour
1 + ½ tsp salt
5-6 tbsp melted butter
1 cup chocolate chunks
¼ cup crushed walnuts
Instructions
Combine warm water and sugar. Mix well.
Sprinkle yeast on the top. Set aside for 10 minutes until foamy.
Mix in the olive oil.
In a separate bowl, whisk flour and salt. Make a well in the middle and add in the yeast mixture. mix to combine.
Turn the dough out onto a lightly floured surface. Knead until smooth. Form into two balls and place in bowls brushed with olive oil.  Set aside in a warm place and let it double in size. This will take about 1 hour, 30 minutes.
Once the dough has doubled in size, roll out the two dough balls. Brush them with melted butter and top with crushed walnuts and chocolate chunks. Roll them back into two cylinders.
Braid the two cylinders together. Transfer into a loaf tin and let it rest for another 30 minutes.
Bake at 180C for 35-40 minutes.