Whether you're new to baking or an absolute pro at whipping up extravagant desserts, you, at some point must have definitely faced problems with ingredients and their measurements. How much butter comes in 1 cup, how to measure flour correctly in cups, cups to gram conversions – I'll be honest, there are days when I cannot figure out the deal with measurements. Yes, even after more than 6 years of doing this!
So for those days where numbers seem to be haunting you from going to the kitchen, I'm jotting down my rules and tips on how to measure baking ingredients properly. In this article, we'll be talking about some of the baking pantry staples, how to measure baking ingredients properly in cups and grams and some of my quickest tips which will surely make you a confident baking ninja in the kitchen!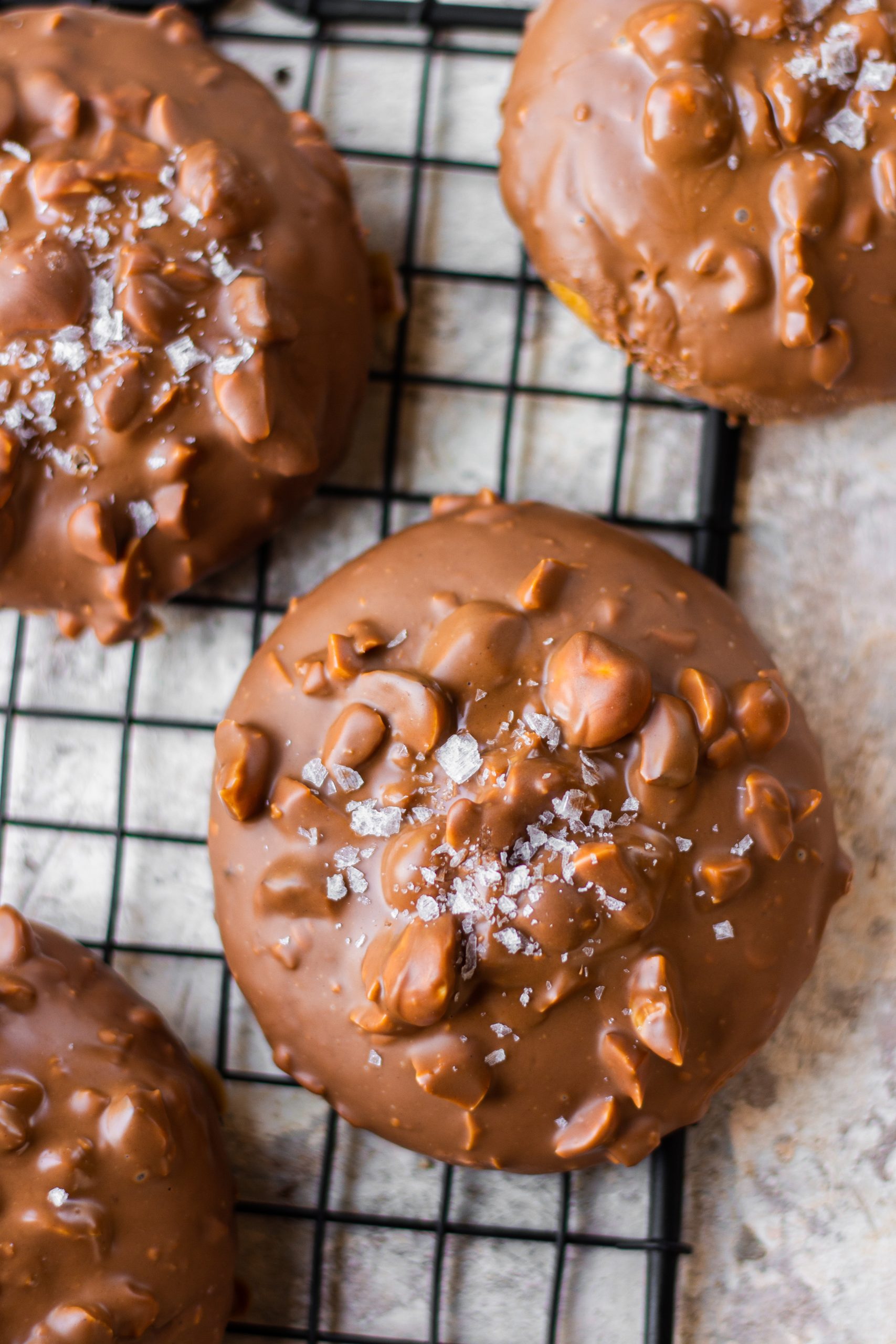 Cups or grams- what's the real deal?
When it comes to baking, being a perfectionist will always play out in your favor as baking needs precision in every step of the way. And specially when it comes to measurements, you cannot afford to go wrong as one incorrectly measured ingredient would be the recipe to disaster. So let's talk about the three ways you can measure your baking ingredients –
Eyeballing – It's a method that's commonly used in cooking savory food and specially in Indian households. In this method, you add in ingredients without really measuring anything and according to your instincts. While this mostly works for savory food, I wouldn't recommend eyeballing quantities for baked desserts as again, you cannot guess how much baking powder your 1 kg cake would need. Or how much chocolate would your whipped ganache require. It's something that needs definite measurements in order to be just right.
Measuring cups and spoons- Measuring cups and spoons are sets of tools which help you measure ingredients. Since measuring cups and spoons are almost the same across the world and yield great results, it's the most commonly used way of measuring baking ingredients. All my recipes are made and given out to you in measuring cups, so that you can make them in your kitchen easily. Measuring cups come in a set of 1 cup, 1/2 cup, 1/3 cup, and 1/4 cup measure in every set while measuring spoons come in a set of 1 tablespoon, 1/2 tablespoon, 1 teaspoon, 1/2 teaspoon, 1/4 teaspoon and 1/8 teaspoon. For liquid measurements, lots of people use a pyrex jug which has quantities marked on it for measurement.
Weighing scale – Yes, this is the same weighing scale that is used by vegetable and fruit vendors all across the world to measure their produce. Only smaller and used to measure baking ingredients. It has the capacity to measure in grams, milliliters, ounces and kilograms. It is also a very accurate way of measuring baking ingredients – though slightly less accessible as not everybody has a weighing scale in their home. But if you fancy a good weighing scale, you can get one here.
How to measure some common baking ingredients
Flour – any type of flour be it whole-wheat, oat flour etc. is the most commonly mis-measured ingredients there is. We have all taken our measuring cup and over-filled it with flour without understanding what harm it is doing to our overall recipe. You're adding more flour to your recipe than needed so what you need to do is use the spoon and level method. After spooning the flour in  your measuring cup, level it using a knife so you're only measuring as much as asked in the recipe. For example, if the recipe calls for 1 cup flour, you take your 1 cup, spoon the flour in it from your container and remove the excess from the top using a knife or the top of a spoon. Seems simple, right? Follow this trick and you'll never end up with doughy cakes / breads again. And this same technique applies for a variety of dry ingredients – sugar, oats, cocoa powder, baking powder, baking soda, yeast. Basically any dry ingredients you have in your pantry, use this method for measuring correctly!
All liquid ingredients can be measured easily using measuring cups and spoons – just pour the ingredient until you reach the brim of the measuring cup, making sure nothing overflows.  For slightly stickier ingredients like honey, you can spray some oil on your measuring cup and it'll come off easily without ruining your measurements. Wet ingredients can also be measured in a pyrex jug which is a glass jug with measurements indents on the side.
To measure semi-solid ingredients like butter using a measuring cup, wait until your butter has softened enough to be scooped using the cup. Once it is reaches a soft consistency, scoop the butter into the measuring cup. Make sure there are no gaps of air. Using a spoon or spatula, push the butter down lightly and then level off using a knife or spatula.
You know how some recipes have measurements for garnishes like chocolate chips, sprinkles etc.? You measure these ingredients the same way you measure dry ingredients – spoon and level but since how much garnish to be used is so subjective, I prefer not adding the measurements for this to my recipe.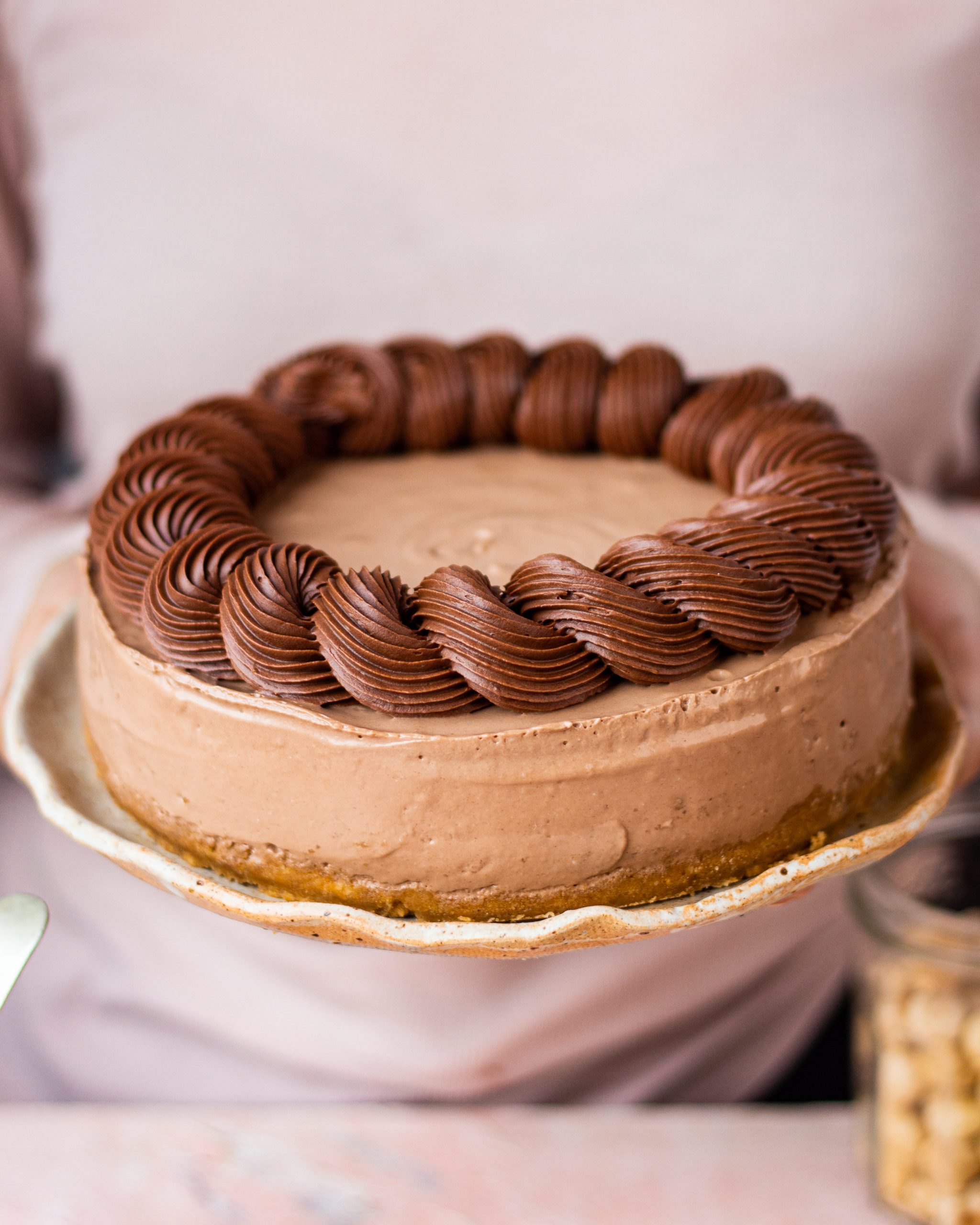 Quick tip by Shivesh
Let's talk a little about the difference between –
1 cup whole wheat, sifted and 1 cup sifted whole wheat flour : The first one means that we are measuring the flour first using our measuring cup and then sifting it.
However, 1 cup sifted whole wheat flour means that we are sifting the flour first and then measuring it. It's super important to be wary of the wording here as both of these will yield different results. This tip will work for all baking ingredients.
There's absolutely nothing that cannot be measured using measuring cups and spoons. But when it comes to slightly fussy desserts like macarons / chow pastry, I prefer bringing out my weighing scale as it makes sure the whole process of baking much smoother. However, if you cannot invest in a good weighing scale, measuring cups and spoons will work just fine – just make sure you check the quantity of measuring cups being used in the recipes. For example, my 1 cup = 240 ml.
Disclaimer : This article has affiliate links.
A basic conversion chart for common baking ingredients
Now coming to something which was super helpful for me when I started baking – a conversion chart. You can choose your own right of passage – whether you wanna measure your baking ingredients in cups or grams but when you find a recipe which is in either one of the two, you need a conversion chart which can help you and make your life much more convenient. This chart has conversions for all the basic pantry staples you'll need for whipping up great desserts in your kitchen, so make sure you refer to it!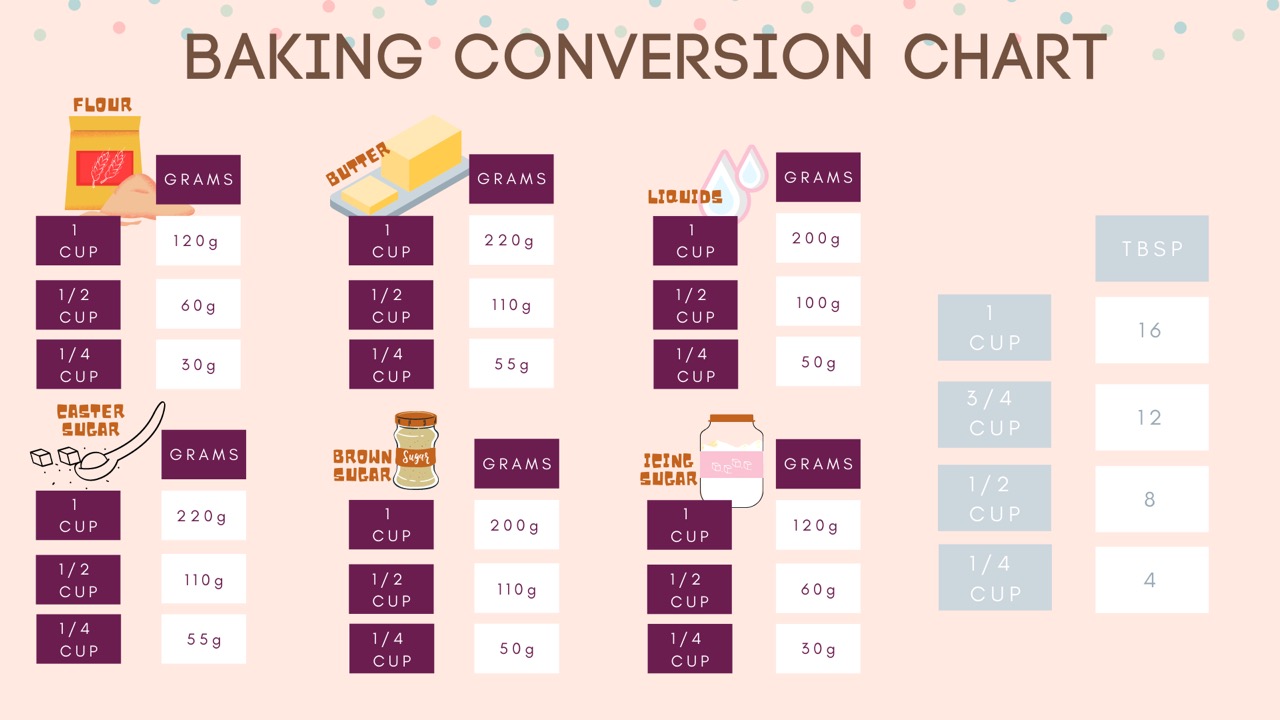 If these tips came handy to you, let me know in the comments what other articles would you like to see here on the blog. Happy baking!