In the past, I have made so many red-velvet things like red velvet cake for starters, red velvet cookies, red velvet cookie shake and so much more! But today, I had some leftover, red velvet cake and it is super moist and nice even when it has been in my fridge for good 5 days and I thought to myself, what can be instant and be really yum? And that's when I had to try the red velvet cake shake!
This red velvet cake shake is a perfect treat to share with your valentine! And when I say sharing, I mean you have one and you make one for them! Because this red velvet cake shake cannot be shared in one glass! It is so good and so pretty. Even if you are celebrating valentine's day alone, you can just curl up in bed, watch Netflix and have this red velvet cake shake for yourself; and trust me it will make you smile so wide as it made me!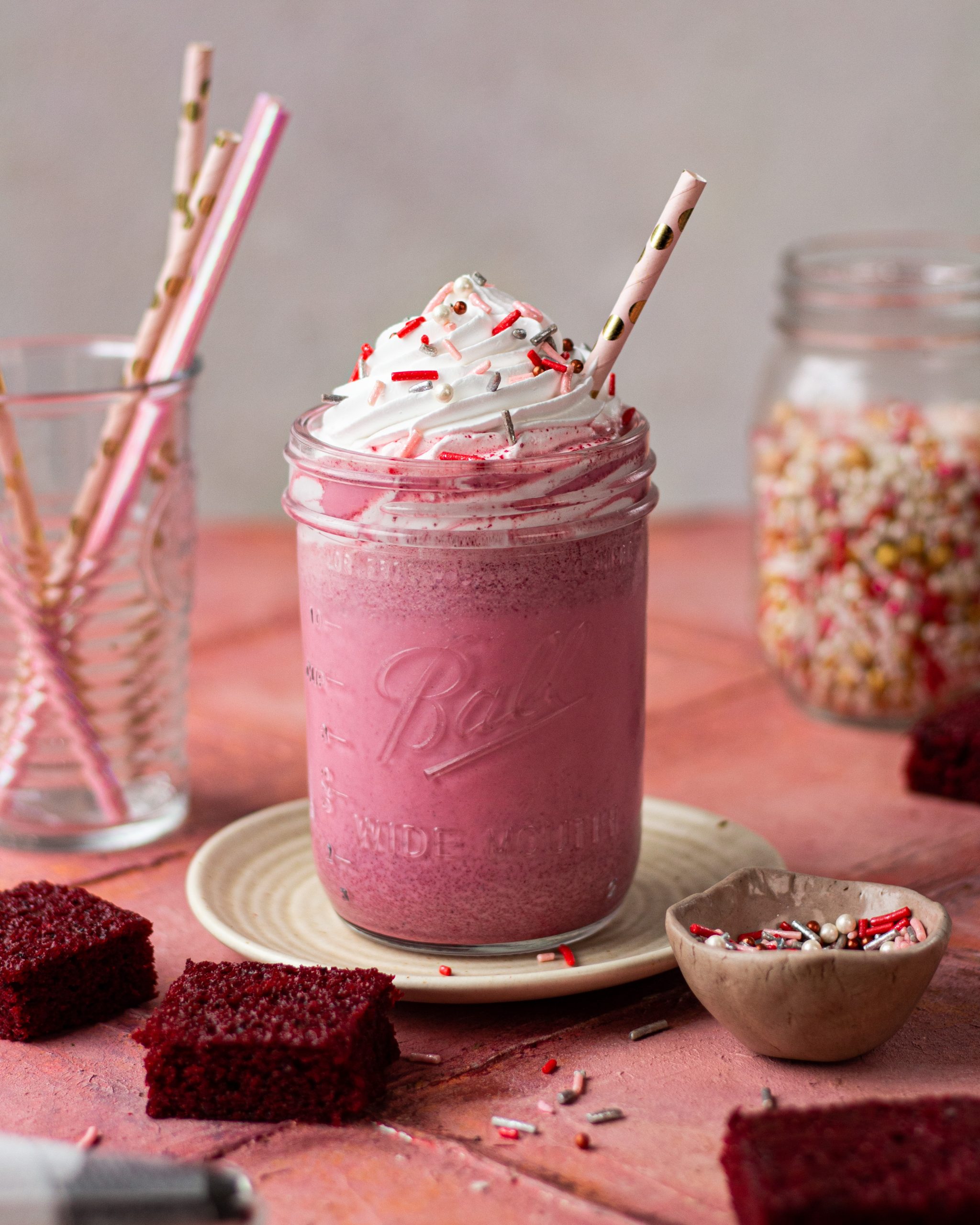 EQUIPMENT NEEDED TO MAKE RED VELVET CAKE SHAKE
This red velvet cake shake needs some few simple tools to help you make a delicious milkshake, the most important is a food processor or blender. Unfortunately, it'll be hard to make this milkshake without a blender or a food processor. Since these recipes involve to blending different ingredients with milk and ice cream, a hand blender won't be able to do the job. So I'll recommend you to make this Chocolate Cake milkshake only in a food processor or blender for good results.
To make my cake shake I'm using Borosil's nutrifresh which eases the work for me and makes blending and grinding hassle free.
Other red velvet recipes on the blog
Red velvet cake shake recipe
Red Velvet Cake Shake
Ingredients
2 slices of red velvet cake
4 scoops of vanilla ice-cream
1 cup (236ml) milk
Whipped cream and sprinkles (to top)
Instructions
In a blender, add in red velvet cake slices, ice-cream and milk.
Blitz, all of this together till you reaches a creamy, milkshake consistency.
Take your serving glass or a pretty mason jar and pour the red velvet cake shake in it.
You can decorate it with whipped cream and sprinkles like I did or can even put some cake crumbs on whipped cream on top. Enjoy!
If you like this recipe and make it in your kitchen, do share pictures with me on 
Instagram
 using #bakewithshivesh.