This pistachio cardamom cake with cream cheese frosting is what dreams are made of. Although I'll be missing most of the Diwali excitement because I'm travelling to Copenhagen, I can't help but whip up some desserts influenced by Indian flavors. The dessert in this case is a pistachio cake spiced with cardamom and covered with the best cream-cheese frosting. It's a simple recipe and the best part is that you could also make this pistachio cake eggless by replacing the eggs with yogurt.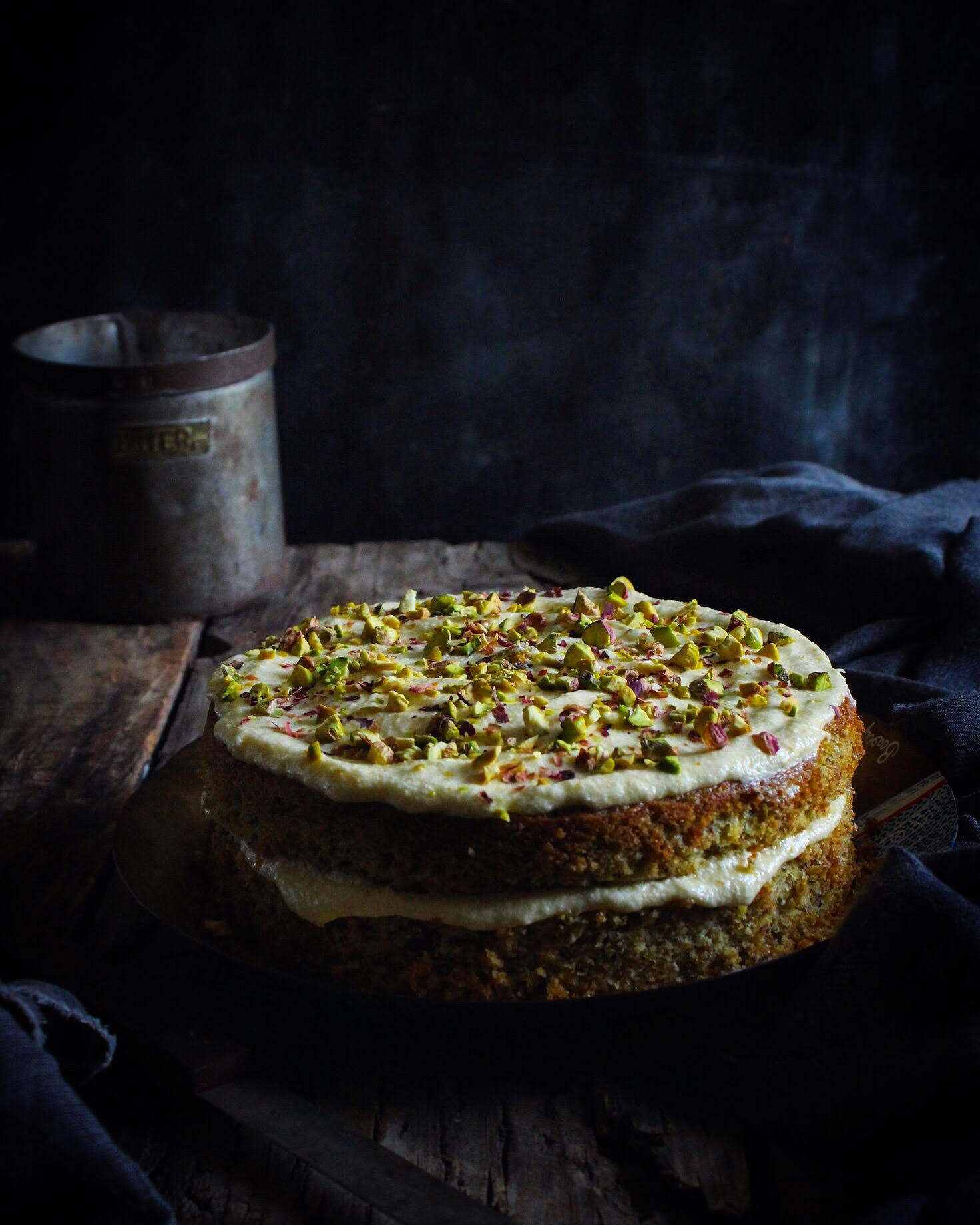 Let's get baking! Before you get baking, I'd recommend you go through my 6 top tips to make a perfect cake HERE
This recipe makes 2 layers of 9″ cakes. You can half the recipe, if you like.
INGREDIENTS-
1 + 1/2 cups pistachios
2 cups all purpose flour
4 tsp baking powder
2 tsp cardamom powder
1/4 tsp grated nutmeg
1/4 tsp salt
200 gm  ( 1 cup) butter, softened
1/2 cup castor sugar
1 tsp vanilla extract
6 large eggs (or 2 cups Greek yogurt/hung curd)
1 cup whole milk
PROCEDURE-
Pre-heat your oven to 180C. Prepare two 9″ cake pans and line them with parchment paper.
In a food processor, finely crush the pistachios. Don't over do it, otherwise it'll become a paste.
Add in the flour, baking powder, cardamom powder, nutmeg and salt.
In a large bowl, beat sugar and butter until the mixture is fluffy. Add eggs one at a time/ yogurt.
Add in the vanilla and mix well.
Combine dry ingredients to the wet ingredients in three batches, alternating with the milk. Do not over mix. Mix only until well combined.
Divide the batter equally between both the pans and bake for 40 minutes or until a toothpick inserted into the center comes out clean.
Cream cheese frosting recipe could be found HERE