You guys clearly love chocolate desserts- all the popular recipes on the blog are chocolaty be it the back to basics chocolate cake or the fudgy brownies. Among the healthier recipes on the blog, so many of you have made the vegan gluten-free chocolate tart, which makes me so happy. Oddly enough, I had never shared a classic chocolate tart recipe here.
This chocolate tart with caramelized hazelnuts is indulgent, super chocolaty, rich and perfect for a special occasion. Oh and this chocolate tart is also Eggless!
Perfecting the base of this Baked Eggless Chocolate Tart
The first step in ensuring that you get this classic chocolate tart recipe right is by baking the appropriate base, the perfect tart. Lucky for you, I got you covered. There is an exclusive article on how to make the perfect tarts on the blog and it will solve all your queries and confusions if you are a tart virgin and also if you are not, haha! The tart shell of this chocolate tart with caramelized hazelnuts is flaky and buttery and I know you will absolutely love it!
Getting the Chocolate Ganache Right
Most of my ganache infused recipes use a dark chocolate ganache because I like the bittersweet taste of dark chocolate because I am not a huge chocolate fan. This recipe of Chocolate Ganache will help you better with the procedure of making it and the recipe is also given down below! By using dark chocolate, you will have a bittersweet chocolate tart- not too sweet and not too bitter, which also makes this dessert a light one. However, if you are an ardent chocolate lover, you can always use a little milk chocolate or use milk chocolate only to have a milk chocolate tart!
This chocolate ganache filling, which is incredibly easy to make is smooth and really the star of this eggless chocolate tart.
Why the Caramelised Hazelnuts
To take the classic eggless chocolate tart a level higher, I top it with caramelized hazelnuts which don't only look very pretty but also adds a great texture. These beautiful hazelnuts elevate any classic dessert and you can actually also have them in your healthy green salad, haha. You can store these candied caramelized hazelnuts in an airtight container for three to five days without a care in the world!
If you end up experimenting with any of the recipes from the blog, kindly do not forget to post it on Instagram with the hashtag- #bakewithshivesh and also check out my Instagram for more recipes, tips, and travel posts!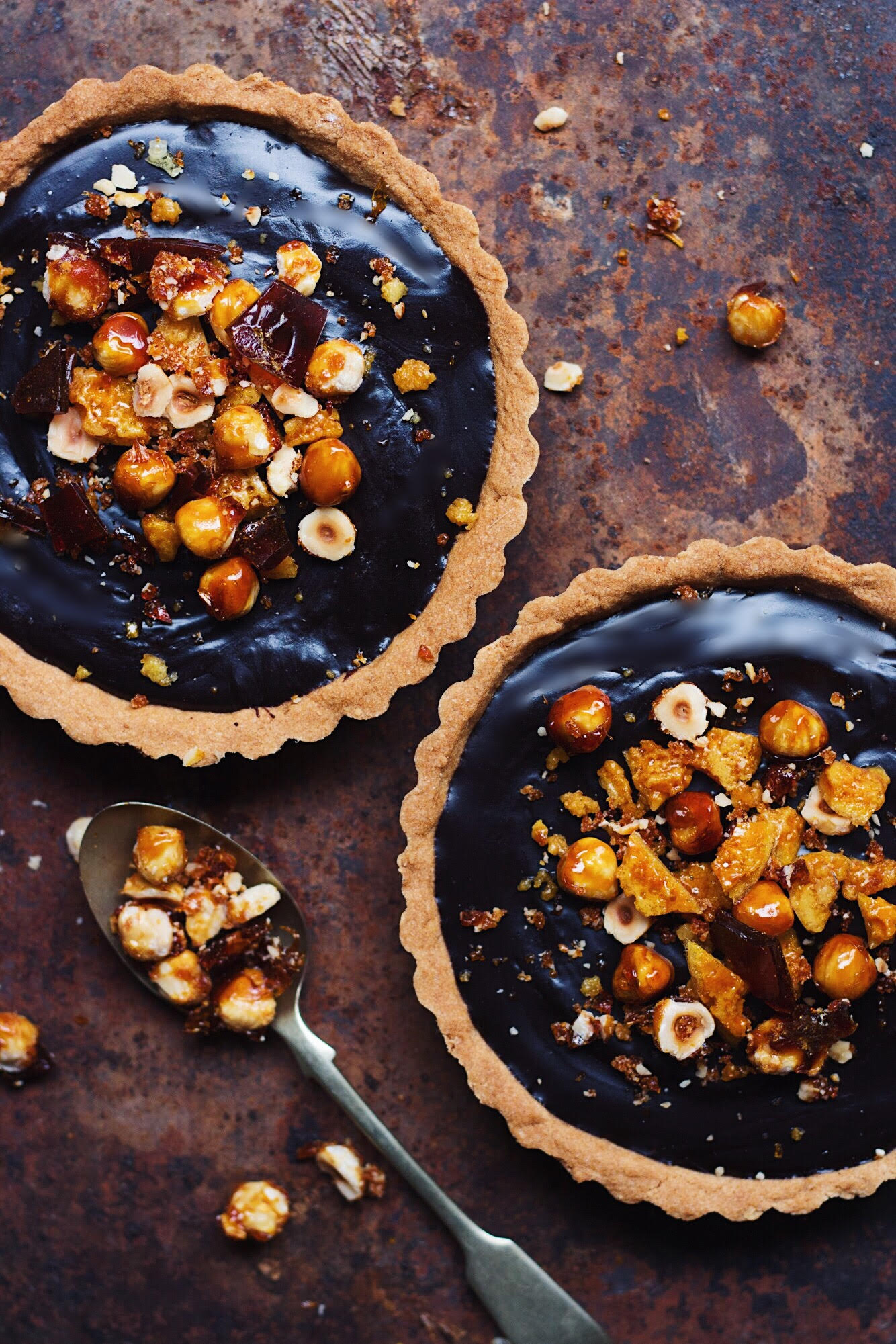 Chocolate Tart with Caramelised Hazelnuts Recipe
Chocolate Tart with Hazelnuts
Ingredients
TART SHELL-
½ cup butter, softened (113 grams/ 8 tbsp)
⅓ cup castor sugar
1 cup all-purpose flour (maida)
¼ cup ground hazelnuts ( or another ¼ cup all-purpose flour)
CHOCOLATE GANACHE-
1 cup 70% dark cooking chocolate
½ cup fresh cream
CARAMELIZED HAZELNUTS-
½ cup granulated sugar
1 cup hazelnuts, toasted
Instructions
To make the base of the tart, In a bowl, cream butter and sugar.
Mix in flour and ground hazelnuts and beat until the dough begins to come together.
Knead the dough. Wrap it with plastic wrap and chill in the freezer for 15 minutes or until the dough is firm.
Roll out the dough and line the tart pan with the rolled-out dough. Chill in the freezer for another 15 minutes. Pre-heat the oven to 190*C
Prick with a fork and bake at 190*C for 15 minutes or until it is golden brown.
To make the filling, cook the cream in a saucepan set over medium heat. Bring the cream to a boil. Immediately pour the hot cream on the roughly chopped chocolate. Mix until the chocolate melts completely and the ganache is smooth and lump free
Fill the ganache into the cooled tart shell
To make the caramelized hazelnuts, cook the granulated sugar in a saucepan set over medium heat until it is a light amber color. Add hazelnuts to the hot sugar and stir to make sure all the hazelnuts are evenly coated. Immediately transfer the mixture into a baking tray and let it cool completely. It will harden as it cools. Break the hazelnuts roughly and arrange on the chocolate tart.