If you've been following my blog and my Instagram, you would know how much I love cookies. They're the easiest to make and definitely the yummiest. I've also always talked about how important it is to use the best quality ingredients in order to get the best result. Especially a good vanilla! Fortunately or unfortunately, there are so many cheap vanilla options available in the market that most of us have never used a good quality vanilla bean. I've been using the SPRIG vanilla beans from Madagascar for so long. Nothing like cutting into a plump vanilla pod and using those fragrant beans. It makes all the difference! You have to try it!
I'm so excited about my collaboration with SPRIG. Over the next two weeks, I'll be bringing to you three very interesting recipes using SPRIG products, that you can shop HERE.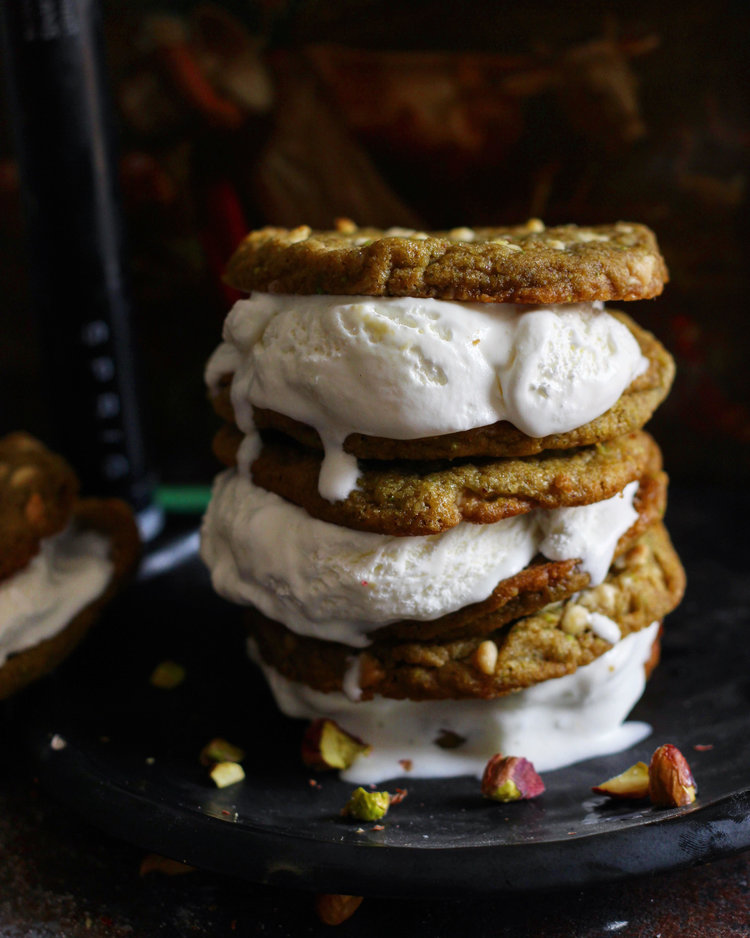 INGREDIENTS
1/2 cup unsalted butter, at room temperature
1/2 cup brown sugar
1/2 cup granulated white sugar
1 egg, at room temperature
beans from one pod of SPRIG vanilla
1+1/4  cup all-purpose flour
1 Tbsp cornstarch/ corn flour
1/2 tsp baking soda
a pinch of salt
1/2 cup ground pistachios
1/4 cup white chocolate chips (optional)
6 scoops of vanilla ice-cream
PROCEDURE
Using an electric mixer, beat butter until it is fluffy
Add in both brown and white sugar and cream them with the butter.
Beat in the egg. Add vanilla beans.
In a separate bowl, sift together flour, baking soda, corn starch and salt
Add the dry ingredients to the butter mixture and mix until blended.
Add pistachios and white chocolate chips. Using a spatula or a whisk, carefully mix them into the batter
Scoop out your dough into balls of equal sizes on a baking tray lined with baking sheet. Refregerate for 30 minutes
Pre heat your oven to 170C.
Bake for about 12-15 minutes or until the edges become golden brown.
After taking them out of the oven, let them rest on the baking tray for at least 10 minutes..