I love chocolate cakes! Who doesn't? It is always fun to experiment with the basic chocolate cake recipe and add a little something to it. I picked up everything chocolatey from my favourite store, FoodHall – cocoa powder, cooking chocolate, chocolate macarons among other ingredients.
I love the patisserie at FoodHall and the macarons were fantastic!
I worked around my basic chocolate cake recipe to make a two layer chocolate hazelnut cake with chocolate cream cheese frosting. This cake will make a perfect birthday cake!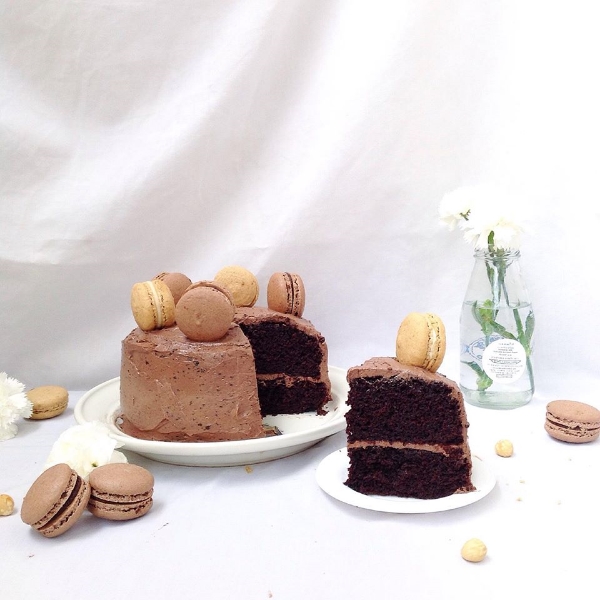 CHOCOLATE HAZELNUT CAKE
Ingredients
CAKE-
1½ cups all purpose flour
¾ cups cocoa powder
½ tsp baking soda
1 tsp baking powder
¾ cup oil
1½ cups sugar
2 tbsp nutella
2 eggs
¾ cup milk
½ cup hazelnuts, roasted and crushed
FROSTING-
340 grams dark chocolate
680 grams / 24 ounces cream cheese
1 cup confectioners sugar
10-12 Hazelnuts, roasted and crushed for filling ( optional)
Chocolate and coffee macarons for decoration
Instructions
CAKE-
Pre-heat the oven to 170C. Oil the cake tin. Dust pans with cocoa, tap out extra
Whisk cocoa, flour, baking soda and baking powder into a bowl
In a large bowl, cream oil and sugar. Add Nutella and mix well.
Add eggs, one at a time and mix well after each addition
Add the flour mixture to the wet ingredients alternating with milk, starting and ending with flour mixture. Beat until smooth
Fold in the hazelnut.
Pour the batter into 2 pans and bake until a toothpick inserted in the centre comes out clean. This will take 30-40 minutes.
FROSTING-
Melt chocolate in bowl set over a pan of simmering water, stirring until smooth. Let it cool.
In a large bowl, beat cream cheese and sugar. Mix on medium-high speed until pale and fluffy. Reduce speed to low. Mix in melted chocolate until combined.
ASSEMBLY
Keep a completely cooled flat layer of the chocolate hazelnut cake on the serving plate and cover with a generous layer of frosting. Sprinkle with hazelnuts
Place the other layer of chocolate cake on it and cover entirely with frosting using an offset spatula.
Decorate with macarons