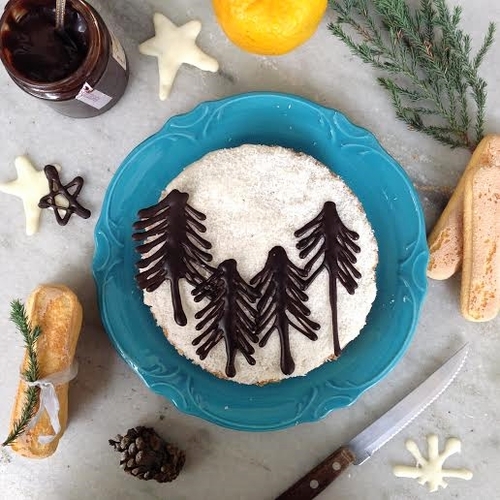 This is my favorite time of the year! I'll be celebrating Christmas in California this year and I can't be more excited! My exams got over this week and I have so many brand assignments piled up (so excited to share the details with you guys) but I just had to take out time for some Christmas baking and this Orange Winter Cake is especially for you guyss!
This (eggless) orange winter cake is so pretty and winter-y that I think it makes for the perfect center piece on your Christmas dessert table.



INGREDIENTS
2 cups all purpose flour (maida)
4 tea-spoons baking powder
1 tea-spoon cinnamon
zest of one orange
1 + 1/2 cup white granulated sugar
1 cup vegetable oil
1 cup curd (yoghurt)
1/4 cup orange juice

For decoration- 
1/2 cup white chocolate, melted
1/4 cup coconut flakes
1/2 cup dark chocolate, melted
PROCEDURE
Lightly brush your cake pan with oil/ butter and dust with all-purpose flour. Line with parchment paper. Pre-heat your oven to 180C.
In a medium bowl, combine all-purpose flour, orange zest, cinnamon, and baking powder. Whisk until well combined.
In a large bowl, beat sugar and oil until the mixture becomes light and fluffy, for about 5-7 minutes.
Add curd and beat well.
Now add the dry ingredients to the wet ingredients in three batches, alternating with orange juice. Do not over mix.
Pour the batter into the prepared cake pan.
Bake at 180C until a toothpick inserted into the center of the cake comes out clean. This will take about 30-40 minutes.
Once the cake has cooled completely, cover it with melted white chocolate. Dust with coconut flakes.
Pipe the melted dark chocolate to make Christmas trees on a parchment paper. Let them cool and become firm. Place them on the cake.